Published 03-28-22
Submitted by Duke Energy
Editor's note: This is the first in a series of stories for Women's History Month about women at Duke Energy who power the grid and our clean energy transition. Throughout March, we'll show you the plants that generate electricity and the crews who build the power lines and substations that deliver it to your home.
As Duke Energy's director of asset design in southern Indiana, April Edwards makes sure the crews who work on neighborhood power lines and equipment are ready for any challenge.
From a conference room in Franklin, Ind., Edwards logs into her computer and sifts through thousands of work orders her team of engineering technologists will prepare for scheduling and construction to strengthen the grid and reduce outages for customers. When a power line needs to be relocated for road construction or upgraded to support higher customer demand for electricity and new technology, the project design starts with them.
"I would say that people would be surprised by the amount of effort, planning and coordination that it takes to construct what they see as a finished product in the field," Edwards said. "I feel a sense of accomplishment to know that my team and I are involved in making a difference for our customers."
Edwards' team is responsible for work on the company's distribution grid. The power grid is the system that delivers electricity from power plants to homes and businesses. It's divided into three main sections: generation, where electricity is generated at a power plant; transmission, the high-voltage power lines and equipment that carries electricity away from power plants; and distribution, the lower-voltage power lines and equipment that takes the electricity from transmission lines into your home.
Duke Energy is investing in its infrastructure to strengthen the grid for severe weather, prepare for new customers, and enable a two-way flow of power to accommodate more renewables, energy storage, electric vehicles and at-home charging stations.
Most of Edwards' projects are part of the company's grid improvement effort to install technology that make the grid smarter and improve reliability. Her team also works on projects to relocate power lines when a city needs to add a sidewalk or widen a street, and they prepare Duke Energy's poles so other companies like phone and internet providers can use them for their equipment, too. 
"We are designing those projects to improve their service, provide them greater reliability and prepare our infrastructure for the future," she said.
Many of their projects are planned one to two years in advance. The engineering technologists begin by getting permits and notifying people near the project when work will happen. They're also responsible for ordering materials and planning the project's design and providing both to the crews who will perform the work.
In addition to the technical aspects, Edwards' team works with other groups at Duke Energy and vendors to ensure the work happens on time and within budget.
Edwards, who's from Indianapolis, started her career at Cinergy, a Duke Energy legacy company, 20 years ago and has worked in several grid operations-related roles. She accepted an entry-level role in her second year of college at Indiana University-Purdue University Indianapolis while studying electrical engineering technology and worked at Cinergy as a transmission substation engineering technologist as she completed her degree. She moved into transmission planning, vegetation management, project management and work management roles before moving into grid solutions design in 2018.
Having diverse experience, she said, has helped her understand the needs of other teams she works with and the needs of customers
"I know the importance of getting the dates right or getting customer letters delivered since we are required in Indiana to notify customers of tree trimming before we get started," she said. "I know the importance of those details, and knowing how your work and your team's work impacts other teams is helpful."
Edwards didn't expect to work at a utility when she was in college, but a friend told her about a job opening. Once she learned more about the industry, she was interested in the idea of serving customers and learning something new. Since then, her career has followed a theme of taking on challenges and first-of-their-kind roles.
"I've had a lot of opportunities," she said, "that were, 'take this role,' 'build this team,' or 'this is your opportunity to set the pace and tone for how this is going to look in the future.'"
Now, in a leadership role, she encourages others to do the same.
The best part of her job, she said, is helping others grow into opportunities that interest them. She volunteers with students, too, to show them the opportunity that exists in the energy industry with hopes that more people, especially women and minorities, will consider utilities as a career with potential for growth.
"I always advise people to be open to an experience and trying new things even if you're not sure you're going to like it. I didn't know anyone that worked for an energy company, and I didn't have a plan to work for one either. It just kind of aligned that way," she said, "and I accepted the challenge."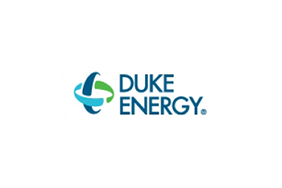 Duke Energy
Duke Energy
Duke Energy (NYSE: DUK), a Fortune 150 company headquartered in Charlotte, N.C., is one of the largest energy holding companies in the U.S. It employs 30,000 people and has an electric generating capacity of 51,000 megawatts through its regulated utilities and 3,000 megawatts through its nonregulated Duke Energy Renewables unit.
Duke Energy is transforming its customers' experience, modernizing the energy grid, generating cleaner energy and expanding natural gas infrastructure to create a smarter energy future for the people and communities it serves. The Electric Utilities and Infrastructure unit's regulated utilities serve approximately 7.7 million retail electric customers in six states – North Carolina, South Carolina, Florida, Indiana, Ohio and Kentucky. The Gas Utilities and Infrastructure unit distributes natural gas to more than 1.6 million customers in five states – North Carolina, South Carolina, Tennessee, Ohio and Kentucky. The Duke Energy Renewables unit operates wind and solar generation facilities across the U.S., as well as energy storage and microgrid projects.
Duke Energy was named to Fortune's 2019 "World's Most Admired Companies" list and Forbes' 2019 "America's Best Employers" list. More information about the company is available at duke-energy.com. The Duke Energy News Center contains news releases, fact sheets, photos, videos and other materials. Duke Energy's illumination features stories about people, innovations, community topics and environmental issues. 
More from Duke Energy