Published 03-28-22
Submitted by The Chemours Company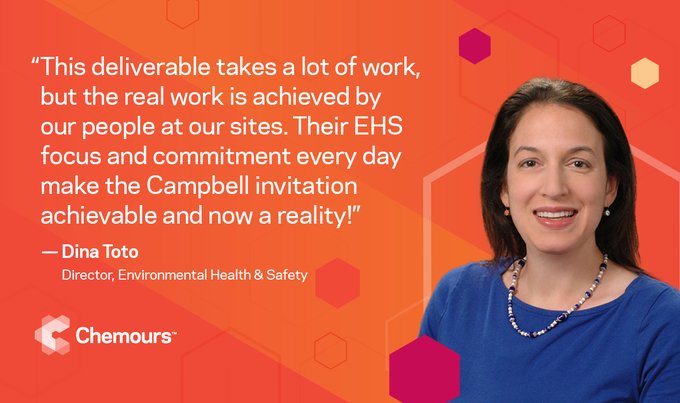 A member since 2018, Chemours was once again invited to join the prestigious Campbell Institute of the National Safety Council (NSC), signifying our position as an environment, health, and safety (EHS) leader in our industry. The Campbell Institute consists of a collection of worldwide EHS leaders across multiple industry sectors with the mission of helping organizations achieve and sustain EHS excellence. As part of the Institute's commitment to engage organizations with a record of and dedication to EHS excellence, they created a set of guidelines to define membership and an application process that each member organization must complete.
Chemours was first invited to join the Campbell Institute in 2018, and every three years is asked to reapply to the Institute to demonstrate our continued outstanding EHS performance and commitment. In late 2021, we applied for our recertification have been granted another three years. We are proud of achieving recertification and look forward to many benefits of membership, including:
Benchmarking ourselves among other world-class EHS leaders

Accessing a library of innovative research studies focused on developing safety sciences and techniques

Participating with Campbell Institute peer members on new, forward-thinking EHS initiatives
"This deliverable takes a lot of work, but the real work is achieved by our people at our sites. Their EHS focus and commitment every day make the Campbell invitation achievable and now a reality," shared Chemours' Director of Environmental Health and Safety, Dina Toto.
At Chemours, we live our steadfast belief that a safe workplace is a profitable workplace. Our safety obsession has been at the center of our culture since our business began, and every Chemours employee and contractor embodies this value. Learn more about the five values that guide us here.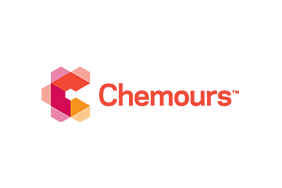 The Chemours Company
The Chemours Company
The Chemours Company (NYSE: CC) is a global leader in Titanium Technologies, Thermal & Specialized Solutions, and Advanced Performance Materials, providing its customers with solutions in a wide range of industries with market-defining products, application expertise and chemistry-based innovations. We deliver customized solutions with a wide range of industrial and specialty chemicals products for markets, including coatings, plastics, refrigeration and air conditioning, transportation, semiconductor and consumer electronics, general industrial, and oil and gas. Our flagship products include prominent brands such as Ti-Pure™, Opteon™, Freon™, Teflon™, Viton™, Nafion™, and Krytox™. The company has approximately 6,400 employees and 29 manufacturing sites serving approximately 3,200 customers in approximately 120 countries. Chemours is headquartered in Wilmington, Delaware and is listed on the NYSE under the symbol CC.
For more information, we invite you to visit chemours.com or follow us on Twitter @Chemours and LinkedIn.
More from The Chemours Company