Published 03-17-22
Submitted by Cority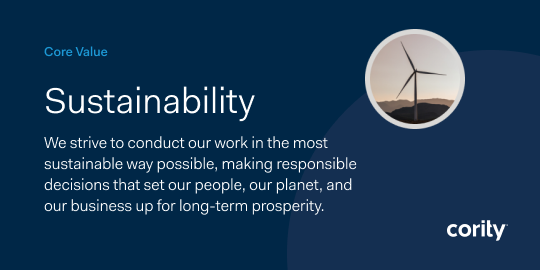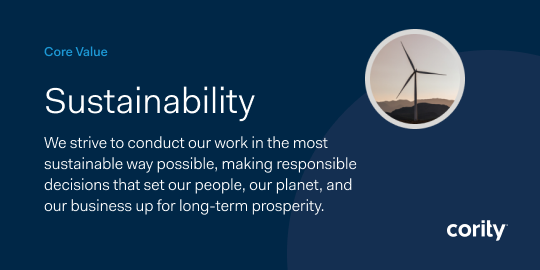 TORONTO, Ontario, March 17, 2022 /CSRwire/ - Cority, a leading global enterprise EHS (Environment, Health, and Safety) software provider announced today that it has reinforced its commitment to Environmental, Social, Governance (ESG) by formally adding "Sustainability" as a core value. This extension of its existing values of integrity, quality, community, diversity, and customer-centricity, reflects the company's growing focus on sustainability and is expected to accelerate and strengthen its adoption of related initiatives.
The change was driven by a growing sentiment among Cority employees that the organization's existing dedication to the advancement of sustainability efforts should be codified as a critical part of the company's corporate culture.
The company's sustainability initiatives are supported by a 10-member sustainability committee consisting of employees from all levels. The committee is tasked with integrating the sustainability value throughout Cority's business operations by identifying company-wide goals; establishing and maintaining a system of collecting and analyzing data for reporting in line with recognized standards; educating employees about the ways they can help further and engage with these initiatives; and informing leadership on the status of initiatives and progress towards goals.
"Sustainability was already part of our DNA, so adding it to our core values just makes it official," noted Krystal Truax, director of product management, environmental and sustainability clouds, and the committee's corporate ESG manager.
Michael Couture, chief product officer and executive sponsor of the sustainability committee, added "The sustainability committee came about through employee surveys. Adding sustainability as a core value did too. When corporate initiatives are employee-driven, they have a better chance of success. And when it comes to sustainability, success is critical."
Indeed, research has shown that firms that empower employees to participate in sustainability initiatives are not only set to benefit from increased satisfaction and support for ESG strategies but are also better positioned to achieve ESG performance goals. In a 2021 Sustainability Survey conducted by independent research firm Verdantix, just 12 percent of respondents believed that employees took responsibility for their firm's sustainability performance or drove innovation in this area. Furthermore, half of the surveyed firms indicated that employees did not understand the sustainability agenda and goals or take responsibility for the firm's sustainability performance.
"That means 50 percent of firms have a significant opportunity to improve ESG performance," Couture said. "Investing in solutions to increase employee understanding of and participation in sustainability agendas can be a simple and effective way to close that gap."
In January, Cority launched its Sustainability Performance Essentials solution, an innovative software package including built-in sustainability best practices and standards, designed to better equip organizations to deploy, maintain, and report on their sustainable practices. It enables companies to efficiently and effectively advance their sustainability programs. Cority is leveraging its own sustainability solutions to manage related initiatives through its sustainability committee.
"Within ESG, there's something that everybody can rally around, but not everybody understands what sustainability encompasses," Truax said. "A sustainability committee can help educate employees across the spectrum about how this applies to them and facilitate interest in engagement. To be able to do that and drive sustainability initiatives forward using the tools that we have developed for our customers makes it even more powerful."
###
About Cority
Cority is the leading global enterprise Environmental, Health, and Safety (EHS) software provider creating industry-leading technology to empower those who transform the way the world works. For over 35 years, Cority has been powered by the spirit of innovation, deep domain expertise, and a commitment to integrity that enables higher levels of operational and sustainable performance with the most comprehensive, human-centered, and secure SaaS platform to help workers and businesses thrive in 100 countries around the world. The company enjoys the industry's highest levels of client satisfaction and has received many awards for its strong employee culture and outstanding business performance. To learn more, visit www.cority.com.
Press Contact
Meredith Schweitzer
+1-347-698-9196
mschweitzer@66and.co
Download the attached file(s):

Cority_Core_Values_Matrix.pdf

Cority
Cority
Cority gives every employee from the field to the board room the power to make a difference, reducing risks and creating a safer, healthier, and more sustainable world. For over 35 years, Cority's people-first software solutions have been built by EHS and sustainability experts who know the pressures businesses face. Time-tested, scalable, and configurable, CorityOne is the responsible business platform that combines datasets from across the organization to enable improved efficiencies, actionable insights, data-driven decisions, and more accurate reporting on performance. Trusted by over 1300 organizations worldwide, Cority deeply cares about helping people work toward a better future for everyone. To learn more, visit www.cority.com.
More from Cority