Published 03-15-22
Submitted by Whole Foods Market Foundations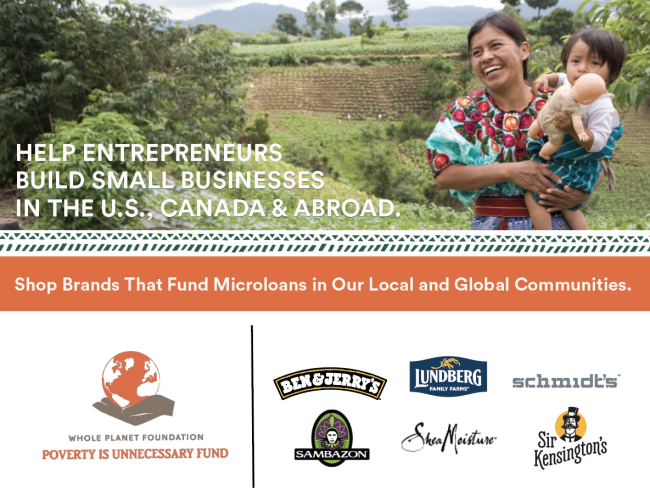 Suppliers of Whole Foods Market are empowering microentrepreneurs, primarily women, with economic opportunity. These generous brands fund microloans for entrepreneurs living in poverty so they can start or expand a small business, often home-based. With a small loan of under $200, an entrepreneur can purchase essential needs for their small ventures, such as products for a food stand, equipment for a sewing business, or tools for a small-scale farm. Profits from their microbusinesses provide these entrepreneurs the opportunity to lift themselves and their families out of poverty.
Celebrating the economic achievements of women in March
Every year, we celebrate the economic achievements of women microcredit clients on International Women's Day in March during Women's History Month. Supporting brands are invited to help further our mission by funding additional microloans. Brands that donate $25,000 in March to fund microcredit are recognized as members of Whole Planet Foundation's Poverty Is Unnecessary Fund. This month's generous donors include Ben & Jerry's, Lundberg, SAMBAZON, Schmidt's, Shea Moisture, and Sir Kensington's.
$25,000 Poverty is Unnecessary Fund Donors
Lundberg Family Farms

Lundberg Family Farms returns as a member of Whole Planet Foundation's $25,000 Poverty is Unnecessary Fund. To date, they have helped fund more than 1,700 opportunities for microentrepreneur families around the globe to start or grow a small business in their communities.

"As a fourth-generation family business, family is the heart of who we are. Lundberg Family Farms is proud to support Whole Planet Foundation because we know firsthand that healthy businesses support healthy families—and healthy families are the foundation of a whole planet," says Grant Lundberg, CEO of Lundberg Family Farms.

SAMBAZON

SAMBAZON has been a supporter of Whole Planet Foundation since 2011. To date, they have funded over 9,700 average first microloans to support microentrepreneurs with economic opportunity. We welcome SAMBAZON this year to the $25,000 Poverty is Unnecessary Fund and look forward to continuing our work together towards our collective mission of empowering people to change their own lives.

"SAMBAZON started our partnership with Whole Planet Foundation over ten years ago to support one of our key retailers and connect their employees with our programs. We are so glad to once again be part of Whole Planet's mission to alleviate global poverty through access to capital for the world's most underserved communities. SAMBAZON sources Açaí from an area of the Brazilian Amazon that has traditionally been underserved. Through Fair Trade certification, we not only ensure a fair price for Açaí, but to date, SAMBAZON has contributed $1 million to projects such as building and improving schools, community centers, and health centers. This has made a difference in the lives of thousands of families, which shows, like the microentrepreneurs supported through Whole Planet Foundation, how the power of Conscious Commerce can contribute to a more equitable global economy," says Marasie Schumacher, SAMBAZON Global Director of Sustainability.
Unilever Brands
Four Unilever brands re-commit to alleviate global poverty with a $25,000 donation each in 2022. These brands include Ben & Jerry's, Schmidt's Personal Care, Sir Kensington's, and Sundial (SheaMoisture/Nubian Heritage).
Their collective donation of $100,000 will help fund more than 600 microloans and create 3,000 opportunities for microentrepreneurs and their families to lift themselves out of poverty.
Beyond their financial contribution, Unilever team members have attended our supplier impact trips to Miami and South Africa to meet microcredit clients and learn about the power of microcredit. Unilever brands also contribute products to support Whole Planet Foundation activations.
Ben & Jerry's
Ben & Jerry's has a business model of linked prosperity. Their social mission is to work towards their goal to create positive change in the world from inside the pint out, starting with responsible sourcing and support of their suppliers. As a $25,000 Poverty is Unnecessary Fund member, they extend that support in the form of microloans to microentrepreneurs living in poverty all around the globe.
SheaMoisture
SheaMoisture is the legacy of Sofi Tucker, a pioneering mother of four and entrepreneur, who sold Shea Butter, African Black Soap and homemade beauty preparations in Sierra Leone in 1912. SheaMoisture honors her vision by continuing to formulate with shea butter handcrafted by women in Africa. Your SheaMoisture purchase in Whole Foods Market stores supports Whole Planet Foundation and a shared mission to reinvest in back in our communities globally by empowering women entrepreneurs living in poverty with the opportunity to start or expand their small businesses.
Schmidt's Personal Care
Jaime Schmidt started making natural products in her Portland kitchen back in 2010. She felt frustrated with the lack of effective natural products in the marketplace, so she decided to make her own. Today, Schmidt's is paying it forward by helping fund microloans for low-income microentrepreneurs - mostly women - around the globe through Whole Planet Foundation. 
Sir Kensington's
Sir Kensington's is a leading provider of premium condiments and dressings. Since its founding in 2010, Sir Kensington's has been on a mission to reimagine the most ordinary and overlooked foods with fearless integrity and charm. In 2018, the company became a Certified B Corporation, using business as a force for good, meeting the highest standards of verified social and environmental performance, public transparency, and legal accountability. Through their support of Whole Planet Foundation, they can spread that force of good to 79 countries and 25 communities in the U.S. as they help provide access to microcredit for the world's poorest people.
Shop these Whole Foods Market brands that fund microloans in our local and global communities and join us online through March 31 to honor Women's History Month. Participants in our online activation can help fund microcredit and new subscribers to the Whole Planet Foundation e-newsletter will be automatically entered in Whole Planet Foundation's Win Groceries for a Year Sweepstakes; alternate mail-in entry option and see Official Rules here.
Thank you to our generous donors for celebrating the economic achievements of women and for supporting women entrepreneurs through Whole Planet Foundation!  Learn more at wholeplanetfoundation.org.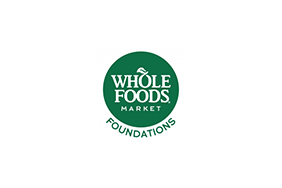 Whole Foods Market Foundations