Published 03-15-22
Submitted by Net Impact
March 15, 2022 /CSRwire/ - Net Impact announces the 2022 Food Solutions Challenge, an accelerator and pitch competition focused on finding solutions to the most pressing issues facing food systems and climate change. Applicants must submit their ideas through the Net Impact website by May 1, 2022.
For the sixth consecutive year, Net Impact is engaging our community to reimagine unsustainable systems and create innovative solutions to the world's most pressing issues in food and agriculture, specifically issues related to food access, climate change, and local economic resilience. This year, the Food Solutions Challenge invites the next generation of innovators and entrepreneurs, to propose a social impact enterprise that will make simultaneous progress toward achieving United Nations Sustainable Development Goals 2–Zero Hunger and 13–Climate Action.
There is an urgent need to fix the way the world's food and agricultural systems function in order to end hunger and achieve food security. But we also know that those solutions must be deeply sustainable and resilient, meaning solutions to food-related issues must not further contribute to climate change. It's currently estimated that global agriculture accounts for 25% of all greenhouse gases. At the same time, the population is projected to reach nearly 10 billion by 2050, and this growth is expected to increase overall food demand by 50%. Because food production and climate change are inextricably linked, there is a major opportunity to make a significant impact by addressing UN SDGs 2–Zero Hunger and 13–Climate Action.
Following the application period, semi-finalist teams will be invited to join the 2022 Net Impact Accelerator. By participating in the accelerator program, semi-finalist teams will gain the connections, mentorship, and tools needed to successfully develop their solution into a scalable enterprise.
Up to four semi-finalist teams will be selected to participate in the eight-week virtual accelerator, which culminates in a final Pitch-Off event where teams will present their solutions to a panel of expert judges. The winning team will receive $7,000 to invest in the next stage of developing their sustainable start-up, with second and third place teams winning $2,000 and $1,000 respectively. The Challenge is open to both students and professionals worldwide.
Net Impact invites participants to form a team of 2-4 and formulate a proposal that addresses the challenge question, defined in the challenge brief, about how to make simultaneous progress toward achieving United Nations Sustainable Development Goals 2–Zero Hunger and 13–Climate Action. Solutions must be submitted by May 1, 2022.
To learn more about the Food Solutions Challenge, visit: https://netimpact.org/programs/food-solutions.
About Net Impact
Net Impact is a global community of students and professionals who aspire to be effective drivers of economic, social, and environmental change. Our programs—delivered from our headquarters in Oakland, CA, as well as globally through our 400+ Chapters—connect our members to the skills, experiences, and people that will allow them to have the greatest impact. With over 140,000 members, Net Impact takes on social challenges, protects the environment, invents new products, and orients business toward the greater good. In short, we help our members turn their passions into a lifetime of world-changing action. Visit www.netimpact.org.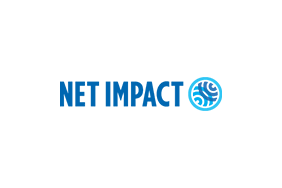 Net Impact
Net Impact
Net Impact is a global nonprofit inspiring a new generation to use their careers to tackle the world's toughest social and environmental problems. We empower student and professional leaders to act locally through our vibrant chapter network and connect globally online and through our flagship conference. By 2020, we will mobilize a million new leaders to drive positive change in the workplace and the world. For more information, please visit netimpact.org.
More from Net Impact