Published 03-14-22
Submitted by Science Applications International Corporation (SAIC)

March is nationally recognized as Women's History Month, celebrating women's accomplishments as part of American history. SAIC is proud to be comprised of women leaders and professionals who exude strength and determination on a daily basis — all while supporting customers' mission-critical needs and companywide efforts. These women are paving the way for others to empower themselves, be positive role models and envision success in a diverse and discrimination-free society.
This year, SAIC is recognizing nine of our women leaders for their consistent efforts and willingness to embody this year's International Women's Day theme — #BreakTheBias — as they are making important strides toward a world that is more equitable among colleagues and across communities.
In addition, SAIC is helping to close the gender gap in STEM through our diversity, equity and inclusion initiatives and our partnership with Girls Who Code, whose mission is to achieve equity in the number of women computer scientists by 2030. The Women's Employee Resource Group (ERG) at SAIC is hosting a fundraiser throughout this month for Girls Who Code to raise awareness and help bring more girls into computer science and technology. We invite you to join this movement and help our Women's ERG reach its goal of $5,000. Your contribution will help to inspire, educate and equip girls with computing skills and transform them into change agents for future generations. Please donate here.
THESE WOMEN ARE PAVING THE WAY FOR OTHERS TO EMPOWER THEMSELVES, BE POSITIVE ROLE MODELS AND ENVISION SUCCESS IN A DISCRIMINATION-FREE SOCIETY.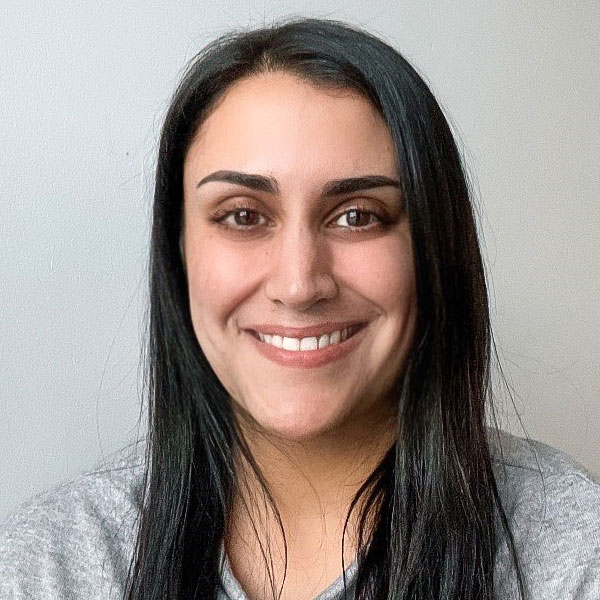 PRISCILA BRUEGGEMANN
Intelligence Analysis Manager, National Security and Space Sector
Priscila Brueggemann is a senior principal intelligence analyst and section manager within the national intelligence community (IC) of SAIC's National Security and Space Sector.
Priscila joined SAIC in 2016 as a biometrics intelligence analyst for one of our IC customers, where she worked on biometrics intelligence white papers and later edited them as a senior analyst.
In 2018, Priscila became the program manager for a small technical targeting subcontract and later served as a technical targeting mentor for junior intelligence analysts. At SAIC, Priscila has held positions of increasing authority, leading teams on technical targeting and target development for SAIC's IC customer, and has worked with SAIC management to identify and recruit individuals with a niche skill set required by this customer.
Prior to joining SAIC, Priscila served as a senior targeting officer for this customer, after a nine-year U.S. Army career in military intelligence.
Priscila, who is fluent in Spanish, earned her bachelor's degree from Southern New Hampshire University and her master's degree in applied intelligence from Georgetown University. She is currently working toward a Ph.D. in criminal justice from Liberty University.
Favorite quote: "Leadership is not a person or a position. It is a complex moral relationship between people based on trust, obligation, commitment, emotion and a shared vision of the good." —Joanne Ciulla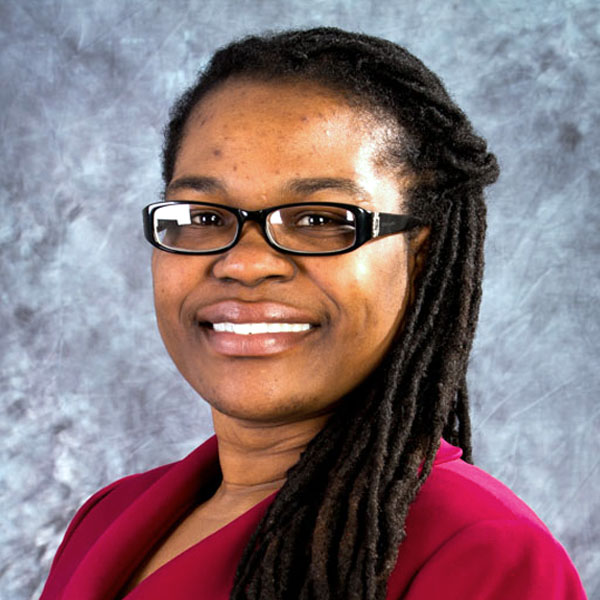 SANDRA DORSEY
Cyber Governance, Risk and Compliance
Manager / Audit Manager, Defense and Civilian Sector
Sandra Dorsey is the cyber governance, risk and compliance manager/audit manager for SAIC's Defense and Civilian Sector. She has been in this role for two years, leading three teams that perform audit support, developing and implementing corrective action plans and providing remediation support for client audits and penetration testing. Sandra is also the professional development lead for the Women's Employee Resource Group (ERG) within SAIC, and she was the ERG's volunteer lead.
Sandra earned her MBA in technology management from the University of Phoenix and a Bachelor of Science in accounting and technology management from Goldey-Beacom College. She is also a certified information systems auditor and a certified RSA Archer developer.
Sandra is a leader with over 15 years of experience in information security, governance, risk and compliance. She has worked at Barclays, JPMorgan Chase and Comcast, among other companies. Her background includes developing talent, building successful teams and managing organizational risk. As a strategic thinker, she's able to cultivate relationships that aid the creation of synergies across business units and build organizational effectiveness. Sandra is successful with developing new client relationships, sustaining existing relationships and handling challenging ones.
Sandra personifies #BreakTheBias by mentoring young women in her community. She shares her background, experience, resources and network with other women to help them persevere through bias in their careers. Sandra also imparts her experiences and life lessons to her two daughters, laying a foundation for them as they grow and mature.
Favorite quote: "Don't sit down and wait for opportunities to come. Get up and make them." —Madam C.J. Walker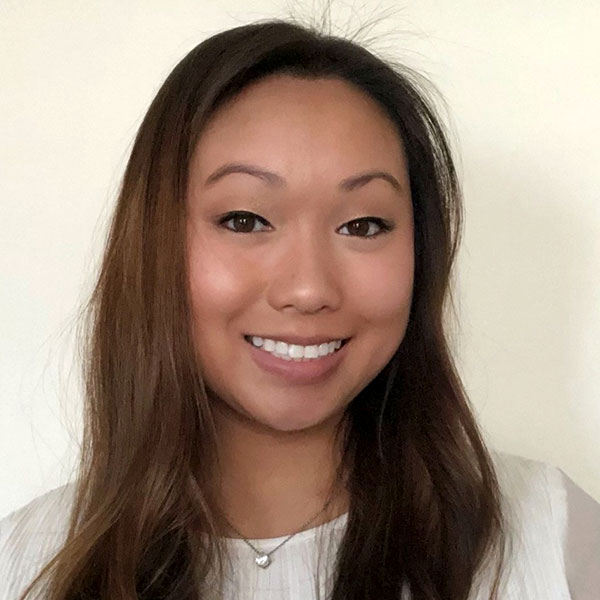 APRIL HUYNH
Marketing Research Analyst / Deputy Program Manager, Strategy and Sales Enablement
April Huynh primarily serves as a marketing research analyst in the competitive intelligence division of SAIC's Strategy and Sales Enablement organization. In addition, she is a deputy program manager for the Information Analysis Center Multiple Award Contract, or IAC MAC, contract vehicle and enterprise-wide Other Transaction Authority consortiums.
April joined SAIC in 2020 as a business development analyst in support of the Government Contracts Support Center within the company and quickly demonstrated a willingness to take on multiple challenges and opportunities. She has supported the logistical preparation and submission of numerous proposals and plays a critical role in providing research and analytical support to several business groups in both SAIC's Defense and Civilian and National Security and Space sectors on multimillion-dollar opportunities.
Since August 2021, April has served as professional development coordinator for SAIC's Women's Employee Resource Group, assisting with the production and organization of events that support professional guidance and development. As an early-career, Asian American woman, it is important for April to represent her demographic and #BreakTheBias by continuing to be a positive role model and encouraging women to speak up in situations of adversity.
April earned her bachelor's degree in business marketing management from Virginia Tech in 2018. Prior to joining SAIC, she held several managerial positions in operations/logistics and commercial retail.
Favorite quote: "Don't be intimidated by what you don't know. That can be your greatest strength and ensure that you do things differently from everyone else." —Sara Blakely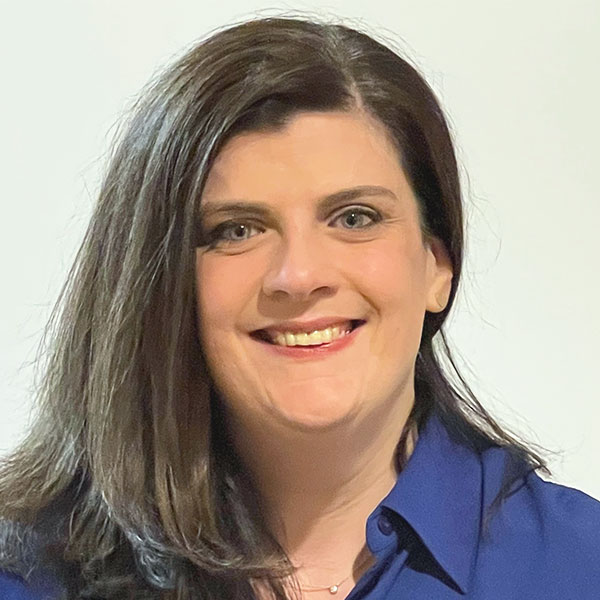 CARLEE MCCRACKEN
Executive Assistant, Strategy and Sales Enablement
Carlee McCracken is an executive assistant for SAIC's Strategy and Sales Enablement organization. She supports the organization's senior vice president and direct reports in building a diverse and inclusive team that is recognized and valued for the work they are accomplishing. Most recently, she was named the membership engagement lead for the Women's Employee Resource Group (ERG) within SAIC. Under her leadership, the ERG has grown to over 1,000 members worldwide.
Throughout her career at SAIC, Carlee has held numerous positions of increasing responsibility, supporting teams focused on digital engineering, artificial intelligence and, most recently, the planning and build-out of the company's Innovation Factory in Reston, Virginia.
Carlee embodies #BreakTheBias by continuously advocating for SAIC's executive assistant community to be involved in change conversations and decisions and by assisting her fellow executive assistants in growing in their positions and breaking out of their comfort zones.
Away from work, Carlee and her husband reside in Fairfax, Virginia, with their 14-year-old daughter and beloved cat. She was a troop leader and cookie mom for the Girl Scouts of America's National Capital Region and held two parent-teacher association board positions at her daughter's elementary school. She is currently a member of a women's wellness program, where she is learning to become the best version of herself and empowering other women to do the same.
Favorite quote: "Nothing is impossible, even the word itself says 'I'm possible'!" —Audrey Hepburn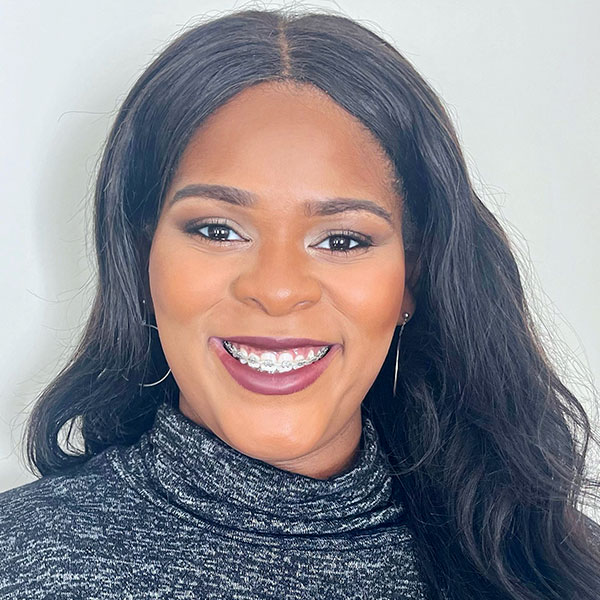 DALEN MCWILLIAMS
Diversity, Equity and Inclusion Analyst / Co-Lead, Connect and Grow Employee Resource Group
Dalen McWilliams is a co-lead of SAIC's Connect and Grow Employee Resource Group and a member of the diversity, equity and inclusion team within SAIC's Human Resources organization.
Dalen earned her bachelor's degree in business administration with a major in global business and a concentration in management from Troy University in July 2021. While attending Troy, she began her tenure at SAIC as an intern in the Information Technology Office within SAIC's Enterprise Solutions and Operations organization. She became a full-time member of SAIC in August 2021, supporting the company's diversity, equity and inclusion efforts.
Dalen has earned certifications in ethical leadership and data analytics. She is currently pursuing her MBA with a concentration in management information systems at the University of Alabama at Birmingham.
Dalen chooses to #BreaktheBias every day by encouraging those around her to be their authentic selves. She played an integral role in launching AccelerātHER, SAIC's first-ever women leadership academy. Its goal is to nurture the next generation of transformational women leaders at SAIC, providing them with development tools and support.
Favorite quote: "When you get these jobs that you have been so brilliantly trained for, just remember that your real job is that if you are free, you need to free somebody else. If you have some power, then your job is to empower somebody else." —Toni Morrison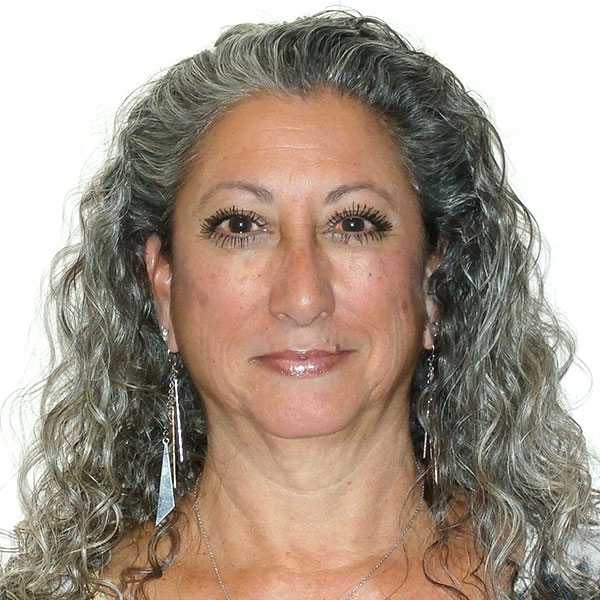 HELENE SIESEL
Senior Program Analyst / Project Manager, Naval Business Unit, Defense and Civilian Sector
Helene Siesel joined SAIC in 1997 as a proposal coordinator, and 25 years later, she's now a senior program analyst and project manager in the Naval Business Unit within SAIC's Defense and Civilian Sector. For the past 13 years, Helene has supported the Naval Information Warfare Systems Command PMW 160 Tactical Afloat Networks. She is a project manager and technical writer for the Consolidated Afloat Networks and Enterprise Services, or CANES, program, developing the documentation required to obtain authorization to execute modernized communications and computing network installations aboard U.S. naval surface ships.
As a passionate women's advocate, Helene has been actively involved in SAIC's women's groups since they originated in 2006. She was the founding president of the San Diego chapter of the Women's Network, which was SAIC's first-ever women's group. She is currently on the leadership board of the San Diego chapter of the Women's Employee Resource Group (ERG) and has been a board member of the ERG since it kicked off in 2016.
Helene also serves on the leadership board of another SAIC ERG, the Equality Alliance, as its events lead. An ally to the LGTBQ+ community, Helene believes that active involvement in organizations such as these is instrumental in helping to #BreakTheBias in the workplace and community.
Helene is also a strong mentoring advocate. Working at both the local and national levels, she participated in the design and implementation of SAIC's mentoring program and served on the program leadership teams with the goal of seeing participants grow and thrive in their careers.
She has been recognized for her work, winning the SAIC Outstanding Leadership award in 2007. Outside SAIC, she was a nominee for the Athena Pinnacle Award in 2012 for her advocacy efforts in the San Diego women's STEM community. In September 2020, she received SAIC's Defense Systems Group GOLD Standard Award for integrity and ethics.
Helene earned a bachelor's degree in journalism from Arizona State University, and she is a certified project manager professional. She holds a training certificate from the Association for Talent Development.
Helene enjoys supporting community organizations such as Mama's Kitchen and the San Diego Food Bank. She also enjoys travel, live theatre, going on walks/hikes and wine tasting.
Favorite quotes: "Fight for the things that you care about but do it in a way that will lead others to join you." —Ruth Bader Ginsberg
"You may encounter many defeats, but you must not be defeated. In fact, it may be necessary to encounter the defeats, so you can know who you are, what you can rise from and how you can still come out of it." —Maya Angelou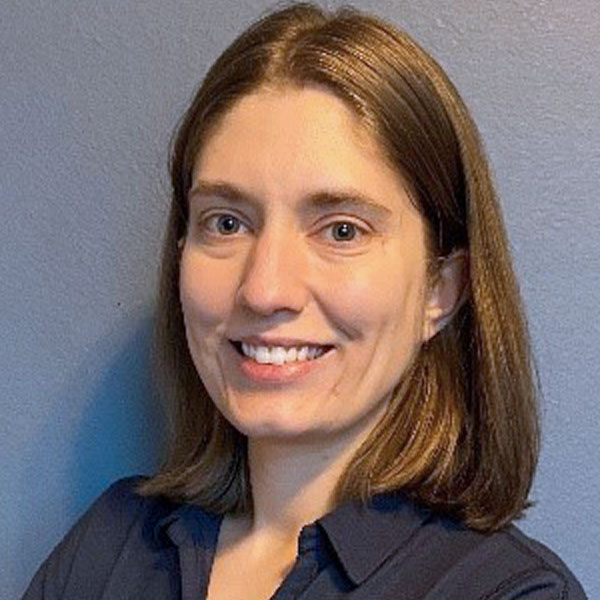 KAYLA STURGEON
Senior Cybersecurity Operations Analyst, U.S. Army Space and Missile Defense Command and Strategic Systems, Defense and Civilian Sector
Kayla Sturgeon is a senior cybersecurity operations analyst for SAIC's Defense and Civilian Sector, supporting the U.S. Army Space and Missile Defense Command and Department of Defense strategic systems. She joined SAIC in November 2019 and instructs U.S. Air Force, Space Force and DOD civilian members on defensive cybersecurity operations.
In the classroom, Kayla delivers more than the course material, encouraging her students at all levels of knowledge to never stop learning. In addition, she makes sure that her colleagues' voices are heard and every opinion matters. As a member of SAIC's Women's Employee Resource Group's professional development team, Kayla works on ways to help the group's members to grow.
In her community, Kayla has led and participated in running events from 5Ks to half-marathons, encouraging runners with whom she has trained to reach their goals. She is a member of InfraGard, an FBI-affiliated organization that works with the private sector to protect U.S. critical infrastructure. Kayla is also a member of Disabled American Veterans, or DAV, a nonprofit charity that provides a lifetime of support for veterans of all generations and their families. Kayla embodies #BreakTheBias with her continuing support for SAIC customers, co-workers and her community.
Kayla earned her bachelor's degree in cybersecurity and information assurance from Western Governors University, as well as a bachelor's degree in international relations from American Military University. She is a certified systems security practitioner and holds Security+, Project+, Server+, Network+ and A+ certifications. She lives with her wife and four dogs in central Arkansas.
Favorite quote: "Women belong in all places where decisions are being made. It shouldn't be that women are the exception." —Ruth Bader Ginsburg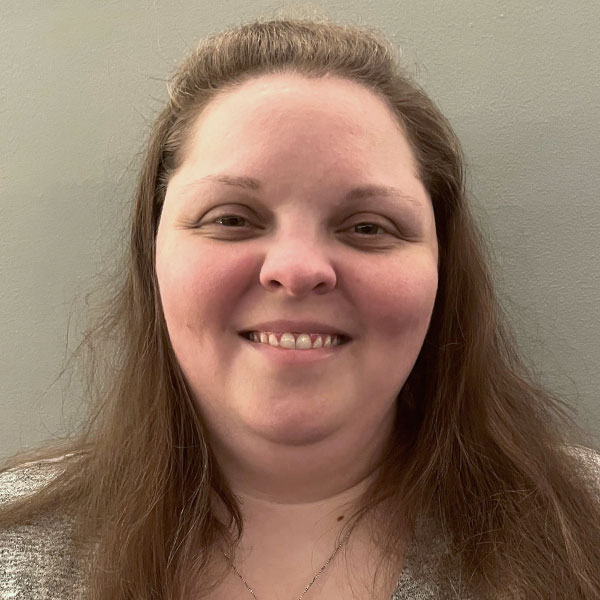 JESSICA ULMER
Senior Instructional Systems Designer, Enterprise Solutions and Operations / Leadership Team Member, Accessibility Employee Resource Group
Dr. Jessica Ulmer joined SAIC in 2020 as an instructional systems designer for the Defense and Civilian Sector and recently moved to the Enterprise Solutions and Operations organization as a senior instructional systems designer.
After earning her bachelor's degree from Westfield State University in 2006, majoring in English and middle/secondary education with a double minor in women's studies and multicultural studies, Ulmer launched her teaching career. While teaching middle and secondary English and special education, she earned her master's degree from College of Our Lady of the Elms in 2009, majoring in education with a focus on special education and English education. Ulmer then moved to teaching post-secondary composition courses in 2013 and earned a master's degree from Rhode Island College in 2015, majoring in English composition.
Despite losing her hearing in 2013, Ulmer has continued to excel in both career and personal settings. She earned her Ph.D. from Texas Tech University in 2020, majoring in technical communications and rhetoric with a focus on disability and accessibility. Her education and teaching experience have prepared her for the challenges of working with a variety of colleagues and customers.
Ulmer has been on SAIC's Accessibility Employee Resource Group's (ERG) leadership team since the group's inception last year. She created "The Disability-focused Gift Guide" for SAIC employees to use for the holiday season. Ulmer has been working on education and workshops with the ERG to spread the word about disabilities and disabled individuals' needs.
Two national organizations are also benefiting from Ulmer's skill set. She is a board member at large in charge of sponsorship for Deaf in Government, a 501(c)(3) nonprofit organization which supports deaf and hard-of-hearing individuals nationwide, and she is the transformative justice officer for the Rhetoric Society of America, an organization of scholars dedicated to studying, teaching and practicing rhetoric.
Ulmer embodies #BreakTheBias by fighting for accessibility for everyone and especially those with sensory disabilities. She continues to fight for deaf, blind and deafblind individuals to be given the same opportunities afforded to others.
Favorite quotes: "We can't continue to move forward in society unless the disability community feels properly seen and heard." —Keah Brown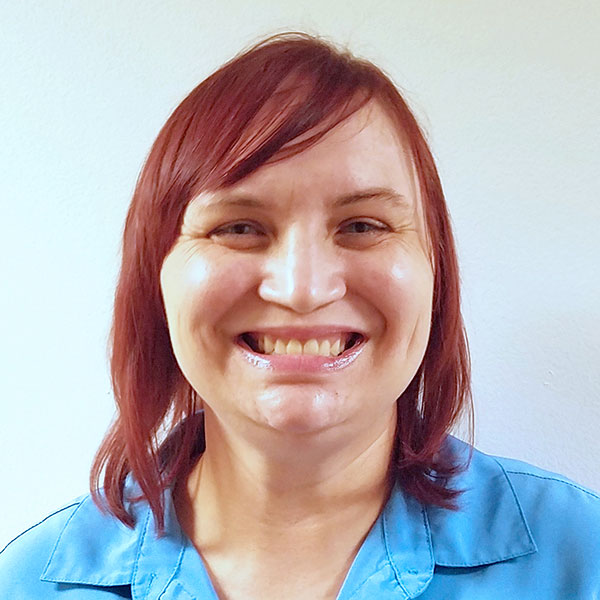 FALLON WATTS
Systems Support III, Department of Defense Composite Health Care System, Defense and Civilian Sector
Fallon Watts is a systems support III in SAIC's Defense and Civilian Sector, supporting the Department of Defense's Composite Health Care System (CHCS). Fallon joined SAIC in 2011 at Malmstrom Air Force Base, supporting the Armed Forces Health Longitudinal Technology Application — the DOD's electronic health record (EHR) system — with the CHCS, which SAIC has supported for over 30 years. Fallon was the system administrator for the 341st Medical Group, ensuring local EHR server functionality, supporting EHR-related hardware, creating and supporting medical staff EHR accounts for all departments, assisting in the maintenance of the patient database and providing customer service to the diverse community of our military.
In 2016, Fallon joined the team at SAIC's Integrated Service Management Center in Oak Ridge, Tennessee, to support the DOD's EHR system on a global scale. She helps ensure the sustainment and availability of the CHCS for the DOD's 103 primary and 586 remote military hospital and treatment facilities worldwide.
Behind Fallon and her team's success is communication, as they support and teach each other daily. Her #BreakTheBias effort is best reflected in working across the globe with all the different men and women of the various medical facilities and software support specialists who work with the vast CHCS.
Fallon's volunteerism focuses primarily on the youth. She feels that one of the best ways to #BreakTheBias within the community is through working with the next generation. She currently volunteers as a mentor for her older daughter's CyberPatriot team. Her teenage daughter is the team's captain, and the leadership lessons Fallon imparts to her allows her to lift up the team's young members, as they learn about cybersecurity.
Fallon finds it to be a privilege to work with the CyberPatriot team's diverse group of youths as they reach their goals. Their focus is on teamwork, and together these youths unravel the security challenges of various operating systems, servers and browsers they take on. The students have learned that they only succeed hand in hand. Fallon is also working to have both herself and the team become certified as CyberPatriot Tech Caregivers in order to educate and help senior citizens in their community about cybersecurity.
Fallon is also a volunteer for both of her daughters' high school Naval Junior Reserve Officers Training Corps program and serves on the program's booster club as the grant coordinator. Her additional activities include supporting other women who also live with invisible disabilities such as occipital neuralgia, cervicogenic headaches and chronic migraines.
Fallon holds a CompTIA Security+ certification and studied computer science with a focus on networking and programming at the University of Great Falls. She resides in Oak Ridge with her husband and two teenage daughters.
Favorite quote: "We do not have to become heroes overnight. Just a step at a time, meeting each thing that comes up, seeing it as not as dreadful as it appears, discovering that we have the strength to stare it down." —Eleanor Roosevelt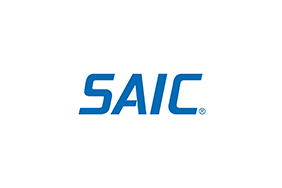 Science Applications International Corporation (SAIC)
Science Applications International Corporation (SAIC)
Science Applications International Corp. (SAIC) is a premier Fortune 500® technology integrator solving our nation's most complex modernization and readiness challenges across the defense, space, civilian, and intelligence markets. Our robust portfolio of offerings includes high-end solutions in systems engineering and integration; enterprise IT, including cloud services, cyber, and software; advanced analytics and simulation; and training.
With an intimate understanding of our customers' challenges and deep expertise in existing and emerging technologies, we integrate the best components from our own portfolio and our partner ecosystem to rapidly deliver innovative, effective, and efficient solutions.
More from Science Applications International Corporation (SAIC)