Published 03-08-22
Submitted by HP Inc.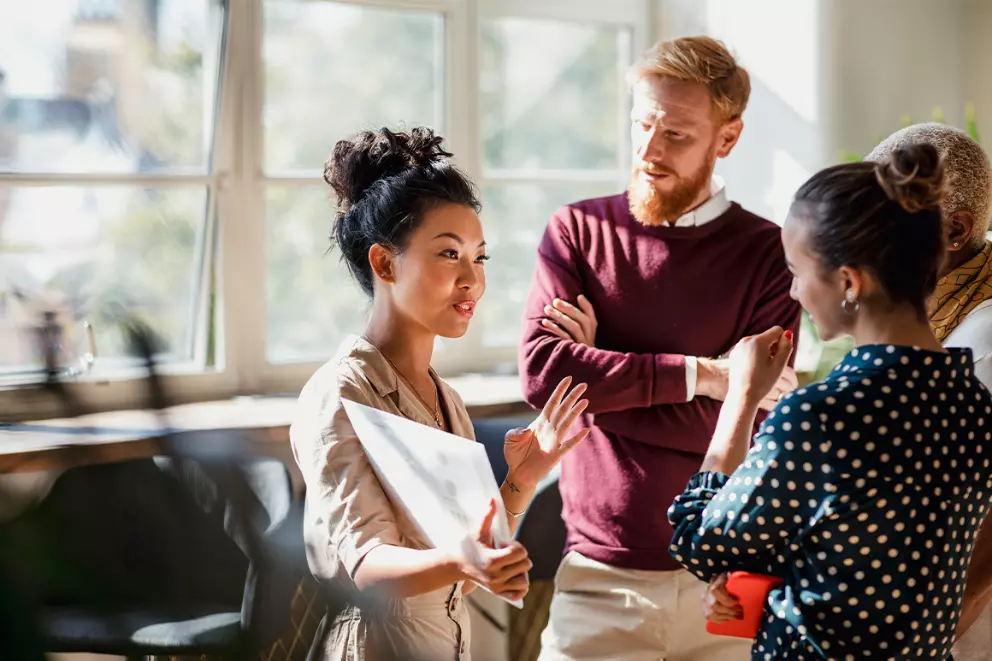 The pandemic has changed the way we live and work, and women in particular have been disproportionally affected by the global shift. In spring 2020, approximately 3.5 million mothers with school-age children lost jobs or left the workforce in the U.S. Although jobs have returned, there are 1.1 million fewer women in the workforce than in February 2020.

HP's new global external study reveals not all is lost. Many women are still eager to advance in their careers, with one in three in the U.S. applying for promotions last year. The top reason for applying for a promotion among all adults is to increase income (60%), followed by readiness to take on more responsibility (37%). More women (42%) than men (31%) say they are looking for a promotion because they are already doing higher-level tasks outside of their role.

Additional key findings: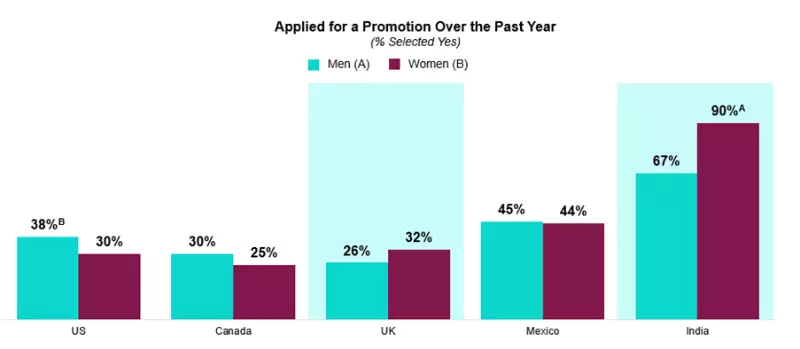 Women's Ambition Remains, but More Men than Women are Getting Promoted 
Among the countries that participated, the top country with women who applied for a promotion was India (90%), which was more than men (67%). United Kingdom came in second with 32% of women who applied for a promotion versus 26% of men. In the U.S., fewer women than men say they applied or expressed interest in a promotion  – 30% of women compared to 38% of men. Also, men in the U.S. were more likely to be successful – 52% of men got the promotion they applied for, as opposed to 40% of women. 
From the Great Resignation to the Great Retention 
The ability to manage work and life (56%) was the top reason women in the U.S. said they want to stay at their current company. Only 10% say a competitive total compensation package makes them stay, as opposed to 21% of men. More men (37%) than women (29%) in the U.S. point to the opportunities they have to grow with their employer as a reason to stay with their current company.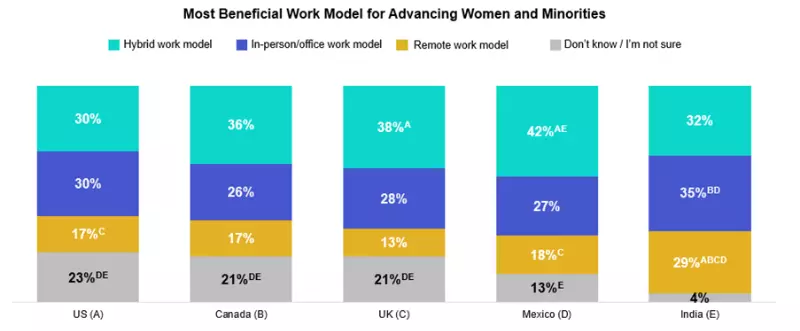 Hybrid Work has the Highest Potential to Support Women & Minorities 
Flexibility may be key to retaining women and minority groups in the workplace, but many believe physical connection is an important mechanism to advance their careers. In the U.S., it's a tie between the hybrid work model (30%) and in-person/office model (30%) that are believed to be most beneficial. Only 17% think the remote work model is most ideal for advancing women and minorities. Interestingly, more people in Canada (36%), U.K. (38%), Mexico (42%) and India (32%) than in the U.S. thought the hybrid work model is most beneficial for women and minorities to grow in the workplace.

Employees Feel Bullish about Corporate Efforts to Fight Gender Discrimination 
Employees are largely feeling encouraged by actions their employers have taken on gender equity. In the U.S., about half of people say their company is making more efforts to combat gender discrimination than in the past. Perhaps not surprisingly, more men (54%) than women (42%) agree that their company is taking more steps on gender equity.
Still, one in three adults (32%) in the U.S. think corporate DEI efforts have waned since 2020. Younger employees in particular expect more action from employers. About two in five Gen Zers (39%) and Millennials (41%) believe their company's efforts have decreased lately, compared to only 24% of Gen Xers and 16% of Baby Boomers who feel that way.  

Gender Equity Efforts at HP
HP is making concerted efforts to retain women and help them grow. Since the pandemic started, the company has been conducting listening sessions and pulse surveys to understand how it can support women and other underrepresented groups. As a result, HP offered more wellness benefits and empowered managers to provide customized solutions for their direct reports as everyone's needs are different. Solutions range from more flexibility to sponsorship programs to tutoring programs designed to help working parents provide academic assistance for their children. 

HP's Chief People Officer Kristen Ludgate says now is the time for companies to step up. "We can't afford to lose more women in the workforce. This is a wake-up call for companies to reconnect with their female employees. Leaders need to actively listen to female employees' needs and take fast action. At the core, it's about fostering a strong sense of belonging – for women to know that they are respected, their contributions are valued, and they have an open path for growth." 

And as we learned from the survey, despite the ongoing hardship, women want to grow and advance in their careers. HP is being very intentional at developing the next generation of female leaders; it recently committed to reaching 50/50 gender equality in HP leadership by 2030 – the first Fortune 100 tech company to make this pledge. This goal as well as additional diversity targets that the company set are part of HP's ambition to become the world's most sustainable and just technology company.  

About the study
HP commissioned global research firm Morning Consult to conduct independent research on this topic. It was conducted between January 24 and February 7, 2022 among a sample of 6,211 adults in the US, Canada, UK, Mexico and India.* Results from the full survey have a margin of error of plus or minus 2 to 3 percentage points.

*Top box acquiescence is common in India based on prior Morning Consult surveys and internal research. Acquiescence bias means the tendency for respondents to agree with research statements, and as a high acquiescence country results in India often stand out compared to other markets and should be interpreted with that respondent tendency in mind.
MEDIA CONTACT
Kelly Xie
Kelly.Xie@hp.com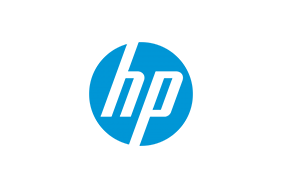 HP Inc.
HP Inc.
HP Inc. creates technology that makes life better for everyone, everywhere. Through our portfolio of printers, PCs, mobile devices, solutions, and services, we engineer experiences that amaze. More information about HP (NYSE: HPQ) is available at www.hp.com.
Sustainable Impact at HP, Inc.
Sustainable Impact is our commitment to create positive, lasting change for the planet, its people and our communities. Click here for more information on HP's Sustainable Impact initiatives, goals and progress.
More from HP Inc.