Published 03-08-22
Submitted by CSR International
The World's Future Will Be Better Than You Think
New book addresses the power of regeneration in solving global challenges
AUSTIN, Texas, March 8, 2022 /CSRwire/ – Globally renowned thought-leader Dr. Wayne Visser is a respected expert in sustainability and responsible business practices. In his new book, Thriving: The Breakthrough Movement to Regenerate Nature, Society, and the Economy (Fast Company Press, Mar 8, 2022), Visser explores an innovative agenda for turning our biggest international societal challenges into opportunities to thrive.
According to Stuart Hart, author of Capitalism at the Crossroads, Thriving "provides a roadmap for nothing less than the reinvention of the world—and how business can overcome the forces of breakdown to foster planetary thriving." It shows how innovation can regenerate nature, society, and the economy by taking us from degradation to restoration of ecosystems, from depletion to renewal of resources, from disparity to responsibility in communities, from disease to revitalization of health, from disconnection to rewiring through technology, and from disruption to resilience of infrastructure and institutions.
Paul Hawken, author of Regeneration: Ending the Climate Crisis in One Generation, calls Thriving "a brilliant and comprehensive overview of the burgeoning movement to regenerate our land, products, forests, cities, and society," while Dame Polly Courtice, Emeritus Director of the University of Cambridge Institute for Sustainability Leadership calls it "indispensable reading for current and future leaders who must step up to deliver the business innovations, societal changes and ecosystem regeneration that we so urgently need."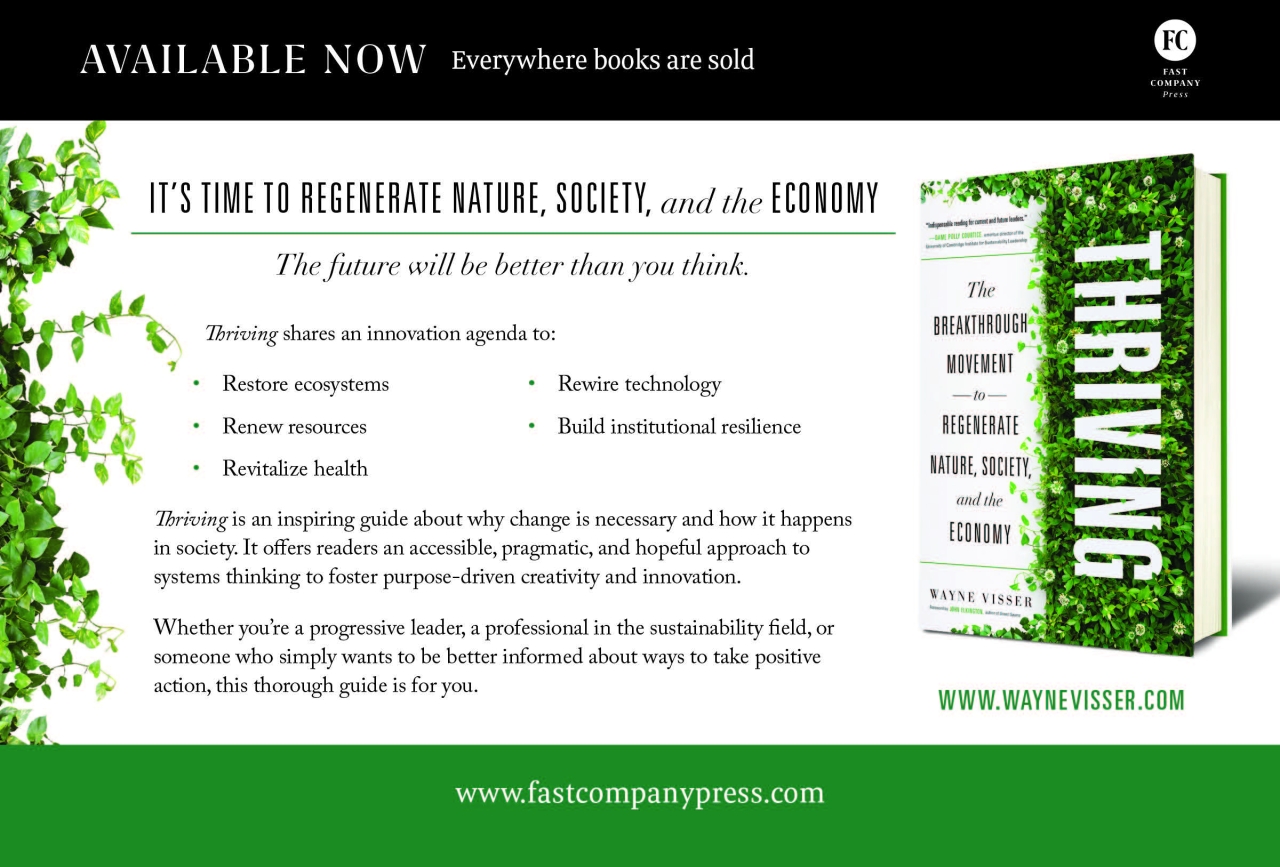 Thriving strives to:
Inform about why change is necessary and how it happens in society, as well as counter prevailing despair and pessimism about the state of the world with hope and optimism,
Inspire with what change is possible and where it is already happening, showing how we can go from problems of breakdown to breakthrough solutions, and
Impel by creating a desire to turn information and inspiration into action, adding momentum to the growing regeneration movement.
"This book tells the stories of many who are working tirelessly to create a radically better tomorrow," Visser says. "The hundreds of examples I share are all testimony to the fact that each of us can be a constructive force for thriving—and, more importantly, that there are many who are rising to the challenge and taking bold action."
Thriving is not an exercise in blind optimism about technology or other miracle-cure solutions, "It is a must-read guide for how businesses can realise their potential by fundamentally changing their relationship with nature, society, and the economy," according to Mads Nipper, CEO of Ørsted. Thriving provides an accessible approach to systems thinking and an offer of pragmatic hope based on purpose-driven creativity and innovation. Whether you're a progressive leader, a professional in the sustainability field, or someone who simply wants to be better informed about ways to take positive action, this thorough guide is for you.
Learn more about Thriving and Dr. Wayne Visser's books, poetry, and workshops by visiting www.waynevisser.com.
About the Author
Dr. Wayne Visser is a globally recognized Cambridge "pracademic". As the author of 40 books, he is an idea-monger, storyteller, and meme weaver. His work as a champion for thriving, strategy analyst, sustainability academic, documentary filmmaker, poet and professional speaker has taken him to more than 75 countries. He has been recognized by Trust Across America as one of the world's top 100 thought leaders in trustworthy business and named a top 100 sustainability leader by ABC Carbon.
Dr. Visser currently serves as head tutor, fellow, and lecturer at the University of Cambridge Institute for Sustainability Leadership, as well as professor of integrated value at Antwerp Management School, where he holds the world's first academic chair in sustainable transformation. He is also a director of the think tank and media company Kaleidoscope Futures and founder of CSR International. Previous roles include director of sustainability services for KPMG and strategy analyst for Capgemini in South Africa.
# # #
More about Greenleaf Book Group
Greenleaf Book Group is an independent publisher and distributor located in Austin, Texas, dedicated to empowering authors. Greenleaf's hybrid publishing model is uniquely positioned to offer the benefits of both traditional publishing and self-publishing. To learn more about Greenleaf, visit www.greenleafbookgroup.com.
Media Contact:
Sam Ofman
Greenleaf Book Group
media@greenleafbookgroup.com
512-891-6100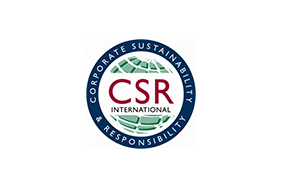 CSR International
CSR International
CSR International was founded in 2009 with the mission to be an incubator for CSR 2.0, which means Transformative Corporate Sustainability & Responsibility (CSR). Since then, we have delivered CSR training around the world, welcomed many people through our internship program, shared hundreds of CSR Research Digests and licensed CSR 2.0 Assessors & Advisors.
More from CSR International