Published 02-23-22
Submitted by Action for Healthy Kids
CHICAGO, February 23, 2022 /CSRwire/ - Action for Healthy Kids, a nationwide grassroots non-profit that mobilizes family-school partnerships to prepare kids to be healthy in body and mind, has announced the launch of an expanded comprehensive, digital bilingual resource library. 
The expansion made possible by a donation from the Kellogg Company Fund, the charitable arm of the company, now gives school professionals, families, and communities access to more than 250 free activities, tip sheets, and videos in both English and Spanish. The resources are designed specifically to require little or no preparation to accommodate the busy schedules of families and educators. Users will be able to filter the library by program, language, location, or activity type, and download their resources directly from the site at https://www.actionforhealthykids.org/game-on-activity-library.  
"Action for Healthy Kids addresses the root causes of the child health crisis by ensuring that children in underserved communities are supported with the three foundations of lifelong health: optimal nutrition and physical activity; safe and supportive environments; and stable and nurturing relationships with adults," said Rob Bisceglie, Action for Healthy Kids' Chief Executive Officer. "Our objective is to promote holistic well-being, and in this case, support Spanish-speaking communities with the tools every school, parent, caregiver and child needs."     
"We wanted to create digital assets that are culturally competent, equitable, and co-designed with parents/caregivers and school staff in mind. Our vision is that one day, all students in this country, regardless of zip code, will be healthy in body and mind," says Bisceglie. 
"We're thrilled to be part of this expansion," said Stephanie Slingerland, Senior Director, Philanthropy and Social Impact, at Kellogg Company. "Kellogg and the Kellogg Company Fund have partnered with Action for Healthy Kids since 2007 because we believe in its mission to improve the holistic wellbeing of children and their communities—including ensuring equitable access to resources. Advocating on behalf of children and their physical and emotional health is a critical component of Kellogg's commitment to create Better Days for three billion people by 2030." 
Founded in 2002, Action for Healthy Kids is committed to addressing the root causes of the current child health crisis. The organization focuses on increasing access to nutritious foods, physical activity, and supporting social-emotional learning while engaging parents, caregivers, and community members to transform student health, well-being, and learning.   
To learn more and explore resources available, check out actionforhealthykids.org.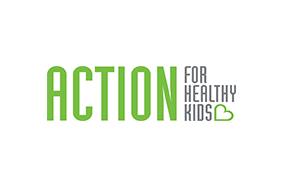 Action for Healthy Kids
Action for Healthy Kids
Action for Healthy Kids is dedicated to improving children's health and well-being by bringing together educators, families and other key stakeholders to help children lead healthy lives. Through our flagship programs, Game On and Parents for Healthy Kids, programmatic support, and funding opportunities, we impact more than 20 million children in 55,000 schools nationwide and in underserved communities where we can have the greatest impact. Action for Healthy Kids is the organizational home of Active Schools, formerly known as Let's Move! Active Schools, a collective impact movement of public and private sector partner organizations working to prioritize physical education and physical activity in schools. To learn more about the ways our growing network of 140,000+ volunteers and champions is helping to make sure every kid is healthy, active and ready to learn and thrive, visit us at actionforhealthykids.org.
More from Action for Healthy Kids