Published 02-17-22
Submitted by HP Inc.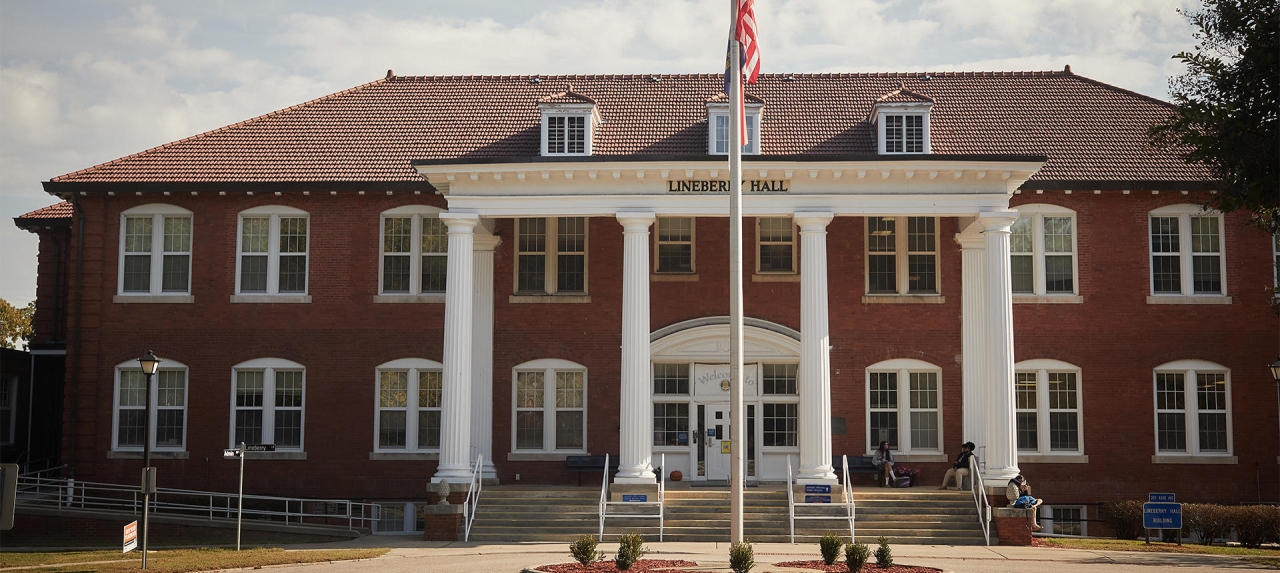 Science teacher Lisa Ross taps a walnut on the desk of one of her high school students. She taps a pecan on the desk of the next student, and an almond on the next. One by one, she guides them to wrap their nuts in a napkin and bash them open with a mallet to see what's inside. "What part of the plant is this?" she asks. "The seed!" they answer in unison.
Ross is an instructor at the Governor Morehead School for the Blind (GMS), the 176-year-old residential school in Raleigh, North Carolina, that serves students from kindergarten up to age 21 whose sight ranges from moderate visual impairment to total blindness. Ross, who has a masters degree in zoology from Texas A&M University and a teaching certificate from North Carolina State University, has taught preschool through university-level science. But when she arrived at Morehead in 2019, she faced a new kind of challenge: How to teach concepts like chemical reactions and the anatomy of a tree without the help of textbooks full of images and diagrams?
"The ways I taught before were visual and auditory, but now they need to be auditory and tactile, or auditory and kinesthetic," she explains. "The more ways they can absorb the information, the better."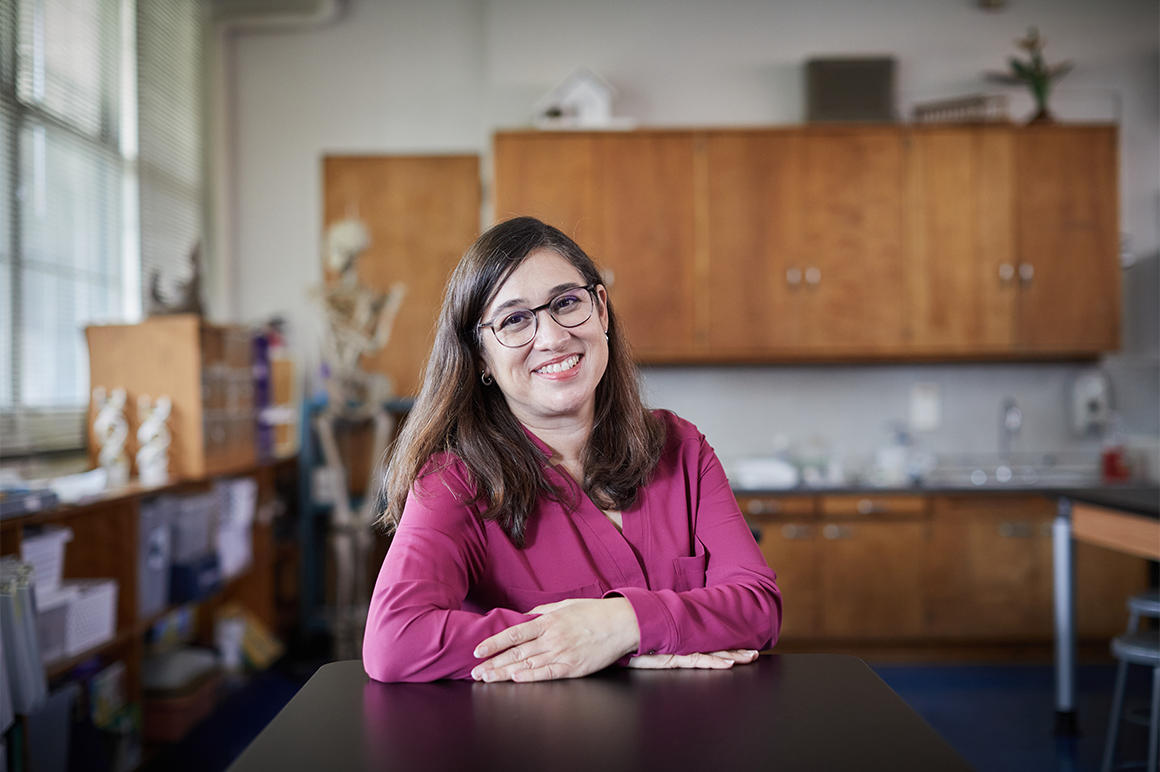 Leaning into varied learning styles
Inside her classroom, a skeleton stands sentinel in the Wakanda Forever salute and shelves of 3D models and braille readers line the walls. Ross' teaching style is fluid, upbeat, and engaging — and requires a lot of on-the-fly creativity. She's found her students learn best when she incorporates an array of learning styles and engages their other senses, from touch and sound to smell and taste.
To help them understand and remember the component parts and processes of a plant, Ross' students tasted fruits like bananas and strawberries, root vegetables like potatoes and beets, and stems like celery and asparagus. When teaching geology, Ross had them grind up crayons to create a texture like sediment, then squeeze handfuls to learn how sedimentary rock is formed. To learn about chemical reactions, they put antacid tablets and water into Ziploc bags so they could experience the change in temperature, hear the fizzing, and feel the bag expand with air. 
Her toolkit also includes tactile graphics students can 'see' with their fingers, an embosser (braille printer) that allows them to label those diagrams, and technologies like ZoomText, which magnifies words and images on a screen; and JAWS, which provides speech and braille output for the text on a webpage or document and for the commands required to navigate within an application. 
These not only help students access the curriculum, but also help them develop critical digital and "soft" skills they'll need to succeed in the future.
"The ability to use technology is key to independence and learning for our students, because with it they have a world of current information at their fingertips," says Ross. "The screen readers on their laptops and braille displays let them have access to the same written and audio information on the internet as others. They can correspond with the sighted world via email and messaging without others knowing they have an impairment, which often helps others view their intelligence and personality first and their impairment second."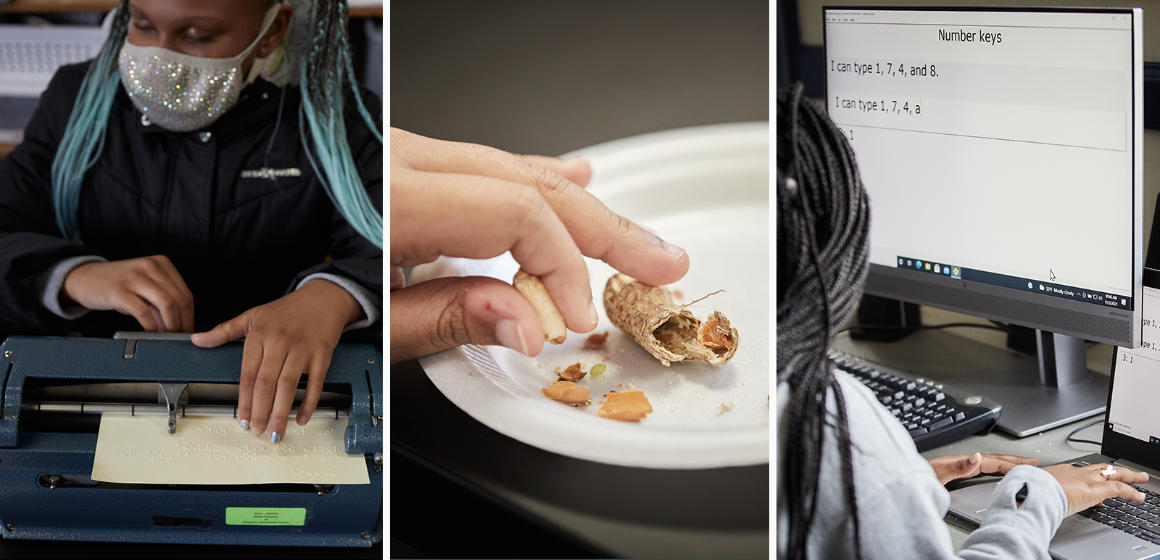 The accessibility gap
While accessibility for personal devices like smartphones has come a long way in recent years, still some 60% of visually-impaired people reported that new technologies weren't available to them, according to a small national survey by the American Foundation for the Blind, including 17% who did not have tablets and 21% who didn't have laptops.
"Our students have unique perspectives and ways of solving complex problems, they just need to be invited to the conversation."
—Matt Mescall, Principal, Governor Morehead School for the Blind
In the US labor force, there's a high unemployment rate among workers with visual impairment. According to 2018 data from the American Community Survey (ACS), over half of working-age people who are blind or visually impaired are not in the labor market, meaning they are not working and not seeking work, compared with fewer than a quarter of people without disabilities. Only 44% of people who are blind or visually impaired are employed, compared with 79% of those without disabilities, the data showed. And when persons with visual impairments are employed, they often face barriers to getting the tools and accommodations they need to be successful at their jobs. 
Expanding access to technology for individuals from marginalized communities and people with disabilities is a key focus of HP's digital equity goals, which aim to accelerate digital equity for 150 million people by 2030. Technology can be a critical stepping stone to students' success for whatever comes next, either higher education or launching a career, says GMS Principal Matt Mescall. 
"Technology is the great equalizer," he says. "So much of what we do is digital and computerized. Our students have unique perspectives and ways of solving complex problems, they just need to be invited to the conversation."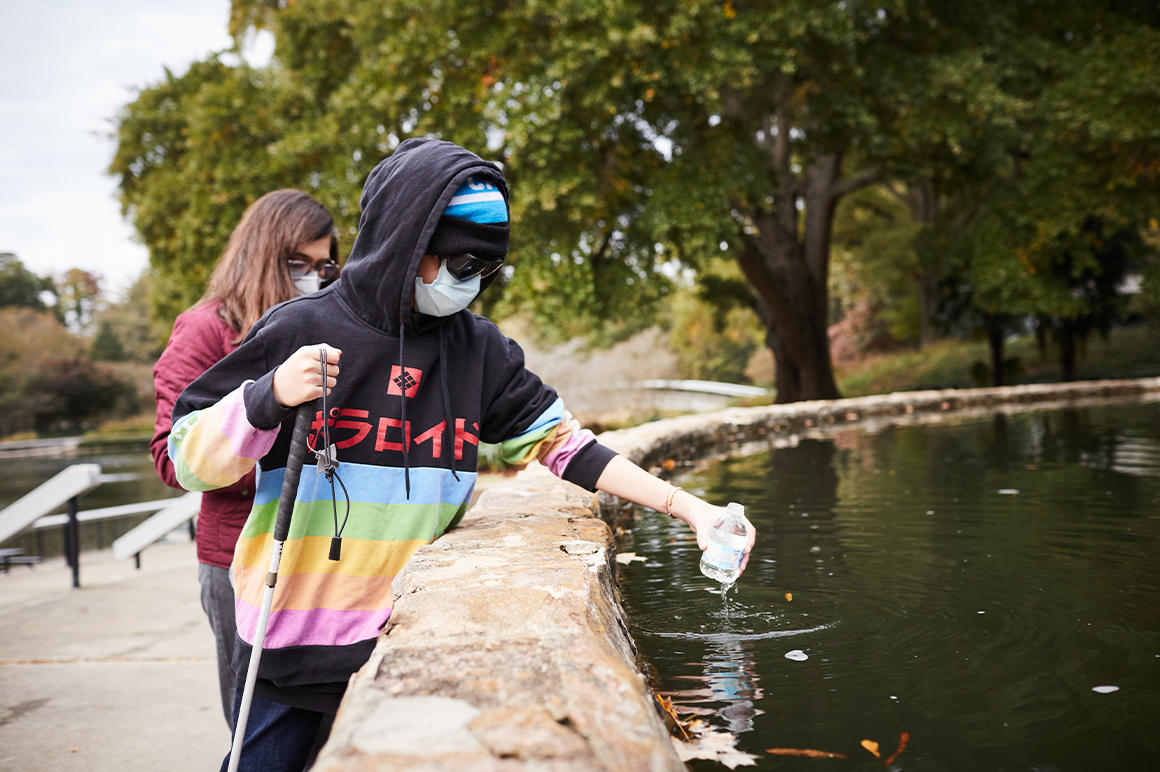 White canes to water quality
At Morehead, a leafy 67-acre campus with red brick buildings that date from 1845, students study not only academics, but also life skills. While three students commute daily from their nearby homes, others have the unique experience of living on campus in cottages five days a week. They learn everything from how to navigate the world using a white cane to how to make lunch, practice table manners and shop, along with traditional subjects like English, math, and biology. 
Morehead's Career and Technical Education program lays out pathways to different professional roles, with training in business, Adobe and Microsoft software, radio broadcasting, screenprinting, and working with assistive technology.
"Our students are being prepared to live an independent life, contribute to their communities, and participate as global citizens," Mescall says. "The spectrum ranges from effectively communicating wants and needs to aiming for college. Infused into everything we do are lessons that develop the skills students need to fully access the world around them."
During a typical school day, Ross teaches two periods of middle school science, one for eighth graders, plus courses in environmental science and physical science for high schoolers. On a cool morning in November, she took an eighth grader on an excursion to collect water samples for future experiments from a nearby pond. 
In the classroom, Ross is constantly pivoting, helping a student guide his white cane into the low-tech cane holsters — segments of PVC zip tied to the table leg — guiding another's fingers along a tactile diagram, cheering the student playing the role of a root, who feels her way past desks to hand a water molecule to the one playing the trunk, who hands it to the one who is the leaf, always trying to provide the information in as many modalities as she can. 
"All of my classes are unique," she says. "Each has students of different abilities and with different IEP (individual education plan) goals, so they all have different learning modes as well."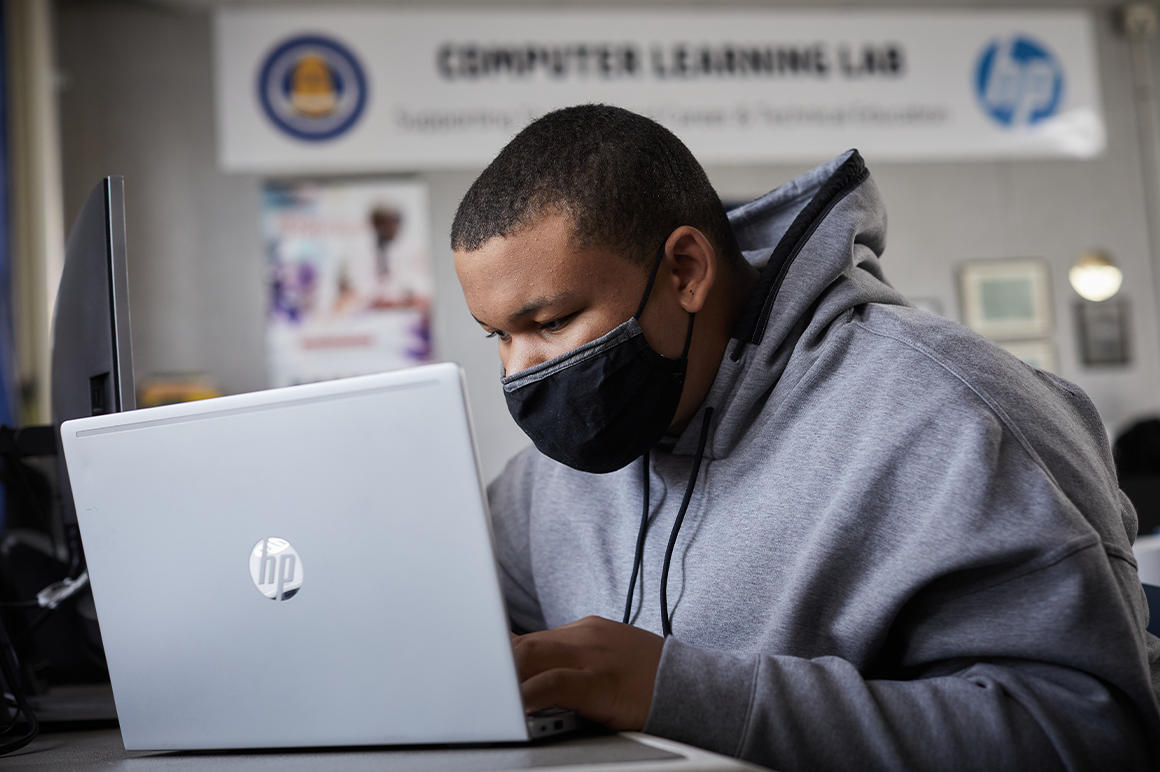 Pulling together to support remote learning
The pandemic required even more of Ross and the Morehead staff. As institutions across the country figured out how to help students learn remotely, the inequities in education revealed themselves in confronting and distressing ways. This was felt acutely by families with kids managing special learning needs and/or physical disabilities.
For teachers like Ross, remote learning meant not always knowing if her online lessons landed. "We don't know what's happening around the student," she explains. "Because they are auditory, other things that go on around them are sometimes more interesting than what we're trying to teach. So keeping their attention was a huge challenge."
Lack of access to laptops and adaptive software and devices meant that some students couldn't complete their coursework last academic year, according to Sarah McManus, digital learning director for Education Services for the Deaf and Blind at the North Carolina Department of Public Education. Many students were sharing a tablet or computer with an entire family (one shared a single device among eight siblings), and those without room for a dedicated workspace were trying to work in makeshift spaces like on a bed or in the hallway.
That's why last year HP supported the school with a donation of technology "bundles" and ongoing training, which included laptops and docking stations; large monitors so that text could be magnified for those with some sight; external keyboards that could be used with software that translates letter keys into braille keys to serve as a braille typewriter, and noise-cancelling headphones with high-quality microphones so that students could block out distractions and focus on remote instruction.
"The HP bundles came at the most crucial time," says Principal Mescall. "We're buying laptops at the same time the world is buying laptops, and our students needed way more than that. The screens weren't big enough, so HP supplemented with large monitors. We have students who have trouble with the fine-motor control needed to use a mouse, so they provided touchscreen monitors. And headphones with mics so students could block out the sound of everybody else at home."
Half of the bundles went home with students, half were set up on site in the new HP Computer Learning Lab, so that when they returned to school they had access to the same setup on campus. HP also donated technology-focused professional development training for teachers and staff, as well as access to HP LIFE, HP Foundation's online business and digital literacy skills courses. HP's Office of Aging and Accessibility and members from product design teams also conducted interviews with students to learn how to make the devices more accessible.
The technology made all the difference to the students like Avery B., 19, who is taking a bonus year at the school. He said that without the HP bundle he'd have had to struggle along with his mother's old computer. "I would manage, but it would have been hard," he says.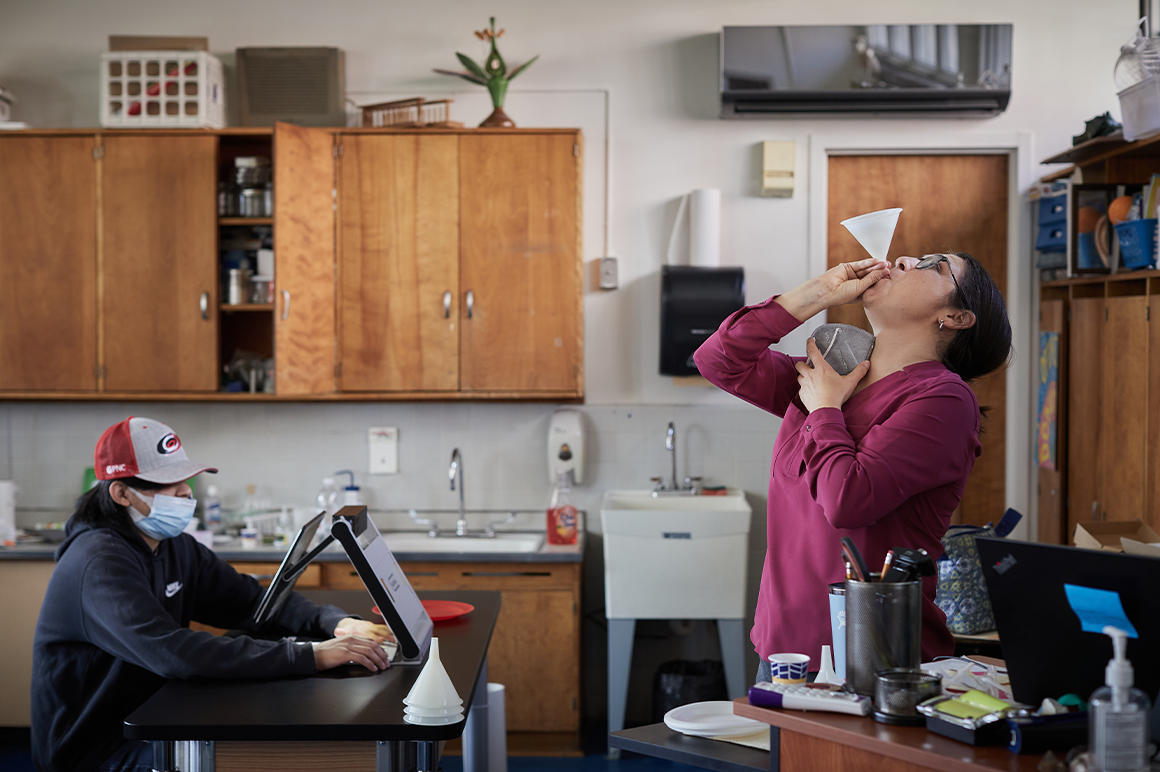 HP tech is helping students and teachers manage a hybrid setup during the fall semester that brought most students back to campus while some opted to remain remote. Inside the HP lab, a sunny space lined with computers, a big screen loops in students learning remotely. The room is noisy, the students engaged. 
Paitton I., 14, listens to the robotic voice of JAWS as it reads back her notes on Chernobyl. She has ZoomText turned on so that the words are big enough for her to read if she leans in close. Receiving the information both aurally and visually helps it stick. "I would probably still be super behind in school and still getting bad grades without this," she explains. Jabien C., 14, says being able to use a big screen meant he could keep on learning. "I have enough vision that I only need large print," he said, and magnifying the text would have been nearly impossible on a laptop.
Back in Ross' classroom, she turns to a TV to include a student learning about the functions of a plant from home, then guides an in-person student's hands as they feel their way along a brailler. 
She turns again to the screen, drawing in the remote student by assigning him the role of the biggest star in our solar system. "Sun!" she calls out enthusiastically to focus his attention, "We need you now. Go 'Ka-pow! Ka-pow!' We can't have photosynthesis without you!"
Photo credits: ALEX BOERNER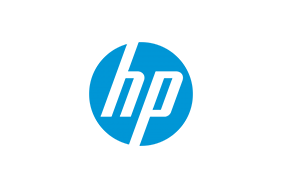 HP Inc.
HP Inc.
HP Inc. creates technology that makes life better for everyone, everywhere. Through our portfolio of printers, PCs, mobile devices, solutions, and services, we engineer experiences that amaze. More information about HP (NYSE: HPQ) is available at www.hp.com.
Sustainable Impact at HP, Inc.
Sustainable Impact is our commitment to create positive, lasting change for the planet, its people and our communities. Click here for more information on HP's Sustainable Impact initiatives, goals and progress.
More from HP Inc.