Published 02-15-22
Submitted by Field to Market: The Alliance for Sustainable Agriculture
LENEXA, Kan. and WASHINGTON, February 15, 2022 /CSRwire/ - Farm Journal's Trust In Food and Field to Market: The Alliance for Sustainable Agriculture today released the 2022 edition of their "State of Sustainable Ag" report, highlighting perspectives of 500 row-crop producers across the U.S. on pathways and barriers to accelerating conservation adoption.
Research conducted by Field to Market in December 2021 showed that progress across five key environmental indicators has largely plateaued in the last decade. This new report builds on that finding and sheds light on the financial and psycho-cultural – or "Human Dimensions" – motivations and barriers for farmers in adopting conservation practices. The report provides actionable insights and underscores the importance of blended solutions that give equal consideration to financial incentives, technical assistance and tailored Human Dimensions cultural support to accelerate on-farm climate impact.
"As the 'new normal' of a global pandemic and heightened weather, supply chain and market extremes continues, farmers still feel as alone as they did in 2020 in absorbing the shock of these changes," said Amy Skoczlas Cole, executive vice president of Trust In Food. "This research uncovers the important finding that tailoring incentive and support programming to meet the diversity of farmer needs and motivations that can be uncovered by Human Dimensions insights is critical to program effectiveness."
The report champions a blended approach to accelerating conservation adoption—the Golden Triangle for Accelerating On-Farm Climate-Smart Ag—by leveraging solutions across three dimensions to design effective incentive strategies tailored to meet farmers' unique needs, challenges and motivations.
Key findings from the report include:
Profitability is driving motivation for farmers. Unsurprisingly, an overwhelming majority of producers (76%) selected some form of profitability when asked what indicator is most important to assess their operation's performance. However, the report also revealed "softer" motivations and barriers that play a significant role, such as perceived level of effort, opinions of neighbors and peers, and perception of risk.
Reframing value through a farmer lens. Nearly two-thirds of farmers (59%) said they have never calculated the economic benefits provided by adopting conservation agriculture practices and 22% said they see no value in calculating this. Re-casting this calculation process as a critical component to financial decision-making success on the farm could increase its use.
Mobilizing the middle majority of farmers requires a different approach than early adopters. With 88% of growers indicating they are not currently involved in a private company's supply chain sustainability program, there is significant opportunity for downstream brands and retailers to mobilize the middle majority of growers by tailoring solutions to address the diversity of farmer needs and motivations.
The food and ag value chain must carefully consider the perception by farmers of their role in driving change on the ground. While farmers wish to improve the profitability of their operations, the majority of farmers (53%) believe that the downstream supply chain should not influence on-farm production practice, underscoring that an intermingling of economics and personal independence is a central driver to the slow or stalled uptake of change across agriculture.
"Our joint research with Trust In Food underscores the fact that now is the time to redouble our efforts and strengthen our industry's approach to supporting and incentivizing farmers in advancing regenerative and sustainable agriculture," says Scott Herndon, president of Field to Market. "The challenge and opportunity facing partnerships across the value chain is how to unlock the right mix of incentives. Solutions that blend financial mechanisms, technical assistance and community support will be key to helping farmers de-risk the transition to sustainable agriculture."
The full report can be viewed at: https://bit.ly/Sustainable-Ag-Report-22
About Farm Journal
Farm Journal is the nation's leading business information and media company serving the agricultural market. Started 145 years ago with the preeminent Farm Journal magazine, the company serves the row crop, livestock, produce and retail sectors through branded websites, eNewsletters and phone apps; business magazines; live events including conferences, seminars, and tradeshows; nationally broadcasted television and radio programs; a robust mobile-text-marketing business; and an array of data-driven, paid information products. Farm Journal also is the majority shareholder of the online equipment marketplace, Machinery Pete LLC. In 2010, the company established the non-profit, public charity, Farm Journal Foundation, dedicated to sustaining agriculture's ability to meet the vital needs of a growing population through education and empowerment.
About Trust in Food
Trust In Food is a purpose-driven division of Farm Journal dedicated to mainstreaming and accelerating the transition to more sustainable and regenerative ag practices, making every dollar invested in conservation agriculture more impactful. We bring business intelligence to agricultural production behavior change: helping farmers understand, want, and feel capable of undertaking practice change through data science, social research and strategic communications deployed through the omnichannel Farm Journal platform in collaboration with our partners. Visit www.trustinfood.com to learn more.
About Field to Market
Field to Market: The Alliance for Sustainable Agriculture brings together a diverse group of grower organizations; agribusinesses; food, beverage, restaurant and retail companies; conservation groups; universities and public sector partners to focus on defining, measuring and advancing the sustainability of food, fiber and fuel production. Field to Market is comprised of nearly 150 members representing all facets of the U.S. agricultural supply chain, with members employing more than 5 million people and representing combined revenues totaling over $1.5 trillion. For more information, visit www.fieldtomarket.org and follow us on Twitter at twitter.com/FieldtoMarket
Contact
Susan Rhode
Director of Marketing, Trust in Food
(913) 213-7110
srhode@farmjournal.com
Carter Purcell
Communications Manager, Field to Market
(202) 297-8345
cpurcell@fieldtomarket.org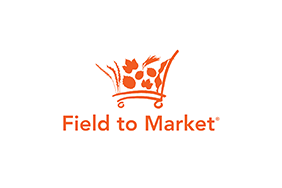 Field to Market: The Alliance for Sustainable Agriculture
Field to Market: The Alliance for Sustainable Agriculture
Field to Market: The Alliance for Sustainable Agriculture™ is a leading multi-stakeholder initiative working to unite the agricultural supply chain in defining, measuring and advancing the sustainability of food, feed, fiber and fuel production in the United States. We bring together a diverse group of grower organizations; agribusinesses; food, beverage, restaurant and retail companies; conservation groups; universities; and public sector partners to create opportunities across the agricultural supply chain for continuous improvements in productivity, environmental quality, and human well-being. With the world population estimated to exceed 9 billion by 2050, the entire agricultural value chain must work together to efficiently and responsibly lay the groundwork for a more sustainable future. From the farm gate to the retail and restaurant counter, the challenge of producing enough food, feed, fiber and fuel for a rapidly growing population, while conserving our planet's natural resources has become increasingly complex. The nature of this challenge requires an unparalleled level of transparency and collaboration. By uniting the agricultural supply chain and key stakeholders around a common measurement framework, Field to Market seeks to drive continuous improvement in the sustainability of commodity crop production.
More from Field to Market: The Alliance for Sustainable Agriculture