Published 01-28-22
Submitted by Bloomberg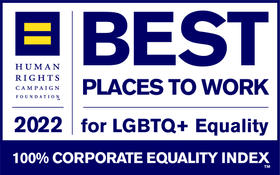 Originally posted on bloomberg.com
NEW YORK, January 28, 2022 /CSRwire/ - Bloomberg has been awarded the coveted perfect score of 100 on the Human Rights Campaign Foundation's 2022 Corporate Equality Index (CEI), earning it the designation as one of the Best Places to Work for LGBTQ Equality in the United States for the sixth consecutive year. Bloomberg's sustained dedication to LGBTQ+ workplace equality cements the company as an exemplar in the banking and financial services sector and a leader in the national push for equity, diversity, and inclusion in the workplace.
This year, Bloomberg joins the ranks of more than 840 U.S. companies and businesses to earn top marks on the CEI, the nation's foremost benchmarking survey and report measuring for corporate policies and practices related to LGBTQ+ workplace equality.
"This achievement honors Bloomberg's ongoing commitment to recognize and celebrate our LGBTQ+ employees' identities and ensure equal access to the policies and benefits they need to thrive and live life authentically," said Fatima Shama, Bloomberg's Head of Diversity & Inclusion, Americas. "It also demonstrates how putting equity at the core of our global Diversity & Inclusion strategy is enabling the company to embrace all of our employees' personal experiences and backgrounds, elevate our policies, and enhance our programs. By doing so, we're empowering our people to succeed in the workplace and in society."
At a time when LGBTQ+ workers have suffered disproportionate financial losses due to the global COVID-19 crisis and continue to experience significant wage gaps and workplace discrimination, Bloomberg has shown unwavering support for the LGBTQ+ community through a robust agenda of programs, events, and initiatives designed to create a more inclusive workplace for historically excluded groups.
Over the last year, Bloomberg joined the Human Rights Campaign's Business Coalition for the Equality Act, a group of leading U.S. businesses who support the Equality Act, federal legislation that would guarantee the LGBTQ+ community the same protections against discrimination in the workplace, housing, credit, and jury service as are provided to other protected groups under federal law. The Coalition's membership recently surpassed 500 leading businesses, making it the largest coalition of major businesses for legal LGBTQ+ equality in the HRC's history.
Bloomberg also signed the HRC's Business Statement on Anti-LGBTQ State Legislation, stating its clear opposition to any and all harmful legislation aimed at restricting the rights of LGBTQ+ people.
Throughout the global pandemic, Bloomberg has continued to focus on LGBTQ+ advocacy, community-building, and thought leadership, publishing an essay in celebration of Transgender Day of Visibility and launching its inaugural Rainbow+ Forum, a virtual summit and talk space that gathered industry heads, thought leaders, and advocates for discussion on how top management among the global business world can learn, lead, and drive forward progress in promoting LGBTQ+ equality and create a more equal and inclusive future and affect lasting change for LGBTQ+ communities.
Bloomberg also marked the fifth anniversary of its Legal & Compliance Department's Pro Bono program in 2021. One element of this program allows staff to volunteer pro bono with organizations that provide members of the LGBTQ+ community with various no-cost legal services, including assistance with transgender name changes, U-visas, Violence Against Women Act (VAWA) applications, and asylum screenings. Staff volunteers have dedicated more than 2,300 hours over the last five years helping members of the LGBTQ+ community with their legal needs.
Bloomberg's leadership remained steadfast in their dedication to driving progress and working at the forefront of LGBTQ+ workplace equity in 2021.
Bloomberg Chairman Peter T. Grauer was named to the INvolve Role Model Hall of Fame after being included in the top 10 of the global OUTstanding LGBT+ Ally Executives Role Model List for three consecutive years, and six consecutive appearances on the overall OUTstanding Top 50 Ally Executives list. Bloomberg Head of Legal in APAC, Amin Kassam, placed second in the 2021 Top 100 LGBT+ Executives List, a recognition of his unrelenting LGBTQ+ advocacy and achievements in LGBTQ+ workplace representation and pursuit of marriage equality across the APAC region.
Joining Peter and Amin this year is UK Director of Government Relations, Deanna Hallett, who was named one of OUTstanding's Top 100 LGBT+ Future Leaders for her work as the leader of Bloomberg's LGBT+ and Ally Community (BPROUD) London chapter, including developing Bloomberg's first LGBTQ+ mentorship program and the company's first trans+ allyship training sessions.
The 2022 CEI showcases how 1,271 U.S.-based companies are promoting LGBTQ+-friendly workplace policies in the U.S. and abroad. It rated companies on detailed criteria falling under four central pillars: non-discrimination policies across business entities, equitable benefits for LGBTQ+ workers and their families, supporting an inclusive culture, and corporate social responsibility. Bloomberg's efforts in satisfying all of the CEI's criteria earned a 100 percent ranking and the designation as one of the Best Places to Work for LGBTQ+ Equality.
The full report is available online at www.hrc.org/cei.
About Bloomberg:
Bloomberg, the global business and financial information and news leader, gives influential decision makers a critical edge by providing tools that connect them to a dynamic network of information, people and ideas. The company's strength—delivering data, news and analytics through innovative technology, quickly and accurately—is at the core of the Bloomberg Professional service. Bloomberg's enterprise solutions build on this core of information and technology to allow customers to access, integrate, distribute and manage data and information across organizations more efficiently and effectively. For more information, visit www.bloomberg.com or request a demo.
Media Contact:
Chaim Haas, +1-212-617-7025, chaas30@bloomberg.net

Bloomberg
Bloomberg
Bloomberg delivers business and markets news, data, analysis, and video to the world, featuring stories from Businessweek and Bloomberg News.
More from Bloomberg