Published 01-10-22
Submitted by Carol Cone ON PURPOSE

Originally published by FastCompany
BY CAROL CONE
Amid an ongoing pandemic, climate crisis, Great Resignation, and battles for the most basic human rights, stakeholders continue to demand more of organizations. Employees are leaving companies not aligned with their values for others that offer a greater sense of purpose, consumers are boycotting brands whose values differ from theirs, and investors are shifting assets to companies that demonstrate long-term ESG commitments.

To help leaders navigate the months ahead, I asked members of the Purpose Collaborative, the world's largest collective of purpose-driven firms, three questions about purpose in 2022.
###
The Purpose Collaborative is a global group of 45-plus firms and subject matter experts, represented by 400-plus professionals in 20-plus countries, all developing breakthrough work to help organizations accelerate their social purpose. Founded by Cone, Purpose Collaborative members are hand-selected, based on their unique capabilities and prominence in the field.
Continue Reading here.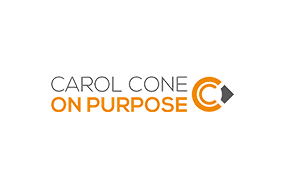 Carol Cone ON PURPOSE
Carol Cone ON PURPOSE
Carol Cone ON PURPOSE is a pioneering consultancy helping companies, brands, and organizations harness the power of social purpose to advance their business and social impact. CCOP's proven approach meets clients at any point on their  purpose journey to unlock opportunities to build reputation, inspire employees, exceed financial targets, and support the greater good. The consultancy is led by Carol Cone, regarded as one of the founders of the purpose movement in the early 1980s and has been internationally recognized for her work.
More from Carol Cone ON PURPOSE