Published 12-27-21
Submitted by Vinyl Sustainability Council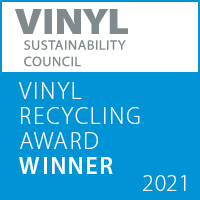 December 27, 2021 /CSRwire/ - The Vinyl Sustainability Council (VSC), a self-funded business council advancing sustainability in the vinyl industry, presented the 2021 Recycling Award at its annual meeting to Lakeland Polymers, of Boonton, New Jersey, for their Flex-Tech Gas Hose Recycling Program.
"Lakeland's innovative reprocessing strategy allows them to turn scrap from two different types of plastic into a reusable feedstock for alternative applications," said Jay Thomas, executive director of the Vinyl Sustainability Council. "This type of product innovation keeps PVC out of the landfill."
The Vinyl Sustainability Council's Recycling Award recognizes the efforts of recyclers and product manufacturers with operations in North America that find new solutions and or markets for PVC end-of-life or scrap materials, increase use of recycled vinyl content in their products, and/or engage in partnerships with companies in take-back programs.
Lakeland Polymers Flex-Tech Gas Hose Recycling Program
Lakeland Polymers, a plastic recycling company, takes pride in addressing and solving challenges for their customers. In February 2021, Lakeland Polymers partnered with Flex-Tech Hose of San Marcos, TX to find a solution for a PVC and copolyester waste issue. Lakeland was able to develop a custom recycling process which allowed the incompatible materials in the scrap to be processed into a reusable form.
"Our experience in recycling PVC scrap materials gives us the ability to develop solutions to reclaim hard to recycle items. This project was another step for us to help minimize waste and further our sustainability efforts for our customers and suppliers." said David Maute, Co-Owner of Lakeland Polymers. "Thank you to the VSC for recognizing our work on this successful venture, and for granting us this award."
Lakeland processes over 45,000 pounds a month of PVC scrap material from Flex-Tech in this program. So far, the partnership has diverted over 325,000 pounds of PVC from landfills extending the life and sustainable use of vinyl.
About the Vinyl Sustainability Council
The Vinyl Sustainability Council (VSC), founded in 2016 in partnership with the Vinyl Institute, is a council created to advance the vinyl industry's efforts in addressing sustainability. The VSC is a collaborative platform for companies, organizations, and other industry stakeholders to come together to create a sustainable development path for the industry. For more information, please visit vantagevinyl.com/vinyl-sustainability-council/.
About Lakeland Polymers
Established in 1999, Lakeland Polymers has continually expanded its sustainability reach, recycling over 180 million pounds of post-industrial and post-consumer plastics in the last two years. While rigid and flexible PVC account for more than 50% of Lakeland Polymers' recycling efforts, they have diversified into other markets including olefins, PVB, Nylon, and PET. They have created and maintained relationships with clients in the U.S., Europe, and Mexico to promote sustainability, keep material out of landfills, and reduce raw material costs. In addition to a main office in New Jersey, they expanded into Ohio in 2017. They now have offices and over 60,000 sq. ft in warehouse space in Ohio. Lakeland Polymers offers grinding, sorting, material consolidation, and repackaging to help promote their zero-landfill goal. For more information, please visit lakelandpolymers.com.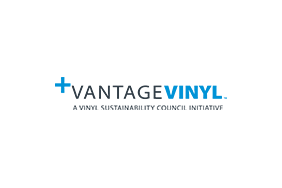 Vinyl Sustainability Council
Vinyl Sustainability Council
The Vinyl Sustainability Council (VSC) is a voluntary membership organization that is taking a leadership role in uniting the industry to advance sustainable performance throughout the vinyl value chain.
The VSC created +Vantage Viny® as a voluntary initiative to advance the U.S. vinyl industry's contribution to sustainable development. It aims to drive continuous improvement across all three sectors of sustainability – environmental, social and economic performance.
Individual company commitments are aligned with voluntary industry sustainability targets that were developed as a result of a materiality assessment. This analysis identified three impact categories, resource efficiency, health & safety and emissions that were aligned with the United Nations Sustainable Development Goals.
An independent verification process provides assurance of achievement of company commitments. Verified companies are awarded the right to use the +Vantage Vinyl trademark as evidence of their commitment to advancing sustainability in the vinyl industry.
More from Vinyl Sustainability Council