Published 01-06-22
Submitted by Vinyl Sustainability Council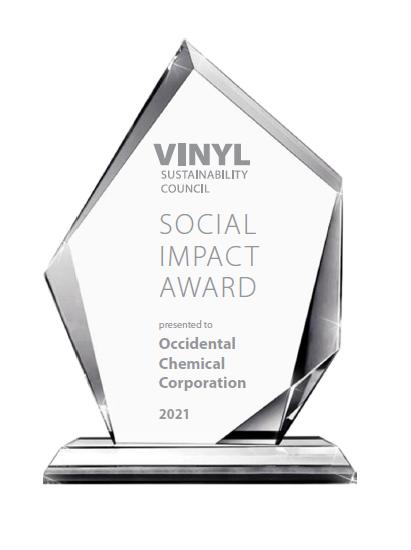 January 6, 2022 /CSRwire/ - The Vinyl Sustainability Council (VSC), a self-funded business council advancing sustainability in the vinyl industry, presented the 2021 Social Impact Award at its annual meeting to OxyChem.
"Social sustainability is an important component of inclusive and resilient societies," said Jay Thomas, VSC Executive Director. "OxyChem has demonstrated their commitment to improving the lives of people and the communities where they live and work. I'm proud to be able to present the 2021 Social Impact Award to OxyChem for their work in improving access to clean water in the world."
The Vinyl Sustainability Council's Social Impact Award recognizes the efforts of a VSC member that has demonstrated a strong commitment to community well-being and longevity. This annual award acknowledges an outstanding project or program that addresses a social concern using a company's resources to have a positive impact.
Clear Vision for Clean Water through Educating Communities through the Global Water Center
OxyChem, a global leader in manufacturing chemicals to produce plastics, pharmaceuticals, and water treatment chemicals, understands that water quality and cleanliness are the root of their business. The company's vision for clean water focuses on reducing negative impacts on watersheds and raising the water quality standard in various communities. Through their support of the Global Water Center and its partners, OxyChem is focused on helping solve the global water crisis and reduce the number of people who lack access to clean water from 2 billion to zero.
"We wanted to be a part of a project that supports our water initiatives," said Sean Stephan, OxyChem's Director of Sustainability. "To raise awareness around the lack of water sanitation and inspire a movement to help end the global water crisis is the root of what our company is about. We are very thankful for our partnership within the Global Water Center and working alongside Water Mission, Kohler, Pace Analytical, and the Rockstad Foundation who share our same passion.  We are also thankful for the VSC's recognition and support."
When providing safe drinking water for communities, many companies found themselves wanting to help. The Global Water Center allowed Occidental, and other partnerships to combine interactive exhibits, technology, and innovative products to help bring more attention to water sanitation issues. OxyChem donated over 160,000lbs of ACL products for water sanitation and $250,000 was allocated towards educational materials, and exhibit creation which focused on water education. Additionally, OxyChem employees have contributed 800 hours of their time to the Global Water Center's work.
All this work has attracted many volunteers to come and help mitigate the global water crisis. They have acquired 90 new members and has reached more than 2,700 people in communities across the United States.
"OxyChem dedication to the Global Water Center shows how company partnerships can foster a large impact across multiple industries and the globe," Thomas said.
About the Vinyl Sustainability Council
The Vinyl Sustainability Council (VSC), founded in 2016 in partnership with the Vinyl Institute, is a council created to advance the vinyl industry's efforts in addressing sustainability. The VSC is a collaborative platform for companies, organizations and other industry stakeholders to come together to create a sustainable development path for the industry. For more information, please visit vantagevinyl.com/vinyl-sustainability-council/.
About OxyChem
Dallas-based OxyChem is the chemical manufacturing subsidiary of Occidental, producing the building blocks for a wide range of life-enhancing products at facilities in the U.S, Canada and Chile. For more information, please visit oxychem.com.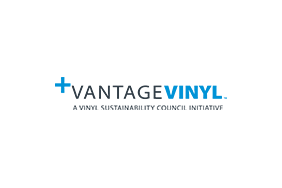 Vinyl Sustainability Council
Vinyl Sustainability Council
The Vinyl Sustainability Council (VSC) is a voluntary organization that is taking a leadership role in bringing the industry together to advance sustainable performance throughout the vinyl value chain. Based on a stakeholder materiality assessment, the VSC focuses its efforts in three impact categories identified by industry stakeholders: Landfill Diversion, Health and Safety and Emissions. Together VSC members are establishing baselines and determining goals to track and report on the vinyl industry's progress.
The VSC launched +Vantage Vinyl, the US industry's first-ever sustainability brand that verifies VSC member companies that are making sustainability advancements within each of the impact categories. +Vantage Vinyl verified companies are verified by an independent third-party and are award the use of the +Vantage Vinyl mark to signify they are contributing to the industry goals and reporting their progress on an annual basis.
VSC membership includes, and is open to, companies and organization throughout the viny/PVC value chain including: resin, compound and additive manufacturers, vinyl product manufacturers, extruders, recyclers, equipment manufacturers, distributors, and retailers.
More from Vinyl Sustainability Council