Published 12-17-21
Submitted by Yum! Brands
Yum! Brands is a world-class family of restaurants with more than 2,000 franchisees who bring their own delicious flavors to the business and the communities they serve. Together, Yum!'s franchisees own more than 50,000 KFC, Pizza Hut, Taco Bell and The Habit Burger Grill restaurants in 150 countries and territories across the globe, making their voices integral to the company. Each franchisee is unique and serves as the cornerstone of a series called "Frankly Speaking With Franchisees" that documents their stories.
Yum! previously spoke with three franchisees in the United States, George Tinsley, Mike Quinn and Lee Mitchell, to get their perspectives on race, social justice and entrepreneurship in underrepresented communities.
Now, Yum! travels to East Asia where Tavan Bogd Group Executive Vice President Hulan Dashdavaa and her husband, Baatarsaikhan Tsagaach, president of the organization, became the first KFC and Pizza Hut franchisees in Mongolia. Now, they're bringing a taste of Yum!'s food and its culture to the country.
Hulan shares how she "stood on the shoulders of elephants" to overcome adversity and grow her collection of businesses to include nearly 30 KFC and Pizza Hut restaurants in her home country. Here is her story.
It was a pivotal moment for Hulan and her husband, Baatarsaikhan.
The two had spent years building the Tavan Bogd Group, a business empire of manufacturing, tourism, hospitality, construction and other services, when the inspiration came to introduce something new.
"When Mongolia started booming following the transition to a free market society, there was a lot of disposable income, and people wanted something new and fresh," Hulan said. "We were able to get the franchisee rights of KFC first in 2013 and then the Pizza Hut franchise in 2014."
Soon, the couple was on track to open two of the first international restaurants brands in Mongolia. This, of course, didn't come without challenges.
For starters, the most pressing problem was the lack of established infrastructure and supply chain in the country.
"Just weeks before we opened our first KFC restaurant, we had to work through some major supply chain issues including flying in the first batch of fresh chicken from Japan," Hulan said.
To add to that, they had to figure out how to make pizza dough rise at Mongolia's high altitudes (Mongolia is 5,180 feet above sea level) and design restaurants for a country with steering wheels on the right and left side of vehicles. But the couple overcame those early hurdles and today, operate dozens of KFC and Pizza Hut restaurants, and licenses other brands like Toyota, Colgate Palmolive, Xerox and more. They also sell luxury cashmere products through one of the largest manufacturers in the world, Gobi Corporation.
This success has allowed Hulan to become an advocate for women, actively growing their voices in the Mongolian business community historically dominated by men.
Recently, she used her influence as a member of the Khan Bank board of directors to help appoint its first woman CEO and deputy CEO — quite a feat for one of Mongolia's largest commercial financial institutions. Hulan also helped coach and develop two of her personal assistants, promoting both women to function heads, operations managers and later general managers of her Pizza Hut and Little Sheep franchises (a Yum China subsidiary).
Despite these wins, Hulan acknowledges the difficulties women like her face when performing in executive roles.
"The challenge is how to find the balance," she admitted. "I am a mother of four, so I need to have time for my kids. But I think it's very important that you be straightforward with your partner and kids, ask for their assistance and understanding."
Still, trying to find work/life balance is a welcome conundrum compared to introducing a brand-new industry to a developing country. Looking back, she's thankful for the support other franchisees in the region gave her along the way.
"Being a franchisee of an international brand requires so much learning," she said. "Sometimes you just learn without even realizing it, just by talking to other franchisees when we get together. You can learn from the best of the best, and if you are smart enough to apply those lessons, you will immediately go much faster than the others. It's really standing on the shoulders of elephants, and we feel grateful to be here."
Check out this page for more Yum! Brands franchisees stories: https://www.yum.com/wps/portal/yumbrands/Yumbrands/frankly-speaking-with-franchisees/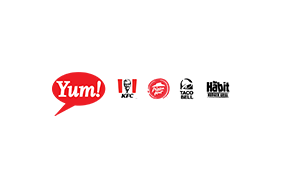 Yum! Brands
Yum! Brands
Yum! Brands, Inc., based in Louisville, Kentucky, has over 54,000 restaurants in more than 155 countries and territories, operating the Company's brands – KFC, Pizza Hut and Taco Bell – global leaders of the chicken, pizza and Mexican-style food categories. The Company's family of brands also includes The Habit Burger Grill, a fast-casual restaurant concept specializing in made-to-order chargrilled burgers, sandwiches and more. Yum! Brands was named to the 2021 Dow Jones Sustainability Index North America and was ranked on Newsweek's list of 2021 America's Most Responsible Companies. In 2022, Yum! Brands was named to 3BL Media's 100 Best Corporate Citizens.
More from Yum! Brands