Published 12-15-21
Submitted by Responsible Business Alliance
ALEXANDRIA, Va., December 15, 2021 /CSRwire/ - The Responsible Minerals Initiative (RMI) of the Responsible Business Alliance (RBA) today announced the release of its Global Responsible Sourcing Due Diligence Standard for Mineral Supply Chains — All Minerals, which is applicable to all upstream actors in mineral supply chains.
The new RMI Standard is designed to be aligned with the OECD Due Diligence Guidance for Responsible Supply Chains of Minerals from Conflict-Affected and High-Risk Areas (OECD Guidance) and, in conjunction with the RMI's Responsible Minerals Assurance Process (RMAP), can help companies adhere to regulatory requirements such as the existing EU Conflict Minerals Regulation and pending EU Battery Regulation. This RMI Standard has been developed to apply to any upstream actor in mineral supply chains, from processors to traders to mining operations; have a global scope; and structure and explain the requirements that are instrumental to the implementation of the OECD Guidelines and associated regulations.
The RMI will initiate assessments against this new Standard in 2022 under the RMAP program. Upstream companies undergoing their first assessment will be able to access the RMI's Initial Audit Fund to cover the full cost of initial audits and may receive annual renewable grants to support due diligence for sourcing from high-risk areas.
"This Standard is a capstone within RMI's suite of standards, providing due diligence assurance and access to market for processors of all minerals," said Leah Butler, Vice President of Responsible Sourcing at the Responsible Business Alliance. "We are excited to move into implementation and work with an expanded set of companies and their supply chains."
Companies are encouraged to use the RMI's Company Identification Questionnaire (CIQ) to collect information about minerals processors; the Material Insight Platform to facilitate learning, collaboration, and improved Environmental, Social and Governance (ESG) management in mineral supply chains; and the Risk Readiness Assessment to add and view refiners, smelters and mine self-assessments against industry norms covering ESG issues. These tools aim to improve transparency and promote a common understanding of good practices and a means to consistently assess risks and actions to improve performance within mineral supply chains.
Due diligence training for processors and auditors will be available in the RMI eLearning Academy. Following the release of the All-Minerals Standard, the RMI will be adding additional minerals to the Extended Minerals Reporting Template, which currently covers cobalt and mica, to help companies map their mineral supply chains beyond tin, tantalum, tungsten and gold (3TG).
For companies not only wanting to demonstrate compliance with the OECD Guidance but also with broader ESG criteria, the RMI's Environmental, Social and Governance Standard for Minerals Supply Chains can be deployed as an add-on to the All-Minerals Standard, helping auditees assess their performance against both sets of expectations through one single audit.
Companies in the early stages of their due diligence journey can also refer to the RMI Due Diligence Playbook, a visual handbook that helps companies define the scope of their due diligence efforts and identify the first steps of their journey.
The new All-Minerals Standard can be viewed here on the RMI website.
About RMI
The Responsible Minerals Initiative (RMI) is an initiative of the Responsible Business Alliance (RBA). The RMI is a multi-industry initiative with more than 400 member companies. Its members contribute to the development and international uptake of a range of tools and resources focused on minerals supply chain due diligence, including independent third-party audit programs for smelters, Minerals Reporting Templates, supply chain risk assessment tools, Country of Origin data, and guidance documents on responsible sourcing of all minerals/metals. The RMI runs regular workshops on responsible sourcing issues and contributes to policy development with civil society organizations and governments. For more information, visit ResponsibleMineralsInitiative.org
Media Contact:
Jarrett Bens, Senior Director of Communications
Responsible Business Alliance
Phone: +1 571.858.5721
jbens@responsiblebusiness.org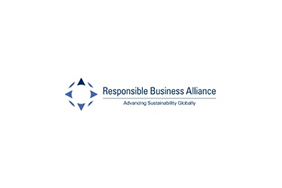 Responsible Business Alliance
Responsible Business Alliance
The Responsible Business Alliance is the world's largest industry coalition dedicated to corporate social responsibility in global supply chains.

About the RBA

The Responsible Business Alliance (RBA) is a nonprofit coalition of leading companies dedicated to improving social, environmental and ethical conditions in their global supply chains. The RBA has a Code of Conduct and a range of programs, training and assessment tools to support continual improvement. The RBA and its Responsible Minerals, Labor and Factory Initiatives have more than 380 members with combined annual revenues of greater than $7.7 trillion, directly employing over 21.5 million people, with products manufactured in more than 120 countries.

Vision & Mission

Vision: A global electronics industry that creates sustainable value for workers, the environment and business.

Mission: Members, suppliers and stakeholders collaborate to improve working and environmental conditions through leading standards and practices.
More from Responsible Business Alliance