Published 11-24-21
Submitted by GlobeScan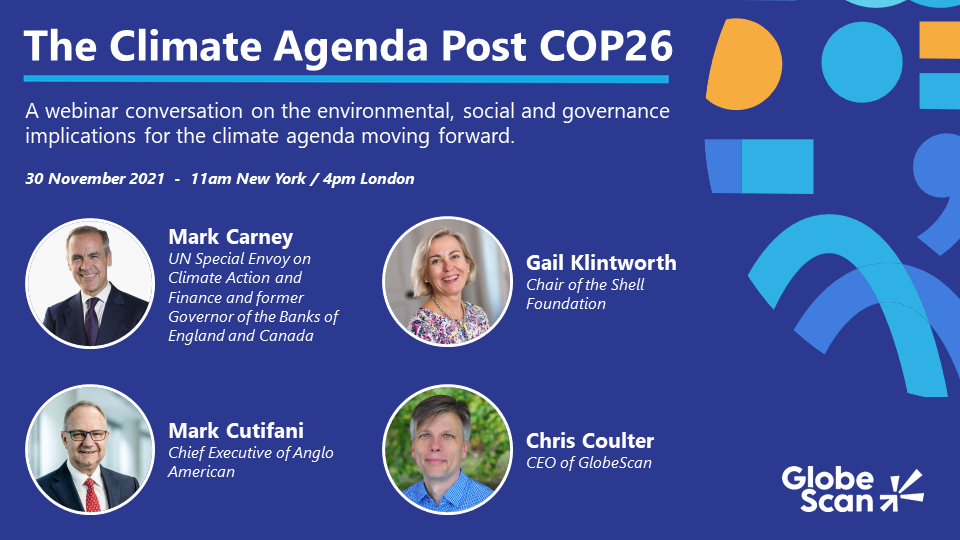 Summary
Join a special Nov 30 webinar: The Climate Agenda Post COP26 – a Conversation with Mark Carney, United Nations Special Envoy on Climate Action & Finance, Mark Cutifani, Chief Executive of Anglo American, and Gail Klintworth, Chair of the Shell Foundation. Moderated by GlobeScan CEO Chris Coulter, they will explore the environmental, social and governance implications for the climate agenda moving forward.
Seventy percent of sustainability experts worldwide are pessimistic about our ability to respond to the climate crisis quickly enough to avert major damage and majorities believe most companies need to be carbon neutral by 2030..
Nearly six in ten people around the world want their governments to take a an ambitiuos leadership role to address climate change as quickly as possible and a similar proportion of consumers say they are in favour of a carbon tax on fossil fuels.
One of the most important events in sustainability – COP26 – has just concluded and there is a great deal to digest. Join us on 30 November at 11am New York / 4pm London for a special webinar to explore the implications for the climate agenda moving forward, post COP26, and what this means for a just transition.
During this discussion Mark Carney, UN Special Envoy on Climate Action and Finance and former Governor of the Banks of England and Canada, will share his sense of the post COP26 agenda, guided by insights from his new book, Value(s).
Mark Cutifani, Chief Executive of Anglo American, will speak to the opportunities and value of sustainable business and the importance of a just transition.
Gail Klintworth, Chair of the Shell Foundation, will speak on the importance of communities, especially in the Global South, in the transition to sustainable development.
The discussion will be moderated by Chris Coulter, CEO of GlobeScan. Chris will set the context for the discussion by sharing the latest societal trends on the climate agenda.
If you're not able to join us live, still be sure to register so you can receive a link to the recording.
Register here: https://globescan.zoom.us/webinar/register/1716377651548/WN_X_7G4_QcSEaB7WfnSPErgA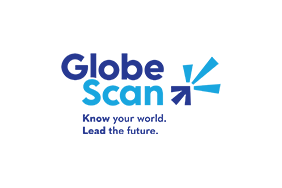 GlobeScan
GlobeScan
GlobeScan is an international insights and advisory consultancy working at the intersection of brand purpose, sustainability, and trust. We partner with leading businesses, NGOs, and governmental organizations to deliver insights that guide decision-making and build strategies that contribute to a sustainable and equitable world.
Established in 1987, we have offices in Cape Town, Hong Kong, London, Mumbai, Paris, San Francisco, São Paulo and Toronto. GlobeScan is a participant of the UN Global Compact and a Certified B Corporation.
Learn more at www.GlobeScan.com
More from GlobeScan