Published 11-24-21
Submitted by Kohler
As featured in Kohler's 2020 Believing in Better Metrics Report
For more than a decade, we've been committed to a goal of net zero greenhouse gas across operations and zero waste to landfill by 2035. Since 2016 we're deepening that commitment through our Design for Environment (DfE) program by carefully considering the full life cycle impacts of our products and processes. In 2020, we completed over 4 times more DfE projects than in 2019 and saw more DfE projects completed in 2020 alone than in all previous years combined since DfE work began in 2016.
We are focusing on designing efficiencies across all four stages of the life cycle: Suppliers, Kohler Operations, Consumer Use, and End of Use. Our goal is to design a product or process that is more environmentally favorable, using outcome-based standards recognized by the scientific community:
Reduce greenhouse gas
Steward healthy watersheds
Reduce waste by using resources more efficiently
Invest in safer materials
Drawing on the passionate energy of associates, Design for Environment thinking will help us surpass our 2035 goals. It is our pledge to rethink the way we approach design. It is our path to a better planet. By joining together to reduce our environmental impact across the full life cycle of our products, processes, and experiences, we can help design a path forward for future generations and make it easy for our consumers to make environmentally friendly choices.
Greenhouse Gas Emissions by Scope
Our manufacturing processes inherently require energy, which translates to greenhouse gas (GHG) emissions. We measure carbon dioxide, methane, and nitrous oxide emissions using the GHG Protocol and consider the following:
Scope 1

-

fuel that we consume in manufacturing
Scope 2

-

fuel used by our energy providers to produce the energy we consume
Innovation in Water Efficiency
Committed to Conservation: The 50L Home - Today, 14 of 20 of the world's largest cities experience water scarcity, and two-thirds of the global population is projected to live in water-stressed areas by 2025. As part of our commitment to water conservation, we cofounded the 50L Home, a coalition of global companies and NGOs reimagining people's relationship with water. The goal of this coalition is to drive innovation in residential water use to reduce water consumption to 50L/person/day. Our vision is to develop 50L Home solutions without compromising an amazing consumer experience. Using learnings from pilot homes in various locations, the 50L Home seeks to advance solutions that address water and energy effi ciency and inform a path to global scale. For more information, please visit 50Lhome.org.
2020 WaterSense® Award Winner - In 2020, Kohler was the proud recipient of our sixth WaterSense Sustained Excellence award. Created by the U.S. Environmental Protection Agency, the WaterSense program promotes the development and use of watereffi cient products, homes, and processes. In 2008, we were honored with the fi rst WaterSense Manufacturing Partner of the Year Award and for 11 years we've been honored moving from Manufacturing Partner of the Year to the Sustained Excellence Partner Award. Throughout this time, our KOHLER WaterSense-labeled toilets, showerheads, and faucets have been a catalyst in driving awareness and helping our customers and partners reduce water consumption.
Read more in Kohler's 2020 Believing in Better Metrics Report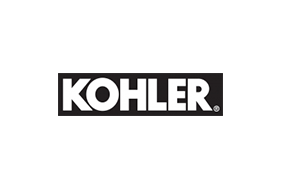 Kohler