Published 11-15-21
Submitted by Kimberly-Clark Corporation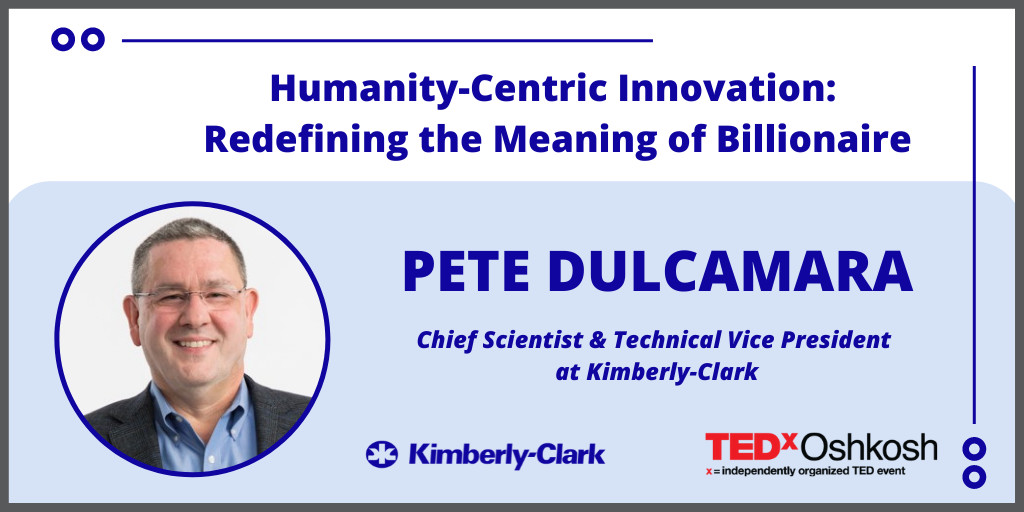 Kimberly-Clark is excited to share that Pete Dulcamara, the company's chief scientist and technical vice president, will speak at the TedxOshkosh event on Nov. 20.
He will deliver a powerful talk about how a new focus on humanity-centric innovation can help solve the most significant problems facing society and the environment in an economically viable way, open doors to new business opportunities, and give us all the opportunity to build a better world. As part of this focus, Pete will also share why he redefined the word "billionaire" to mean a person helping a billion people – not a person accumulating a billion dollars.
To register and/or learn more about this year's TEDxOshkosh event, click here.

Kimberly-Clark Corporation
Kimberly-Clark Corporation
Kimberly-Clark and its well-known global brands are an indispensable part of life for people in more than 150 countries. Every day, 1.3 billion people--nearly a quarter of the world's population--trust K-C brands and the solutions they provide to enhance their health, hygiene and well-being. With brands such as Kleenex, Scott, Huggies, Pull-Ups, Kotex and Depend, Kimberly-Clark holds the No. 1 or No. 2 share position in more than 80 countries. To keep up with the latest K-C news and to learn more about the company's 134-year history of innovation, visit www.kimberly-clark.com.
More from Kimberly-Clark Corporation