Published 11-09-21
Submitted by Land Betterment Corporation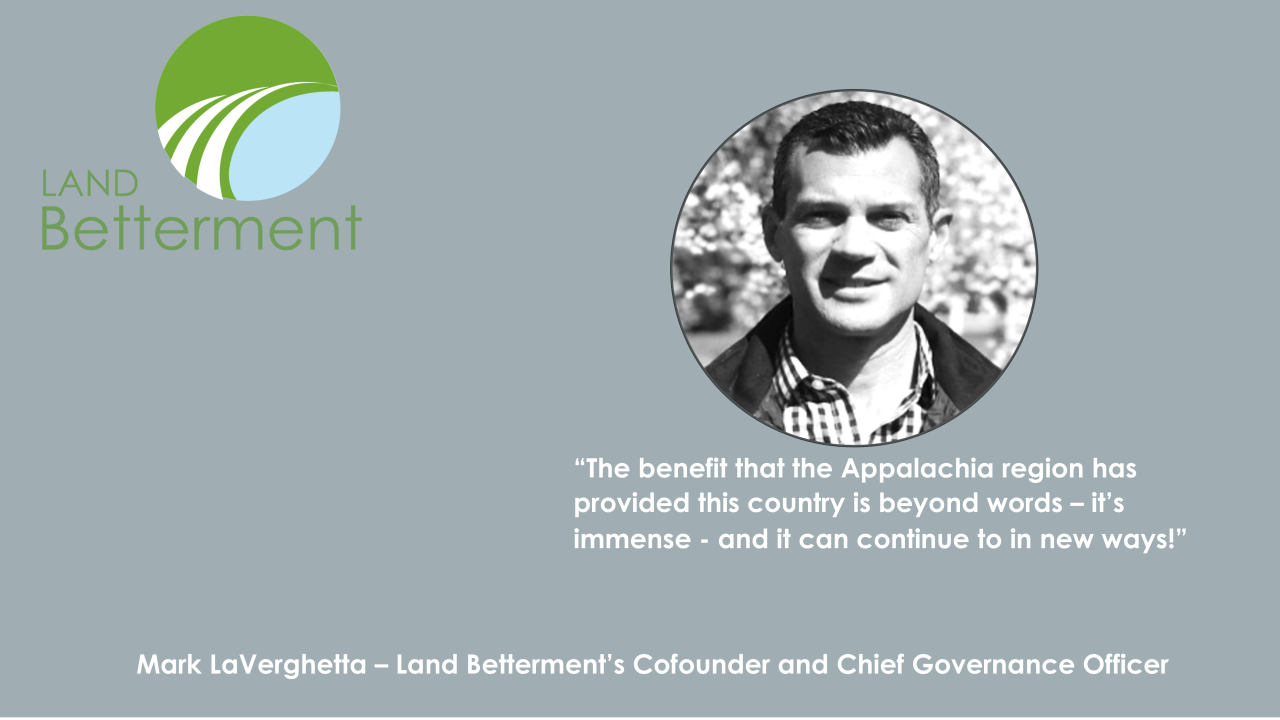 Hello – I'm Stephanie Conzelman, Stakeholder Engagement Director with Land Betterment.  The following is a continuation of my recent meeting with Land Betterment's management team, where I learned all about their legitimate drive to propel Land Betterment forward. If you read no further, I want you to know that these guys are in it for all the right reasons and are passionate for sure!
In this week's Fireside Chat, we are hearing from Mark LaVerghetta, Cofounder and Chief Governance Officer of Land Betterment. I am certain you will really understand his passion and commitment to restoring the environment while providing economic opportunities to families in the Appalachia communities. With 20+ years in diverse facets of business development and leadership, Mark  is an outstanding communicator and adept at contributing to corporate strategy and governance.
Q: What excites you most about Land Betterment?
A: Specifically within the Appalachia region we have such an opportunity to make a huge difference based upon the fact that these communities were so dependent on coal and fossil fuels. The transition away from that life stream/viable source gives you an opportunity to almost hit the reset button -  TO BRING REAL CHANGE, REAL BUSINESS LINES, and REAL ECONOMIC OPPORTUNITIES to these communities.
So much capital and decision making is done on the coasts and you miss what is going on in Middle America. Is it okay to just abandon these communities as we transition away to other energy sources? I DON'T THINK IT IS. Collectively we don't think that is a good idea or a viable solution. But bringing economic opportunity and hope on top of environmental change and  impact go hand in hand. Together it creates a great opportunity for the Appalachian region. You are getting a clean slate to start to bring in things such as ag-tech or rubber recycling or a more viable sustainable form of housing for this region while at the same time creating jobs to clean up impacted lands. THE ABILITY TO MAKE POSITIVE IMPACT IS MEANINGFUL AND REAL FOR ALL STAKEHOLDERS!
Q: Why is most of your work in Appalachia?
A: Think about what this region provided for this country. What did the coal industry do for the United States of America? IT FUELED THE INDUSTRIAL REVOLUTION and was done on the backs of the tremendous people in Appalachia. And most have forgotten this!
We get it, coal as an energy source has lost the PR battle for sure and there are cleaner sources of energy such as natural gas, wind, solar, etc., but pulling the plug on this region and walking away is not a viable solution. It just does not make sense to us and we cannot ask this population to just migrate elsewhere. THE BENEFIT THAT THIS REGION PROVIDED THIS COUNTRY IS BEYOND WORDS – IT'S IMMENSE - AND IT CAN CONTINUE TO IN NEW WAYS! 
Q: Why are you the ones to do this? Why is Land Betterment Successful?
A: SUCCESS BREEDS SUCCESS! Over the last 14 years, we have persevered and we have rolled up our sleeves to enact change. We fight the fight daily and that is what it takes. Most folks just getting into this would think this is nuts and never going to happen. Most would probably walk away at the first obstruction because this can be hard at times – ENACTING CHANGE CAN BE HARD! We have been looking at the region as a whole for a long time to include and improve ag-tech, mining and housing. There is real opportunity here to innovate and make a change.
This region was used to create a lot of wealth and a lot of that wealth was taken elsewhere. It was not reinvested back into the communities. We understand both sides of what the community wants and what it is going to take to get things done. That is why Land Betterment has been and continues to be successful!
Q: What is the end game? What do you want this to become?
A: Land Betterment should be a conduit of efficient change as we transition from coal and fossil fuel-based energy to the next generation of green energy. Land Betterment is a platform to create efficient transition. I think we are at a point of major transition domestically and on the cusp of a global transition. We think transition too often is associated with shutting something down. We believe that oftentimes you need to build and grow to make a positively impactful change. There are efficient ways to enact change and transition and YOU SOMETIMES JUST NEED TO THINK CREATIVELY.
Future Fireside Chats will include other members of the team as well as deeper dives into Land Betterment's business pillars – eko, Betterment Harvests, Land Betterment Exchange (LBX), Coal Craft Spirits, Pollinate, Betterment Recycling and Betterment Metal Recovery.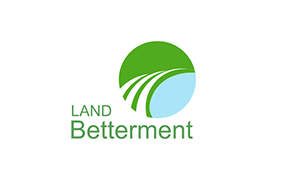 Land Betterment Corporation
Land Betterment Corporation
Land Betterment Corporation, an Indiana Benefit Corporation, is an environmental solutions company focused on fostering a positive impact through upcycling former coal mining sites to create sustainable community development and job creation. The Company utilizes a complete solution-based lifecycle program to restore and rehabilitate the environment and revitalize communities in need of change and opportunity. Land Betterment accomplishes this by identifying un-reclaimed, run-down and neglected coal mining sites, fixing the environment through reclamation and remediation, and then repurposing the land to support a sustainable business that serves the community. Land Betterment firmly believes that with real solutions it is possible for restoration of impacted areas to live side-by-side long term employment, while building sustainable and safe surroundings for communities and our planet. 
More from Land Betterment Corporation