Published 11-04-21
Submitted by OMV

November 4, 2021 /CSRwire/ - OMV, the international integrated oil, gas and chemicals company headquartered in Vienna, Austria, announces that it has joined "Together for Sustainability" (TfS), a chemical industry initiative to assess and improve sustainability practices in the global supply chain. The initiative supports and promotes the principles of the UN Global Compact and Responsible Care. With this, OMV is expanding the TfS membership previously held by its subsidiary Borealis to the level of the OMV Group.
TfS enables its members to collaborate in implementing sustainable procurement in the individual member companies by sharing the results of supplier audits and assessments performed by independent experts and specialist auditors. These cover key areas of sustainable business practice, management, and governance, including environmental impact, labor and human rights, health and safety, ethical conduct, and sustainable procurement. The audits and assessments benefit both members and suppliers, who only need to go through the process once and can thus increase the efficiency through sharing audit and assessment results. This shared use of the results significantly increases the availability of relevant suppliers and the sustainability in the supply chain.
Klaus Blachnik, Chief Procurement Officer of OMV: "I am delighted that OMV has become a member of TfS. For us, enhancing sustainability in the supply chain means focusing even more on the environmental, social, and economic impacts of the services and goods we purchase. We will continue building on the expertise gained by Borealis as a TfS member since 2017, and we strongly believe that becoming a TfS member will help OMV further embed sustainability in our daily operations and cascade sustainability in our supply chain".
TfS President Bertrand Conquéret: "I am very proud to welcome OMV as TfS member. The growth of membership increases the reach and impact of the TfS initiative on the sustainability performance of the chemical supply chains around the world. At this very critical point in time, we need to join forces across the chemical industry and work together to make supply chains and businesses at large contribute to a better world".
Background information:
OMV Aktiengesellschaft
OMV produces and markets oil and gas, as well as chemical products and solutions in a responsible way and develops innovative solutions for a circular economy. With Group sales revenues of EUR 17 bn and a workforce of around 25,000 employees in 2020 (incl. Borealis), OMV is one of Austria's largest listed industrial companies. In Exploration & Production, OMV has a strong base in Central and Eastern Europe as well as a balanced international portfolio, with Middle East & Africa, the North Sea, Russia and Asia-Pacific as core regions. Daily average production was 463,000 boe/d in 2020 with an emphasis on natural gas. In Refining & Marketing, OMV operates three refineries in Europe and owns a 15% share in ADNOC Refining and ADNOC Global Trading, with a total processing capacity of more than 500,000 bbl/d. Furthermore, OMV operates about 2,100 filling stations in ten European countries and runs gas storage facilities in Austria and Germany. In 2020, total natural gas sales volumes amounted to around 164 TWh. In Chemicals & Materials, OMV, together with its subsidiary Borealis, is one of the world's leading providers of advanced and circular polyolefin solutions and a European market leader in base chemicals, fertilizers and the mechanical recycling of plastics. The company supplies services and products to customers around the globe through Borealis and its two important joint ventures: Borouge (with the Abu Dhabi National Oil Company, or ADNOC, based in UAE) and Baystar™ (with Total, based in the US). Sustainability is an integral part of OMV's corporate strategy. OMV supports the transition to a lower-carbon economy and has set measurable targets for reducing carbon intensity as well as for the implementation of new energy and petrochemical solutions.
For further information, please contact:
OMV Public Relations: Andreas Rinofner, Tel.: +43 1 40440 21357, e-mail: public.relations@omv.com
OMV Investor Relations: Florian Greger, Tel.: +43 1 40440 21600, e-mail: investor.relations@omv.com           
Web:
http://www.omv.com
http://blog.omv.com
http://omv-mediadatabase.com
Social:                          
http://twitter.com/omv
http://youtube.com/omv
http://linkedin.com/company/omv
http://www.facebook.com/omv
http://instagram.com/omv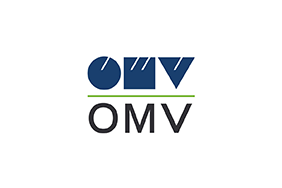 OMV
OMV
OMV produces and markets oil and gas, innovative energy and high-end petrochemical solutions - in a responsible way. With Group sales of EUR 23 bn and a workforce of more than 20,000 employees in 2018, OMV Aktiengesellschaft is one of Austria's largest listed industrial companies. In Upstream, OMV has a strong base in Romania and Austria as part of the Central and Eastern Europe core region as well as a balanced international portfolio, with Russia, the North Sea, the Middle East and Africa as well as Asia-Pacific as further core regions. In Downstream, OMV operates three refineries and more than 2,000 filling stations in ten countries.
We supply the society with energy reliably and responsibly - but we want more: We want to shape the energy of tomorrow. That's why we have set ourselves sustainability targets for 2025. This not only means 19% less CO2, using resources more efficiently and developing CO2-neutral energy sources - we will also use waste as a new raw material. With our ReOil innovation, we are turning plastic waste back into high-quality oil. This will enable us to recycle up to 50% of Austria's plastic waste and make it useful again.
To learn more about OMV's sustainability please visit https://www.omv.com/en/sustainability.
More from OMV