Published 10-27-21
Submitted by Stanley Black & Decker
Barbie The Welder is a great example of a maker who sees the trades as a gift and an art form. With no formal art training, this self-taught maker and social media sensation has crafted quite the cool career.
From tradespeople and engineers to philanthropists and innovators – get to know these inspiring individuals in the trades.
How did you get into welding? What inspires you in your career?
I come from a family of blue-collar workers and grew up around the "problem-solver" mindset that so many makers have. My dad taught me everything he knew – electrical work, plumbing, drywall – and really showed me the joy of creation. It was such a gift to be brought up in a home surrounded by makers and craftmanship, and even though my parents pushed me to go to college, I wanted to do what was right for me – and that was welding. I love working with my hands and it brings a sense of self-pride and satisfaction when I create things.
What advice do you have for students thinking about going into the trades?
My advice would be to follow your joy and attend a trade school if you really feel like it's the path for you. Parents want the best for you and sometimes will push you to attend college (like mine did), but I loved working with my hands and wanted to follow my joy and pursue a career in welding.
What's the first thing you remember making?
The first thing I remember making is a box out of 11-gauge steel, I still have it! I was so excited to finally weld a project vs practicing welds. My teacher gave me 5 pieces of 11-gauge steel and taught me how to fit it up, corner-to-corner and tack weld the pieces in place. I mig welded the box together and used a wire brush to clean the discoloration. I think some of the other students ground their welds down, but I left mine. I was so proud of what I made.
What excites you about the future of the trades?
I'm super excited for the future of the trades because they're being revered by individuals and companies alike, just like they were when the only way you learned a trade was from a master craftsman. I'm grateful that today people realize how incredible tradesmen are and what wonderful opportunities are available in a skilled trade career!
Find and follow Barbie on Instagram at @BarbieTheWelder.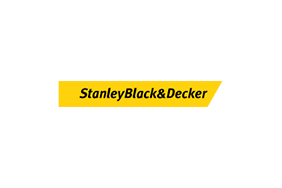 Stanley Black & Decker
Stanley Black & Decker
Stanley Black & Decker is a $14 billion revenue, purpose-driven industrial organization. Stanley Black & Decker has 61,000 employees in more than 60 countries and operates the world's largest tools and storage business, the world's second largest commercial electronic security company, a leading engineered fastening business as well as Oil & Gas and Infrastructure businesses. The company's iconic brands include Black & Decker, Bostitch, CRAFTSMAN, DEWALT, FACOM, Irwin, Lenox, Porter Cable and Stanley. Stanley Black & Decker is a company for the makers and innovators, the craftsmen and the caregivers, and those doing the hard work to make the world a better place.
More from Stanley Black & Decker