Published 10-25-21
Submitted by America's Charities
Support the Humane Society of the United States through your employee giving program:
As a donor, you can support the Humane Society of the United States by donating to them through your employer's workplace giving program. While there may be multiple donation options depending on your employer-sponsored charitable giving program, payroll deduction pledges in particular are a cost effective and near effortless way to support the Humane Society of the United States and have a big impact.
For instance:
$1.00 per pay period (x 26 paychecks = $26 total) buys a large bag of dry cat food for the HSUS Animal Rescue team.
$5.00 per pay period (x 26 pay checks = $130 total) rescues one animal from a puppy mill, hoarding or fighting situation.
$8.00 per pay period (x 26 checks = $208 total) provides basic medical care to ready four rescued animals for placement into a new home.
If you are a Federal or Postal employee/retiree, or military personnel, click here to donate through the Combined Federal Campaign donation portal and search for CFC# 11894.
If you work in the private sector, or work for a State/county/local government or municipal agency, please contact your HR for a link to your organization's workplace giving donation site. 
Are you an employer? As the Humane Society of the United States' workplace giving partner, America's Charities can help your company design and implement a program centered on supporting their work - through workplace giving campaigns, employee fundraising, cause-focused signature programs, volunteerism, donation drives, matching gifts, Dollars-for-Doers, In-Kind Giving and other employee engagement and philanthropic initiatives. Click here to request a demo and learn how we can help you do this.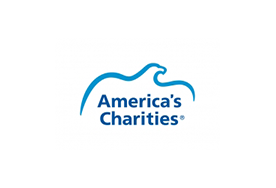 America's Charities
America's Charities
Every year, millions of people across America are invited to participate in an activity that has become a Fall tradition for generations of employees working at many of the nation's largest employers: the Employee Charitable Giving Campaign. The impact of employee giving campaigns on charitable organizations and the people and communities they serve is immense. These campaigns funnel $3 billion annually much of which is unrestricted, sustainable funds that enable nonprofit groups to deliver vital services throughout the nation.
America's Charities is a mission-driven organization that connects public and private sector employers with charities to engage employees in greater giving.
Who We Serve
Charities looking to expand their participation and reach in workplace giving and employee engagement programs through membership in one of America's Charities' four federations: America's Charities, Children First – America's Charities, Health First – America's Charities, or Community First – America's Charities of Greater Washington, D.C.
Employers seeking efficient and effective ways to manage and engage employees.
Individual donors seeking ways to make a significant impact on the causes they care about.
Our Core Services
Generating unrestricted, sustainable financial support for charities through employee engagement programs.
Distributing funds to charities in an efficient, effective and transparent manner.
Consulting with employers on strategies to achieve their philanthropic goals while strengthening employee engagement programs.
Providing solutions to support employers with their employee engagement programs that catalyze greater involvement and giving.
More from America's Charities