Published 10-15-21
Submitted by Ceres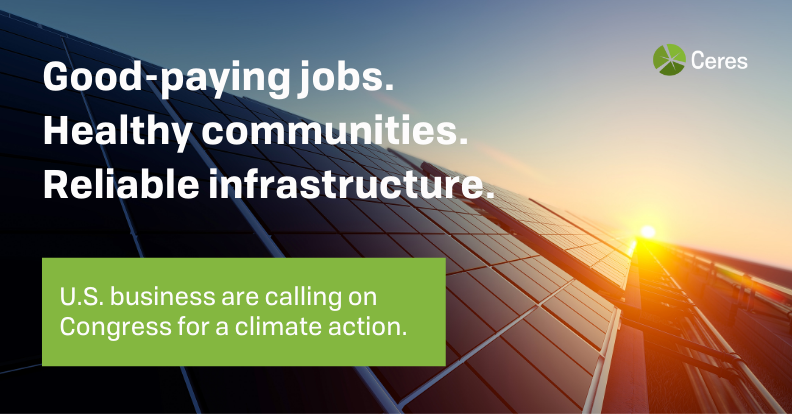 A growing number of businesses are taking action to build a cleaner, more sustainable economy. These businesses recognize that investing in clean energy and climate solutions is not only good for the planet, it's good for business. That's why more than a hundred leading U.S. businesses are urging Congress to pass policies to transform the electricity grid to 100% clean energy by 2035.
Companies including Apple, eBay, Ford Motor Co., Levi Strauss & Co., Netflix, Salesforce and dozens more have signed a letter urging Congress to pass policies to transform the electricity grid and power U.S. businesses and homes with affordable, job-creating clean energy. Passage of a Clean Electricity Performance Program will drive large amounts of new renewable generation and provide businesses with a clear path to make needed investments at the scale and speed necessary to truly tackle the climate crisis.
Communities across the U.S. are already feeling the impacts of climate change. From recent extreme weather to deadly wildfires and record-breaking hurricanes, the human and economic losses are profound. In 2020 alone, 22 weather and climate disasters cost the country more than a billion dollars, shattering previous records. Tragically, these devastating climate impacts also disproportionately hit marginalized and low-income communities who are least able to withstand them.
A clean electric power grid is an essential component of America's transformation to cleaner energy throughout the economy. The electric power sector itself directly emits one-third of U.S. CO2 emissions from fossil fuel combustion. In addition, the electric power sector accounts for one-half of U.S. natural gas consumption, a major driver of upstream leaks of methane, a potent greenhouse gas 84 times more powerful than carbon dioxide in its first two decades after release.
In addition to reducing emissions from the power sector, a clean electric power grid is essential to unlock opportunities to reduce emissions in other sectors. Electrification of the transportation, buildings, and industrial sectors is a critical pathway for the U.S. to achieve a net zero-emissions future. Together, clean electricity and electrification could cut carbon pollution economy-wide by up to 75%.
By acting now to enact a federal clean electricity standard, Congress and the President can spur a robust economic recovery, create millions of good-paying jobs, and build the infrastructure necessary for a strong, more equitable, and more inclusive American economy for the next century.
Media Contact: Helen Booth-Tobin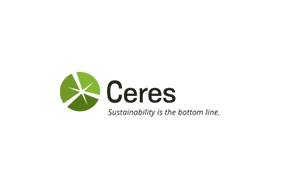 Ceres
Ceres
Our Mission: Ceres is transforming the economy to build a just and sustainable future for people and the planet. 
Ceres is a nonprofit organization working with the most influential capital market leaders to solve the world's greatest sustainability challenges. Through our powerful networks and global collaborations of investors, companies, and nonprofits, we drive action and inspire equitable market-based and policy solutions throughout the economy to build a just and sustainable future. For more information, visit ceres.org and follow @CeresNews. 
More from Ceres