Published 10-12-21
Submitted by Georgia-Pacific
PINELAND, Texas, October 12, 2021 /CSRwire/ - Standing 245 feet high above Pineland is Sabine County's newest emergency management tool. It's a communication tower that gives local first responders—for the first time—complete coverage of Sabine County and beyond.  
"This is huge for our county," said Daryl Melton, Sabine County Judge.  "When first responders were called to the west side of the county to respond to an emergency, communication to dispatchers was virtually lost.  Hand-held radios could not be utilized, and mobile radios installed in vehicles had unreliable coverage."
The new tower that houses repeaters for the fire departments, law enforcement, West Sabine Independent School District, and amateur radio operators, was primarily made possible by several grants, including a $100,000 Rebuild Texas grant and a $100,000 in-kind donation from Georgia-Pacific.  The local forest products company donated the tower and is providing the property it sits on to the city of Pineland.  "First responders put their lives at risk each day and it is critical that they have the appropriate tools to do their jobs safely and effectively," said Yana Ogletree, Georgia-Pacific Public Affairs Manager.  "Communication can make the difference between life and death during an emergency."
According to Pineland Mayor and Pineland Volunteer Fire Department President Joe Lane, until the tower became operational first responders would have to step away from a structure fire, vehicle accident, or patient care to use the mobile radio located within the emergency vehicle.  "Time is critical in emergency situations—every second counts," said Lane.  "We waste precious time when we walk back and forth to our vehicles to communicate with dispatch.  With the new tower we now have the convenience of hand-held radios that allow us to do our jobs more safely and efficiently."
The new tower also gives the West Sabine Independent School District security knowing that now they can be in constant contact with educators during field trips and sporting events.  "This is a true blessing," said Cornelius Gilder, West Sabine ISD Superintendent.  "We couldn't communicate with our bus drivers.  Now it's just a touch of a button, even if they are traveling beyond district lines."
In addition to the Rebuild Texas grant, West Sabine ISD contributed $3,000 while Sabine County provided $25,000 toward the project.  "We began working on this project more than two years ago," said Judge Melton.  "It truly is a result of many entities working diligently toward a common goal of making our county safer by simply providing reliable communication."
Established in 1958, the Georgia-Pacific Foundation sets aside resources to improve life in the communities where Georgia-Pacific operates.  The Foundation has worked with thousands of outstanding community-based programs, service projects and disaster relief efforts, focusing its investment in four areas:  education, environment, enrichment, and entrepreneurship. 
About Georgia-Pacific
Based in Atlanta, Georgia-Pacific and its subsidiaries are among the world's leading manufacturers and marketers of bath tissue, paper towels and napkins, tableware, paper-based packaging, cellulose, specialty fibers, building products and related chemicals.  Our familiar consumer brands include Quilted Northern®, Angel Soft®, Brawny®, Dixie®, enMotion®, Sparkle® and Vanity Fair®. Georgia-Pacific has long been a leading supplier of building products to lumber and building materials dealers and large do-it-yourself warehouse retailers. Its Georgia-Pacific Recycling subsidiary is among the world's largest traders of paper, metal and plastics. The company operates more than 150 facilities and employs more than 30,000 people directly and creates approximately 89,000 jobs indirectly. For more information, visit: gp.com/about-us. For news, visit: gp.com/news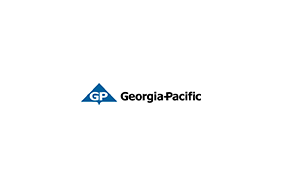 Georgia-Pacific
Georgia-Pacific
Based in Atlanta, Georgia-Pacific and its subsidiaries are among the world's leading manufacturers and marketers of bath tissue, paper towels and napkins, tableware, paper-based packaging, cellulose, specialty fibers, nonwoven fabrics, building products and related chemicals. Our familiar consumer brands include Quilted Northern®, Angel Soft®, Brawny®, Dixie®, enMotion®, Sparkle® and Vanity Fair®. Georgia-Pacific has long been a leading supplier of building products to lumber and building materials dealers and large do-it-yourself warehouse retailers. Its Georgia-Pacific Recycling subsidiary is among the world's largest traders of paper, metal and plastics. The company operates more than 150 facilities and employs more than 30,000 people directly and creates approximately 89,000 jobs indirectly. For more information, visit: gp.com/about-us . For news, visit: gp.com/news
More from Georgia-Pacific