Published 10-06-21
Submitted by Global Compact Network Canada
TORONTO, October 6, 2021 /CSRwire/ - Leaders from the Canadian business community gathered virtually on October 5-6th to attend the Making Global Goals Local Business - Canada conference where they discussed how to continue to identify and implement impactful solutions to the world's most pressing challenges, from the COVID-19 pandemic to gender inequality and inadequate climate action. Throughout the conference, speakers and attendees demonstrated the value of cross-sector partnerships to drive progress towards meeting the Sustainable Development Goals and how collaboration can help build capacity to generate systemic change during the Decade of Action.
"The need for responsible business conduct will only continue to grow and become more pressing. It is with this in mind that we convened this year's Making Global Goals Local Business conference with the theme: "Catalyzing a Resilient Future in the Decade of Action". Our goal is to mobilize ambitious and responsible business conduct in Canada to drive progress, enhance resiliency, and generate impactful solutions for global challenges during the Decade of Action. Now, more than ever, we need collective action, inspiring role models, and increased accountability to move the dial forward and forge a better world for all," said Ayman Chowdhury, Head of Secretariat, Global Compact Network Canada.
Marie-Claude Landry, Chief Commissioner of the Canadian Human Rights Commission stated "The work that Global Compact does in Canada to build a more inclusive society is so important." The Chief Commissioner also encouraged Canadian businesses to consider that, " to be a leader in your field, you must also be a leader in anti-racism, diversity, equity, and inclusion." 
Attendees were reminded by Justine Hendricks, Senior Vice-President, Sustainable Business and Enablement and Chief Corporate Sustainability Officer at Export Development Canada, of the importance of embedding environmental, social, and governance indicators into the core of a business to ensure that sustainability is a strategic priority and that everyone across an organization is accountable for its successful development.
Delivering an address shortly after Canada's first National Day for Truth and Reconciliation and Orange Shirt Day, Riley Yesno, an Anishinaabe writer, researcher, and public speaker reminded the audience that "it's incumbent on all of the rest of us - all other sectors, all other institutions - to do our part and try and embody those principles of leadership that Indigenous people are already demonstrating for us, and help lift that disproportionate burden that Indigenous people are carrying." She concluded her address with a powerful message: "there is no sustainable future without Indigenous people at the helm leading us forward." 
Attendees from across Canada and around the world had the chance to learn about proven and cutting-edge solutions for responsible business conduct from chief executives, climate innovators, human rights champions, and government representatives to further expand their knowledge on how businesses are working to embed sustainable development across Canada. For more information, please visit our website.
Contact
Global Compact Network Canada
Melvina Ramasamy
Marketing Coordinator
Email: melvina@globalcompact.ca
About Global Compact Network Canada
Global Compact Network Canada is the Canadian network of the United Nations Global Compact, an organization dedicated to catalyzing business action to advance the Sustainable Development Goals (SDGs) and the Ten Principles of the UN Global Compact in Canada. Global Compact Network Canada and its many corporate and nonprofit participants unify and build the capacity of the Canadian private sector to embrace sustainable business practices by convening and accelerating opportunities for multi-stakeholder collaboration.
To learn more about Global Compact Network Canada, visit our website and follow us on social media: @globalcompactCA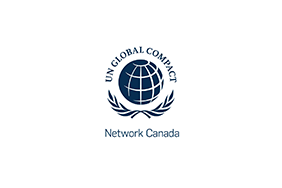 Global Compact Network Canada
Global Compact Network Canada
The UN Global Compact is the world's largest voluntary corporate responsibility initiative with over 10,000 signatories in 130 countries committing to ten universally accepted principles. The Global Compact Network Canada builds the capacity of the Canadian corporate sector to embrace sustainable business practices.
More from Global Compact Network Canada