Published 10-01-21
Submitted by T-Mobile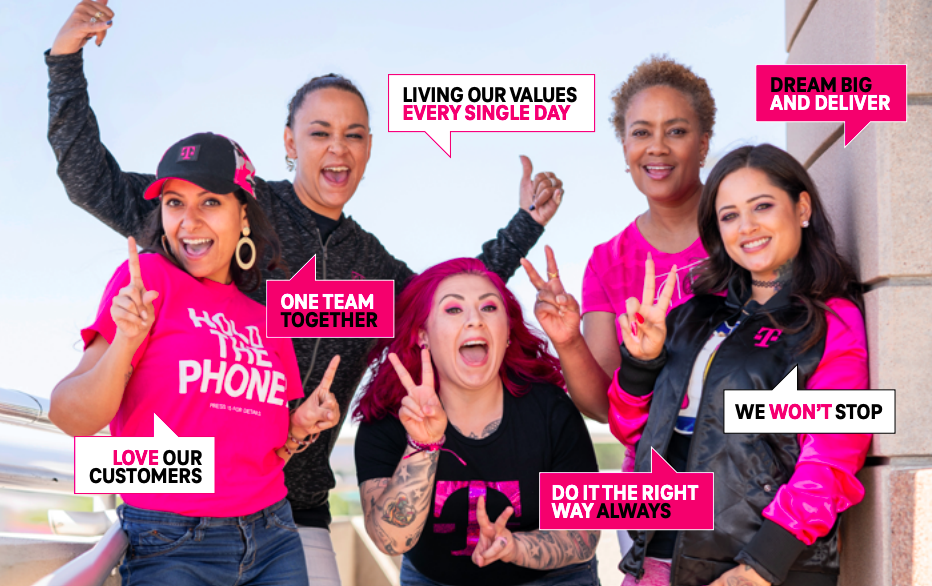 As featured in T-Mobile's 2020 Corporate Responsibility Report
DE&I isn't a new concept for us, and following our merger with Sprint, we recognized an opportunity to evolve and expand our deep and long-standing commitment to our people, our customers, and the communities we serve.
Equity In Action (EIA) is our five-year Un-carrier plan that spans the values we live by; how we invest in and provide opportunities for our employees; the products and services we offer; the suppliers we do business with; and how we advocate for our communities. EIA offers a roadmap that inspires us to lead by example, put people first and ensure DE&I remains at the center of everything we do.
To ensure we deliver on our DE&I promises, we formed an External Diversity & Inclusion Council made up of leading thinkers and advocates in this space to help guide and support our efforts. This Council includes leaders of National Urban League, League of United Latin American Citizens, National Action Network, UnidosUS, OCA-Asian-Pacific American Advocates, Asian Americans Advancing Justice, Human Rights Campaign, National Organization On Disabilities, National Association for the Advancement of Colored People, National Diversity Coalition, and Multicultural Media, Telecom and Internet Council.
We're committed to continuously evolving and improving. When issues of racial injustice rose to the forefront of national conversation in 2020, we rose to the occasion to use our platform and voice to drive action and we won't stop standing up for true equality for all. Diverse, inclusive workplaces are the basis for our unique Un-carrier culture, making us a better and more successful company.
It focuses on three key areas:
Talent: We will recruit, retain, and develop the best team in the history of our industry which includes increasing diversity across every level. Strengthening the pipeline of diverse talent up to the executive level makes us a stronger, smarter, and better company.
Culture: Where others see numbers, we see people—and our culture is proof of that approach. We will focus on providing our employees with tools to build inclusive habits and behaviors as part of their day-to-day lives. By putting inclusion at the core of our culture, our employees will be inspired to build equitable products and services for our customers.
Brand: We will remain steadfast in advocating for underrepresented communities by doing our part to eradicate the homework gap and helping ensure everyone has access to cutting-edge 5G technology. We will also create workforce and educational opportunities that will help make the 5G era, and the innovation economy, one that is equitable.
Our values guide us toward a bigger and better future. We are cultivating a culture of bridges, not silos. A team of allies, not heroes. One that works left-right, not top-down. All in pursuit of something bigger—a brighter future for our customers, for one another, for our shareholders, society, and the planet. Today, we stand together as one team ready to deliver on our mission and live our values every day.
The Making of One Team, Together
Bringing our two teams, businesses, and cultures together began with building a strong foundation—and by asking a few critically important questions. Who do we want to be as the supercharged Un-carrier? What values brought each of our companies to this point, and which values will we need to take us to a bigger and better future? 
So, we listened. Through two dozen focus groups with hundreds of employees across each legacy company, as well as a comprehensive culture survey sent to all employees and completed by more than half, we focused on building the foundation for our shared culture.
We learned that our two respective cultures had a lot in common. A passion and dedication to customercentricity, a celebration of diversity, and focus on inclusion, a fun, collaborative culture—these were key ingredients to our respective historical successes and will remain key to our future successes.
We identified opportunities to define our new, shared values including an increased emphasis on personal and professional growth, on working across organizational lines to establish and build trust in each other, and a renewed focus on empowering each other as a team. With these insights in hand, we've articulated who we are, what we stand for, and the values that guide our work together. Our values not only tell an inspiring story of WHO WE WERE but also WHO WE ARE, and WHO WE WANT TO BE as a culture and as a company.
We Value What Each Person Brings
We're inspired by a simple mantra when it comes to our work together: #BeYou. A One Team, Together culture doesn't mean we're all the same, and it doesn't mean minimizing or ignoring our differences. In fact, it means celebrating our differences. When we're empowered to bring our full, authentic selves to work, we can all win, together.
Our ability to dream big and deliver as a company is impossible without our employees. We know we are a stronger company when we work to create an environment where every employee feels valued for who they are and equipped to offer the best for our customers and constantly innovate. That means bringing together our unique talents, perspectives and backgrounds and empowering all employees with opportunities to learn, grow, and develop.
We are focused on creating career pathways for those who serve our country and are proud supporters of FourBlock, a nationwide community of veterans and employers dedicated to transforming the veteran transition process, and Hiring Our Heroes, an initiative by way of the U.S. Chamber of Commerce that was designed to connect employers with a pipeline of accomplished, ready-to-hire individuals from the military community. Our mission is to hire 10,000 veterans and military spouses by 2023 and we're more than halfway there!
We know that leading with transparency includes providing details on our workforce data. This not only keeps us accountable, but also raises the bar for others. The following data tells a story, a story of progress and room for growth. And a story that is not yet complete. We still have work to do and will keep pressing forward to create a more diversified and inclusive workplace, with broader access to opportunity for all.
Learn more in T-Mobile's 2020 Corporate Responsibility Report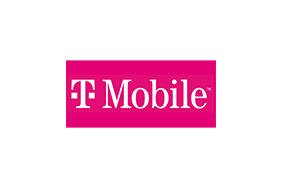 T-Mobile
T-Mobile
T-Mobile US Inc. (NASDAQ: TMUS) is America's supercharged Un-carrier, delivering an advanced 4G LTE and transformative nationwide 5G network that will offer reliable connectivity for all. T-Mobile's customers benefit from its unmatched combination of value and quality, unwavering obsession with offering them the best possible service experience and undisputable drive for disruption that creates competition and innovation in wireless and beyond. Based in Bellevue, Wash., T-Mobile provides services through its subsidiaries and operates its flagship brands, T-Mobile, Metro by T-Mobile and Sprint. For more information please visit: https://www.t-mobile.com/news.
More from T-Mobile