Published 09-29-21
Submitted by Regions Bank
Redemptive Cycles is a small business with a simple mission: to redeem the streets.
Redemption for the bicycle community – which they serve through their retail shop and through local advocacy work – but more importantly, redemption for members of the community that lack access to reliable transportation.
"There's a barrier to people accessing work because they don't have transportation," said Olivia Hart, executive director of Redemptive Cycles. "That affects a significant number of people in Birmingham who are not served by public transit, and even if they are, it doesn't go to the jobs that they are looking for or are qualified to do."
To help address transportation inequity, Redemptive offers the Earn-A-Bike program. In exchange for 12 hours of community service – with eight of those hours served at a local nonprofit and four at Redemptive – they receive a bicycle, lights, a lock and a helmet, along with bike safety and maintenance guidance.
"It is our hope that when we give someone a bicycle, they can either access a broader range of work options or get to work more reliably and on time because they're self-sufficient in their transportation," Hart explained, adding that they serve 100-150 people with a bicycle each year.
"A gentleman we recently gave a bike to now has a full-time job at a gas station and he is super grateful for his bicycle, and stories like that are frequent," Hart said. "With the program, yes, we give bikes to people. But really, it's about giving people opportunities to build their own life."
It's the opportunities that Redemptive creates for people that has always stuck out to Brett Shaffer, head of Community Relations at Regions.
"Any vibrant city center needs a bicycle culture. You cannot dismiss the transportation needs of our community and it's really an issue across our footprint," Shaffer said. "For Redemptive to not only create a culture of cycling, but to also create an inclusive culture of solving this obstacle and providing a service to our entire community, I think is a really neat solution."
The relationship between Redemptive and Regions goes back many years.
"We've been banking with Regions for as long as I know. We also build the green bikes they give away to their staff and customers," Hart shared. "Regions has been very supportive of our mission; we are the beneficiary of a grant for our Earn-a-Bike program, which is wonderful, and we are very grateful."
In addition to their charitable and retail work, Redemptive stays active in the community. Each week, the RC Fam embarks on a "trample" – where up to 100 people participate in a bike ride around the city together … keeping the love of cycling – and community – alive and well.
"It's a fun and lively organization. The whole Redemptive team does such incredible work, tangibly helping people, that you can't help but feel good about it," Hart said. "We're making people's lives easier and better – and the benefit of that cannot be understated."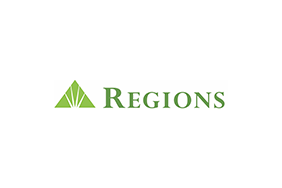 Regions Bank
Regions Bank
Regions Financial Corporation (NYSE:RF), with  $147 billion  in assets, is a member of the S&P 500 Index and is one of the nation's largest full-service providers of consumer and commercial banking, wealth management, and mortgage products and services. Regions serves customers across the South, Midwest and  Texas , and through its subsidiary, Regions Bank, operates more than 1,300 banking offices and 2,000 ATMs. Regions Bank is an Equal Housing Lender and Member FDIC. Additional information about Regions and its full line of products and services can be found at www.regions.com.
More from Regions Bank