Published 09-15-21
Submitted by Henkel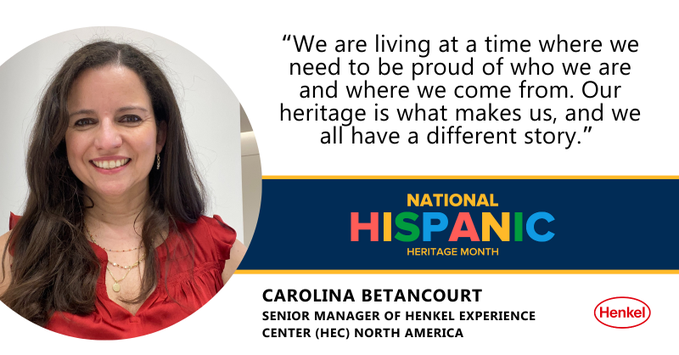 At 26 years old, Carolina Betancourt packed up her life in Venezuela and headed to the United States with her husband and young child to pursue further study. The transition to life in the United States, while exciting and full of opportunity, was not easy. However, Carolina's upbringing and positive outlook led her to look at challenges as opportunities.
Growing up in an immigrant household with a Venezuelan father and an Italian mother, Carolina was no stranger to balancing the need to adapt and embrace the culture of your adopted country, while also celebrating where you come from.
"As a child, my mother taught me to celebrate both my Venezuelan and Italian cultures but to also recognize the importance of assimilating and learning the language and customs of the country we lived in," said Carolina. "I approached life and raising my children in the States the same way. As Hispanics, we can't just ask society to embrace us if we are not willing to embrace the culture back. It's important to put ourselves out there."
While her children embraced U.S culture, they faced challenges of acceptance. "At my children's school, they were in the super minority. Out of over 400 students, there were only three who identified as Hispanic. To better fit in, they were reluctant to eat our food and speak Spanish. They even admitted to me later on that they were ashamed of having a mother with a strong accent."
Carolina also faced hardships, including countless job rejections and navigating visa challenges, but through it all she continued to uphold pride in her heritage. Understanding that it takes a certain amount of determination and grit to move to a new country, she forged ahead, knocking on doors until they opened for her and never losing sight of her North star—to be positive, determined and proud of her true self.
Now at Henkel, she is proud to bring this resilience and mindset to her work as the Senior Manager of Henkel Experience Center (HEC) North America and her voluntary role as the president and one of the co-founders of Henkel's first Latinx and Hispanic employee resource group (ERG), "Unidos!". Unidos seeks to give every Henkel employee the opportunity to connect and thrive by celebrating and harnessing the strength of the Hispanic community, while teaching others about Hispanic and Latinx culture.
ERGs at Henkel help to create a more inclusive and understanding culture where everyone feels empowered to be able to express their ideas and see themselves represented around the company. Javier Andrade-Marin, General Manager Laundry & Home Care North America, and co-founder and executive sponsor of Unidos, believes in the importance of ERGs in increasing visibility and opportunities for their members across the company.
"The main purpose for creating Unidos was to showcase the strong impact and contribution of employees with Hispanic heritage, as well as generate awareness for the rising importance of the Hispanic consumer in the North American market and how we can better reach them," he said. "We also want to play a critical role as a support group that can help mentor, train, guide and empower our members. Having a support group that includes people from your same background, in this case Hispanic, builds the confidence needed in many cases to boldly go out and add value in every area."
Increasing visibility, building confidence and promoting cross-cultural collaboration is what leads to more acceptance and understanding. Carolina witnessed this first-hand as she saw a shift in perception around what it means to be Hispanic and an immigrant via the experience of her children. "Although at first they tried to hide their true selves, as society became more accepting my children began to embrace their Hispanic heritage. Now they are proud to be from immigrant parents and aren't afraid to hide it. This gives me hope for the future and the direction our society is heading when it comes to diversity and inclusion."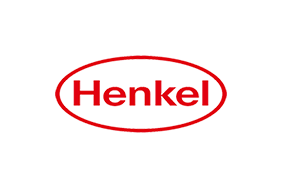 Henkel
Henkel
About Henkel in North America
In North America, Henkel operates across its three business units: Adhesive Technologies, Beauty Care, and Laundry & Home Care. Its portfolio of well-known consumer and industrial brands includes Schwarzkopf® hair care, Dial® soaps, Right Guard® antiperspirants, Persil®, Purex®, and all® laundry detergents, Snuggle® fabric softeners as well as Loctite®, Technomelt® and Bonderite® adhesives. With sales of around 6 billion US dollars (5 billion euros) in 2019, North America accounts for 26 percent of the company's global sales. Henkel employs approximately 9,000 people across the U.S., Canada and Puerto Rico. For more information, please visit www.henkel-northamerica.com, and on Twitter @Henkel_NA.
About Henkel
Henkel operates globally with a well-balanced and diversified portfolio. The company holds leading positions with its three business units in both industrial and consumer businesses thanks to strong brands, innovations and technologies. Henkel Adhesive Technologies is the global leader in the adhesives market – across all industry segments worldwide. In its Laundry & Home Care and Beauty Care businesses, Henkel holds leading positions in many markets and categories around the world. Founded in 1876, Henkel looks back on more than 140 years of success. In 2019, Henkel reported sales of more than 20 billion euros and adjusted operating profit of more than 3.2 billion euros. Henkel employs more than 52,000 people globally – a passionate and highly diverse team, united by a strong company culture, a common purpose to create sustainable value, and shared values. As a recognized leader in sustainability, Henkel holds top positions in many international indices and rankings. Henkel's preferred shares are listed in the German stock index DAX. For more information, please visit www.henkel.com.
More from Henkel