Published 08-11-21
Submitted by Gen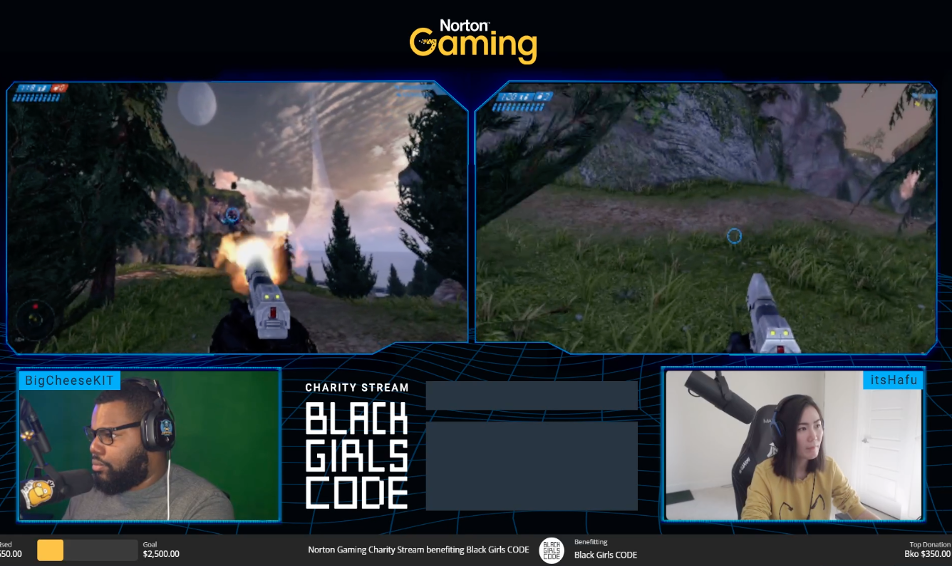 NortonLifeLock Blog | Corporate Responsibility
By Big Cheese, Owner of BigCheeseKIT
When Norton Gaming reached out about participating in a Twitch charity stream, I knew it was something I wanted to do. I was very excited to be partnering with It'sHafu to support an incredible organization, Black Girls CODE. Honestly, it was a no-brainer. Even though Hafu had to tag out about halfway through our game of Halo: Combat Evolved with motion sickness, her husband DogDog and I finished up strong, and hit our goal of raising $2,500.
But wait! There is MORE! The news gets even better, because NortonLifeLock Cares matched individual donations 2:1, donating a total of $10,000 to the cause! That's ten thousand dollars in three hours, all going to Black Girls CODE! WOO! LET'S GO! Here's a quick clip of us hitting the donation goal!
Black Girls CODE (BGC) is a not-for-profit organization leading a global movement to establish equal representation in the tech sector. BGC empowers girls between the ages of 7-17 by introducing them to skills in computer programming and technology and is building pathways for young women of color to embrace the current tech marketplace.
These girls are the future of technology, and I was honored to use my platform to help them out, alongside Norton Gaming. We had over 277,000 live views, and I'm pretty sure every single one of them loved our acapella rendition of the Halo theme song. If not, I know for a fact they dug the freestyle I came up with!
All jokes aside, I treasure this partnership with Norton Gaming. I'm able to do what I love, and they gave me a great opportunity to help out the kids and organizations who need it the most. There will hopefully be many more in the future, so please keep a lookout for all things Norton Gaming and BigCheeseKIT.
If you missed out on the fun, and want to donate to Black Girls CODE, visit their website here. And check out Hafu, me, and NortonGaming on Twitch!

Gen
Gen
Gen (NASDAQ: GEN) is a global company dedicated to powering Digital Freedom through its trusted Cyber Safety brands, Norton, Avast, LifeLock, Avira, AVG, ReputationDefender and CCleaner. There's a new generation, and it's not Gen X, Y, or Z. It's Gen D: Generation Digital. Gen's family of consumer brands is rooted in providing safety for the first digital generations. Now, Gen empowers people to live their digital lives safely, privately, and confidently today and for generations to come. Gen brings award-winning products and services in cybersecurity, online privacy and identity protection to more than 500 million users in more than 150 countries. Learn more at GenDigital.com.
More from Gen