Published 07-26-21
Submitted by The Nature Conservancy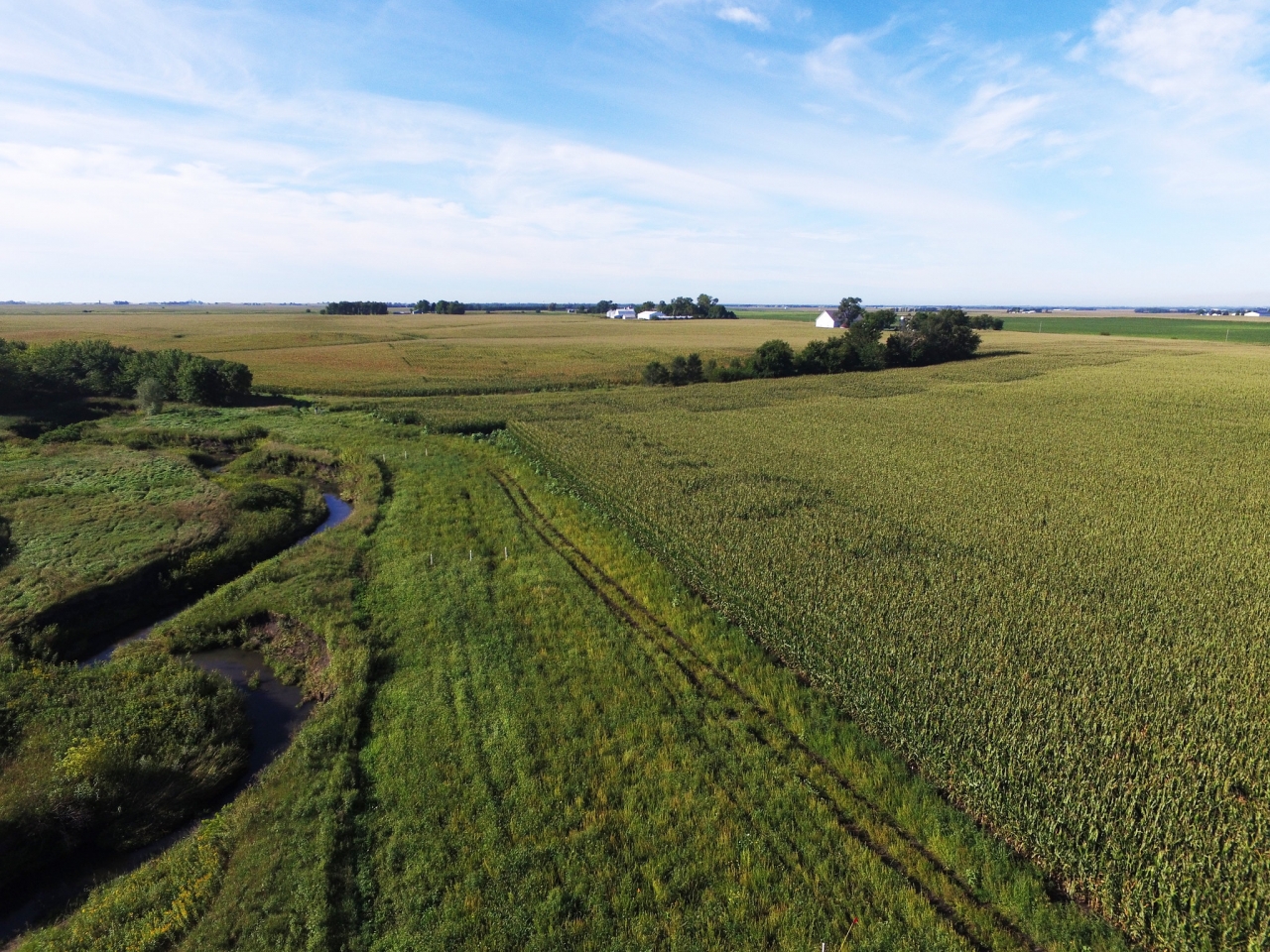 Food is among the most basic and essential ways that we interact with nature. The security and continuity of our food supply chains depend on healthy soil, clean water and a stable climate—all factors that impact a producer's ability to grow crops. Businesses are increasingly recognizing these connections and including environmental factors into their business models. One way they do this is by setting sustainability goals related to water quality and climate change.

In order to ensure long-term food production, economic security for producers and their communities, and a healthy environment for us all, sustainability needs to be business-as-usual in the U.S. food and agriculture industries. Seeing some of the world's largest food companies take proactive steps to achieve sustainability within their own supply chains signals tremendous momentum in that direction. But more work still lies ahead. To truly achieve a regenerative food system, we need to embrace a broad suite of scientifically proven solutions.
Decades of scientific research tells us that improving nutrient management and rebuilding soil health in farm fields can increase productivity for farmers and deliver a range of environmental benefits. But research also tells us that focusing on in-field practices alone is not enough to achieve a regenerative agriculture system. We need to harness the larger landscape by creating conservation opportunities at the field edge. Through the implementation of conservation and stewardship practices at the edges of farm fields, we can realize water quality and climate goals—a crucial but under-utilized conservation opportunity.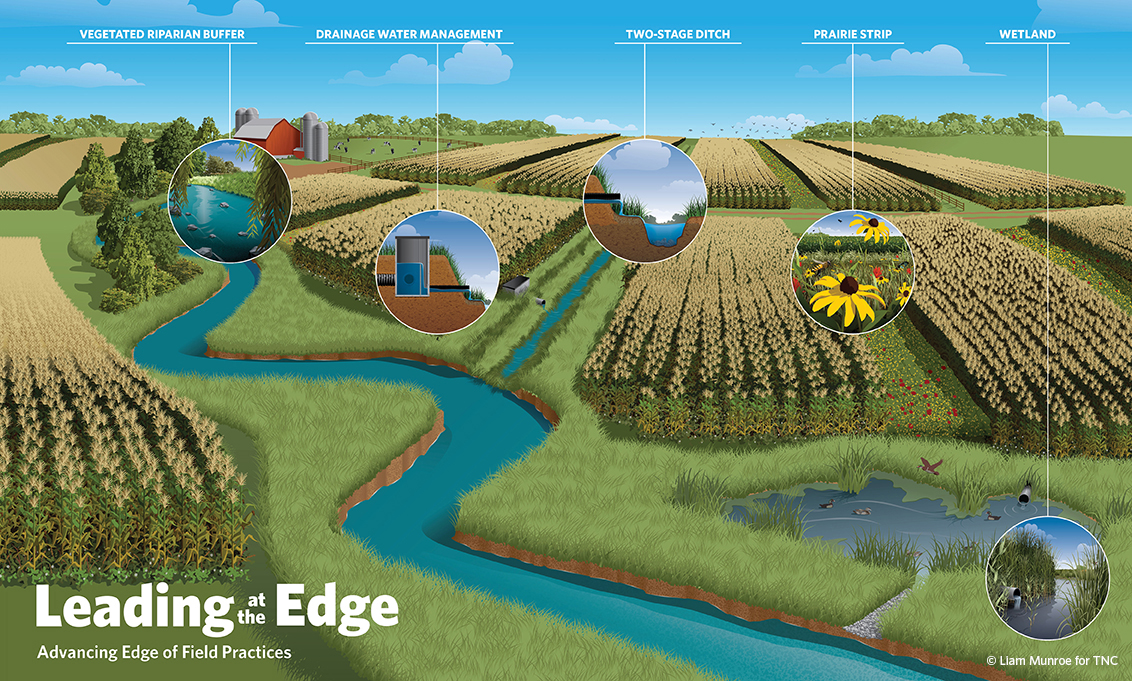 A Whole-farm Approach
A whole-farm—or whole-systems—approach to improving agricultural management is essential for long-term sustainability and profitability, as well as meeting water quality, greenhouse gas, and habitat goals. This approach means that producers need to employ both in-field (e.g., cover crops, nutrient management, crop rotation) and edge of field (EoF) conservation practices.
EoF practices are designed to slow, filter, and process water running off farm fields, both above and below the surface. In addition to providing water quality benefits, they also enhance carbon and water storage, pollinator and wildlife habitat, and streambank stabilization. These practices—including vegetated buffers, two-stage ditches, wetlands, bioreactors, and prairie strips—can be paired with in-field conservation practices to support farm productivity and profitability while maximizing the conservation benefits.  In fact, scientists with The Nature Conservancy (TNC) estimate that approximately 550,000 acres of restored and constructed wetlands could help treat nutrient loss from 50 million acres of cropland.
In addition to the staggering water quality benefits offered by this suite of practices, TNC scientists also estimate that wide-spread implementation of restored and constructed wetlands could sequester 7.4 million tons of soil organic carbon adjacent to working lands over a 10-year period. Such practices could be a revenue stream for farmers who enroll in ecosystem services markets, as well as a boon to climate change mitigation efforts gaining momentum across the food and agriculture industry.
EoF practices can improve water quality, store more carbon, reduce flooding,
support pollinators, and provide wildlife habitat connectivity in working landscapes
Stories abound of farmers across the United States successfully implementing EoF practices to better manage water and reduce nutrient and sediment loss from their fields. Farmers have seen the benefits first-hand, and their experiences demonstrate the crucial role well-managed farms can play in solving environmental challenges. Yet, more farmers must implement these practices to achieve significant environmental improvements. Among the barriers to scaled adoption are mitigating up-front costs, resolving technical issues, and addressing misconceptions about the role that these practices can play on productive, profitable farms. How do we overcome these barriers and help farmers adopt EoF practices on a larger scale and at a faster pace?
A Roadmap for Success
In 2020, The Nature Conservancy (TNC), the Soil and Water Conservation Society (SWCS), and Meridian Institute came together to answer this fundamental question. Our three organizations convened 26 leaders including farmers who are early adopters of EoF practices; representatives from environmental and conservation nonprofits, commodity groups, professional associations, and agriculture and food companies; and current and former public agency staff.
Over a 6-month period, these leaders analyzed the state of the science underpinning EoF practices, reviewed current policies and programs, and developed a shared understanding of existing efforts that both encourage and discourage EoF adoption. Building upon this shared base of knowledge, the group developed Leading at the Edge: A Roadmap to Advance Edge of Field Practices in Agriculture. Featuring successful and innovative case studies from across the nation and recognizing the accomplishments of individuals and organizations, the EoF Roadmap is a blueprint for collaborative action to implement these practices on a larger scale and at a faster rate. It includes nine recommendations to accelerate the adoption of EoF practices, built upon three cross-cutting themes:
Invest in science, technology, and data to increase understanding of the effectiveness of practices and provide farmers and conservation professionals with the information necessary to inform EoF practice implementation.
Align policies and programs so they work in tandem and amplify corporate supply chain efforts and emerging ecosystem services markets to create watershed-level improvements.
Communicate a vision of a more holistic, regenerative U.S. agriculture system to develop a shared appreciation of the importance of edge of field practices among farmers, landowners, and others throughout the value chain.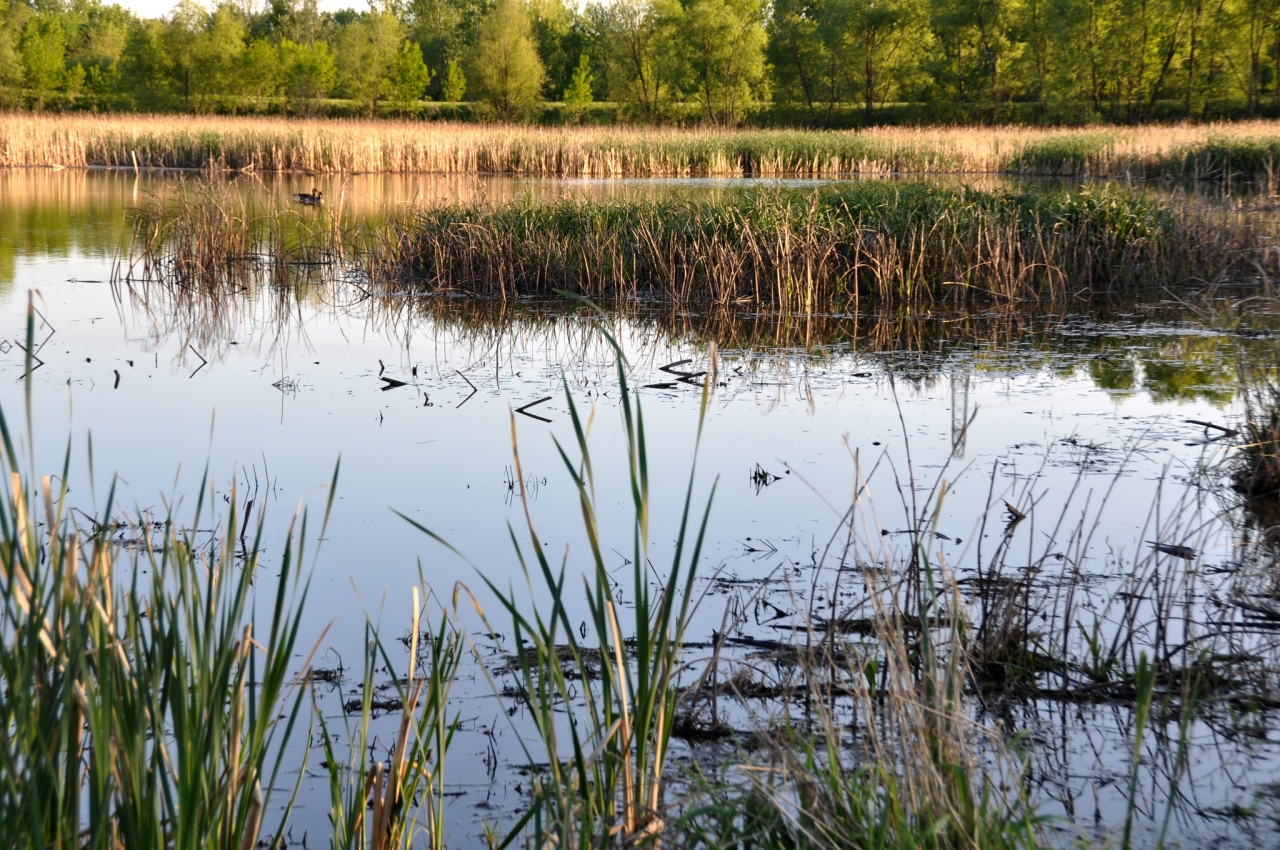 Using these themes as guides, it's evident that there are roles for everyone to play in expanding the use of edge of field practices—no matter their distance from farmland. For supply chain initiatives that embrace a multi-pronged approached to systems change, like the Midwest Row Crop Collaborative, emphasis on EoF may be expressed through a variety of channels: as a priority for policy engagement, as an emerging area of technical assistance, and as a story to be told about the future of regenerative agriculture, among other possibilities.
The EoF Roadmap is a call to action for partnerships, conservation groups, policy makers, farmers, farm organizations, supply chain companies and other agricultural stakeholders. Working collaboratively, stakeholders can elevate public awareness of EoF practices and the role they play in helping to improve the sustainability of the U.S. food system and help the business and government sectors meet environmental goals.
We invite you to explore the Roadmap and learn about the science, policy, and market opportunities identified in our recommendations. Together, we can transform our agricultural landscape for the benefit of our producers, our communities, and the environment we all share.  Learn more at nature.org/EdgeofField.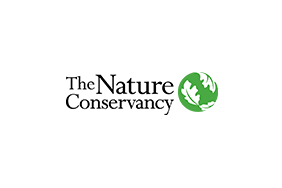 The Nature Conservancy
The Nature Conservancy
The Nature Conservancy is a global environmental nonprofit working to create a world where people and nature can thrive. Founded at its grassroots in the United States in 1951, The Nature Conservancy has grown to become one of the most effective and wide-reaching environmental organizations in the world. Thanks to more than a million members and the dedicated efforts of our diverse staff and more than 400 scientists, we impact conservation in 79 countries and territories across six continents.
More from The Nature Conservancy