Published 06-16-21
Submitted by WSP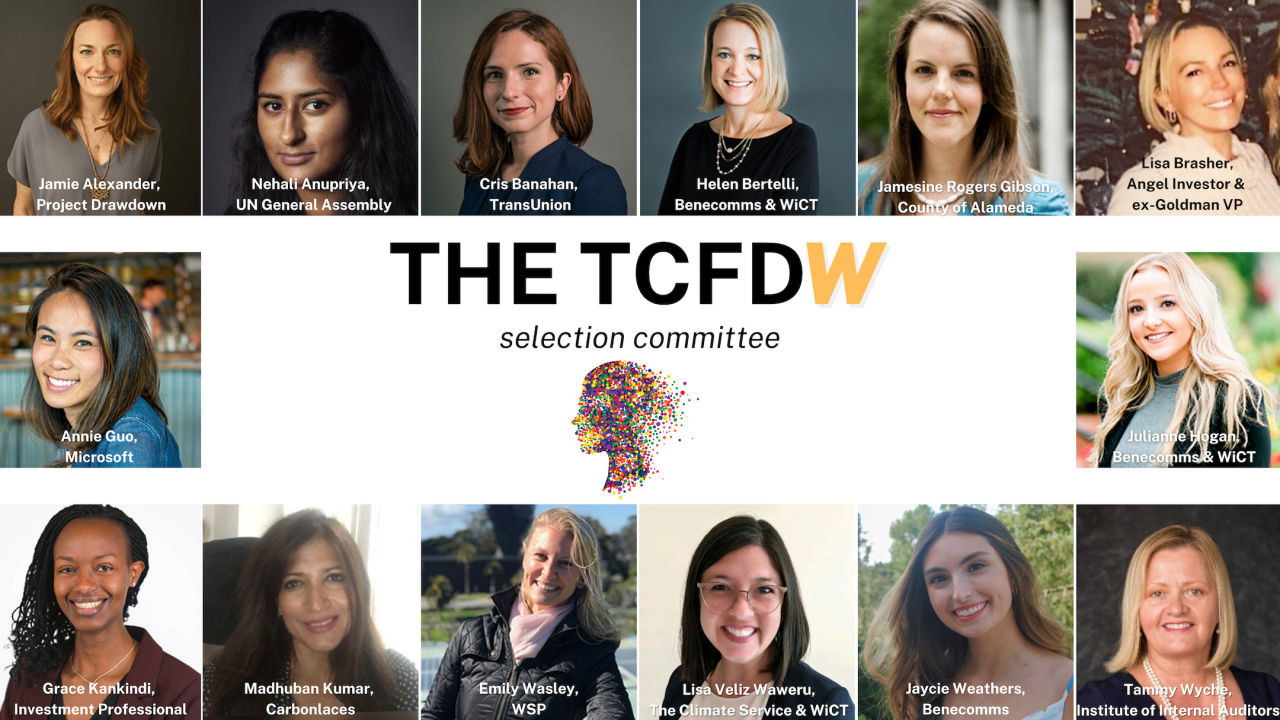 WAKE FOREST, N.C., June 16, 2021 /CSRwire/ - Women in Climate Tech (WiCT) today announced the launch of the TCFDW program with the goal to create a toolkit for use by business and government to assess:
Improving investor understanding of the connection of climate change and gender equity through enhanced disclosure;
The risks facing net-zero and resilience commitments resulting from gender inequity at all levels; and 
Opportunities arising from addressing this inequity and the solutions to address climate change.
Asset owners and managers have highlighted the importance of women in corporate boards and leadership positions to improve the financial performance of companies. The 30 Percent Club points to "studies in behavioural economics highlighting men and women's different attitudes to risk, and economic principles more generally." Beyond profitability, companies with gender diverse boards are also better able to manage sustainability risks, including climate change. The same risk management behaviors that support financial gains are important to mitigating climate-induced risks. 
Research shows that investing in women and girls results in actual reduction of carbon emissions, and also suggests that gender equity is a climate solutions multiplier that can enhance the effectiveness of all climate solutions. 
"Equity is a climate 'unicorn,' amplifying resilience and the effectiveness of virtually every effort," said Helen Bertelli, co-founder of Women in Climate Tech and President of Benecomms. "As companies and governments around the world embark on climate risk and opportunity analysis and reporting, why would we not want to bake equity into this work?"
"While women make up the majority of heads of households in many areas (including island nations where climate change may hit hardest), women-led households tend to be poorer than male-led. This is true around the world, including in the United States," said Lisa Veliz Waweru, co-founder of Women in Climate Tech and Director of Customer Success at The Climate Service. "This negatively impacts the resilience and strength of communities, businesses, and economies worldwide." 
"Compelling research shows the significant business benefits of gender equity to becoming future ready; that more women in leadership make a business more successful, profitable, and innovative" said Emily Wasley, Practice Leader, Corporate Climate Risk, Adaptation, and Resilience, WSP USA, and Women in Climate Tech Steering Committee Member. "We believe this will be true of net zero efforts, and that gender equity must be an integral part of climate risk and opportunity assessments." 
"As our company begins our own TCFD reporting journey, I am pleased to be part of the TCFDW program because it will augment our climate risk work, and help to ensure our company's participation in a just transition," said Cris Banahan, TransUnion Global Director of Sustainability & Citizenship.
Work on the TCFDW program has already begun and will progress over the summer, culminating in a presentation of the toolkit and key findings at The Nest Summit during New York's Climate Week. Subscribe to the Women in Climate Tech email to learn more and stay abreast of our updates. 
About Women in Climate Tech (WiCT)
WiCT empowers and amplifies the voices of women, and non-binary individuals, in climate tech, 
working to solve the biggest challenge of our time. Its members include engineers, executives, communicators, policy specialists, investors, and business leaders worldwide, all working to combat climate change.
About WSP USA
WSP USA is the U.S. operating company of WSP, one of the world's leading engineering and professional services firms. Dedicated to serving local communities, we are engineers, planners, technical experts, strategic advisors and construction management professionals. WSP designs lasting solutions in the buildings, transportation, energy, water and environment markets. With more than 12,000 employees in 200 offices across the U.S., we partner with our clients to help communities prosper. wsp.com

WSP
WSP
WSP is a global business providing management and consultancy services to the built and natural environments. The firm's expertise includes environmental remediation and urban planning, engineering of iconic buildings, design of sustainable transportation networks, development of the energy sources of the future, and implementation of new ways of extracting essential resources. It is one of the world's leading professional service firms, with 15,000 employees based in more than 300 offices in 35 countries. From offices across the USA, our environmental professionals are part of an international team of specialists that draws on best practices and brings solutions to our clients' most difficult business and technical challenges.
More from WSP