Published 06-11-21
Submitted by Clarivate

Originally published in the Clarivate Annual Sustainability Report
"Clarivate is in a unique position to leverage the responsibility and opportunities we have as a leader in our industry, to positively impact climate change, one of the defining issues of our time."

Patrick Simpson, Director of IP Maintenance – Make a Difference to Climate Change Executive Sponsor
We've kicked off our Make a Difference to Climate Change initiative to highlight our responsibility and seize opportunities - as a leader in our industry - to act now. We want to be part of the solution for climate change, today and for years to come. Our goal is to be a positive force to impact climate change - one of the defining issues of our time. We started with a group of 20 colleagues who were tasked with creating a plan to address two key priorities:
Making an impact on scale: How can we power the ideas and innovations that will ultimately help solve the climate change problem, by using our position in the IP industry?
Reducing our own footprint: Acknowledge that change starts within. By implementing actions that raise awareness and reduce our own consumption, we'll do our part to help positively impact climate change for years to come.
2020 milestones
Expanded global colleague participation for Make a Difference to Climate Change from 20 initial members to more than 1,600 and counting
Began leveraging our unique position in the IP industry to help facilitate, enable and accelerate the intellectual output to help impact the issue of climate change
Reduced our Jersey data center impact by 53.24% by upgrading our equipment to more efficient devices that consume less energy — we're already saving 221.88 MWh per year
2021 goals
Launch a Colleague Resource Group focused on the environment to advise, manage and maintain our robust action plan to address climate change and resource efficiency
Establish a Green Academy to provide data and education around sustainability – created in partnership with our customers
Initiate Green Incentives using our market coverage and strengths to offer customer incentives and rewards for green activities and IP development
Leverage our Green Market/Green Data Lake because we know that science, innovation and collaboration hold the answers to impacting climate change
Continue to connect the IP network – through our industry leadership, our access to data and our strong customer network – to provide valuable data to accelerate climate change solutions
Learn more in the Clarivate Annual Sustainability Report.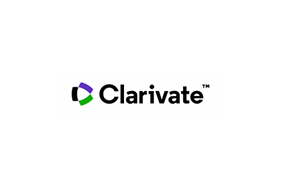 Clarivate
Clarivate
Clarivate™ is a global leader in providing solutions to accelerate the lifecycle of innovation. Our bold mission is to help customers solve some of the world's most complex problems by providing actionable information and insights that reduce the time from new ideas to life-changing inventions in the areas of science and intellectual property. We help customers discover, protect and commercialize their inventions using our trusted subscription and technology-based solutions coupled with deep domain expertise. For more information, please visit clarivate.com.
More from Clarivate