Published 05-26-21
Submitted by Bloomberg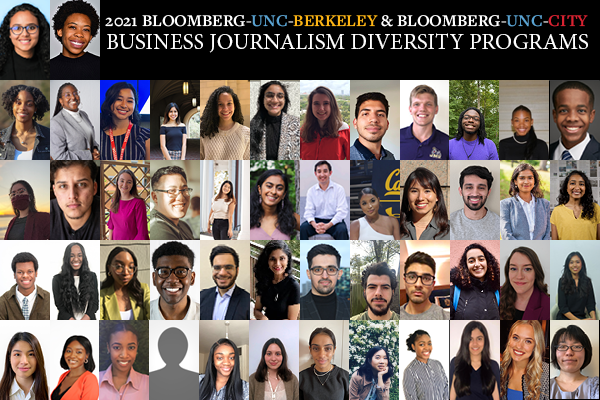 Bloomberg Journalism Diversity Program Announces Largest Cohort to Date
Originally posted on bloomberg.com/company.
NEW YORK, May 26, 2021 /CSRwire/ - Bloomberg said today the 2021 Journalism Diversity Program will host its largest group of students in the program's history, with 50 students in the 2021 cohort. After having been put on hold in 2020 during the COVID-19 pandemic, this year's program, in partnership with UNC Hussman School of Journalism and Media and UC Berkeley Graduate School of Journalism, includes 30 participants in the United States. The UK program is in partnership with the Department of Journalism at City, University of London and includes 20 students.
With instruction by senior Bloomberg journalists and executives, participants are led through The Bloomberg Way: the guide for Bloomberg journalists on reporting, editing and applied business and economic knowledge. Participants will learn to demonstrate that the story of the economy, business and markets is best achieved when the focus is on the greatest diversity of participants.
"Journalism is about who is asking the questions," said Matt Winkler, Editor-in-Chief Emeritus of Bloomberg News. "We also know that if everyone asking the questions looks alike and sounds alike, there is little chance of explaining the world as it really is. This is why we created the Bloomberg Journalism Diversity Program."
"Including the voice of those who are under-represented in the story of finance are critical to Bloomberg's vision of its media strength for tomorrow," said Dean Susan King, UNC Hussman School of Journalism and Media. "We are so proud to partner with Bloomberg and to focus on those new voices that help expand the coverage of global markets and that make sure that Bloomberg has the pulse of tomorrow in its journalism corps."
"The diversity pathway enabled by our partnership with Bloomberg aligns so well with our goal to change the face of journalism," said Dean Geeta Anand, UC Berkeley Graduate School of Journalism. "We've been very impressed with the caliber of future journalists we've met through the program and UC Berkeley has already benefited. Four past attendees, Maria Sestito ('20), Marco Torrez ('21) and Sabrina Kharrazi and Coral del Mar Murphy-Marcos ('22) went on to become Berkeley Journalism students."
"Helping to diversify the intake into the news media is one of the most important roles for Journalism schools," said Dr. Paul Lashmar, Head of the Department of Journalism, City, University of London. "Journalism must reflect the society to give voice to previously little heard voices if democracy is to prevail. Diverse voices in financial and business journalism helps engage all the public in understanding the economy and recognizing the economy is not an abstraction but something we all need to understand and influence. Clearly this is a very strong cohort for the program, and I thank both Bloomberg and UNC for initiating and running this program."
Bloomberg Journalism Diversity Programs are part of Bloomberg's larger Global Business and Financial Journalism Education Initiative, which aims to advance business journalism and provide career opportunities for journalists from diverse backgrounds around the world. Bloomberg's 29 journalism programs include post-graduate Master's Degree in Business Journalism, a six-month post-graduate Executive Training Program in business and financial reporting, community based programs to introduce students to careers in journalism, and a one week immersive course in business reporting. With support from Bloomberg Philanthropies and other international funders, Bloomberg Global Business and Financial Journalism Education Initiative furthers our corporate philanthropic mission to address inequities, support diverse voices, and expand access to education using the expertise of our employees and resources of our business to create lasting impact.
For a list of the 2021 Bloomberg Journalism Diversity Program participants click here.
Bloomberg is committed to diversity in the newsroom, at every level in its workforce, and in its content. In 2018, Bloomberg launched the New Voices initiative to increase the representation of women and minority executives as sources in both online and on-air content. The program initially began with the establishment of a definitive global list of female experts in finance and business, a system to track diverse sourcing, and the funding of media training for top women executives in global cities. In 2020, the program expanded to include a cohort of Black executives of all gender identities and in 2021, it will expand to include a cohort of Latinx executives of all gender identities.

Bloomberg
Bloomberg
Bloomberg delivers business and markets news, data, analysis, and video to the world, featuring stories from Businessweek and Bloomberg News.
More from Bloomberg