Published 05-25-21
Submitted by Georgia-Pacific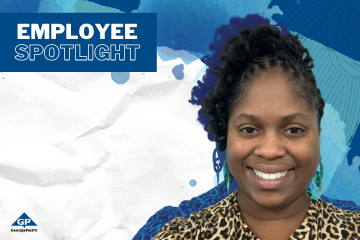 Georgia-Pacific is shining the light on amazing employees that contribute to the success of our company and their career journey that keeps them fulfilled.
Stephanie ​Davis​​ is HR manager, at our Rome, Georgia​, lumber mill.
​​What does your day-to-day workload look like? What do you enjoy most?
My day-to-day requires me to challenge the people I support to see beyond what's in front of them, develop strategies for the future with the talent we have today and those we anticipate will be our talent tomorrow. Many of my responsibilities include fostering community relationships that directly impact our connection to future talent while also enabling the resources in the community which may directly support our employees or people they interact with. If I could identify the one thing that really excites me about the work I do, it's when tools that I share with leaders or employees yield success stories. There is such a joy in knowing the leaders and employees I support value my perspective and always see me as a resource who is responsive and does not give them an answer without explaining the why while also demonstrating humility and a partnership to find the answer when it is unknown.
How did you get to where you are today in your career? Are there hurdles you had to overcome?​
Well, this role is actually a welcomed deviation from what I ideally thought my career would be. All my life I knew I was going to be an attorney and then transition into politics. My Bachelor's degree is a double major in Political Science and Criminology. After growing up in a neighborhood with a unique set of challenges my goal was to learn the legal system to support those I witnessed constantly oppressed due to lack of representation. After working on a political campaign and then becoming a mother my junior year in college, I made the tough decision to enter the workforce after securing my degree. During that time, I welcomed my 2nd daughter and received incorrect information from several HR Leaders at a former employer regarding nursing moms. Something just did not seem right about the info I received so I did my own research. As a result of my research, the company I worked for updated their policy to support nursing moms. This win propelled my interest in Human Resources. I found this path to be similar to my original path in the legal space consisting of researching, understanding laws, and educating and supporting people to help them make the best decision with the information presented. ​
The hurdles I overcame all came with patience. If anything, I have found that if you truly desire a role you feel passionate about then ​​​you have to do the work and be patient. Sometimes it's not all about the opportunity it's about the e​xperience. In my career I have found value in going backwards to get ahead. Sometimes we assume education should take us places experiences have not and I have learned the opposite. Roles that I have taken a step back to learn have been invaluable on my journey.
What advice would you give to students/young professionals entering into the workforce within your field?
Be authentic to who you are and what you represent. It's ok to not get the perfect job or to take a step back to propel forward. Many of the entry level roles in HR allowed me the opportunity to build a better strategy and more reliability to those who struggle to see past the now. I always tell people I never forget the "human" in human resources. I was once the "human" who did not understand their resources. This is why connecting people to those resources is so critical to the employee lifecycle and understanding that people are more than a number, a part of a process, or a dollar amount. Understanding what drives and motivates them, helping them​​ understand how they create value, and their overall feelings about the company are incredibly important from entry to exit. ​
​What does Black History Month mean to you? Any personal feelings towards diversity and inclusion and how you apply it to your job?
Wow, Black History Month this year took on a whole new meaning for me. Personally, there were some experiences one of my children endured in school due to the civil unrest and being the only African American in her class which made me take on a whole new approach to focusing my children on loving who they are. Diversity of people, cultures, and thoughts are the only way we can truly disrupt processes and build a better path for tomorrow. One way we significantly did this is by developing WIL (Women in Lumber). This group was designed to support understanding how to get more women in lumber, what are some of the challenges and how can we close the gaps on those, and more importantly how can we stand out. While we did not limit our audience to just women we thought it was important to hear how some of the conversations helped others understand what those barriers were and how we could support a more inclusive environment. It'​​s more than a shirt or a saying, it's about making sure everyone feels comfortable enough to apply, create value, develop, and eventually retire from a rewarding career. ​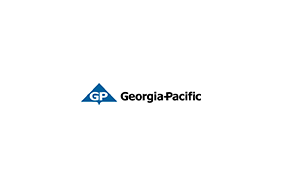 Georgia-Pacific
Georgia-Pacific
Based in Atlanta, Georgia-Pacific and its subsidiaries are among the world's leading manufacturers and marketers of bath tissue, paper towels and napkins, tableware, paper-based packaging, cellulose, specialty fibers, nonwoven fabrics, building products and related chemicals. Our familiar consumer brands include Quilted Northern®, Angel Soft®, Brawny®, Dixie®, enMotion®, Sparkle® and Vanity Fair®. Georgia-Pacific has long been a leading supplier of building products to lumber and building materials dealers and large do-it-yourself warehouse retailers. Its Georgia-Pacific Recycling subsidiary is among the world's largest traders of paper, metal and plastics. The company operates more than 150 facilities and employs more than 30,000 people directly and creates approximately 89,000 jobs indirectly. For more information, visit: gp.com/about-us . For news, visit: gp.com/news
More from Georgia-Pacific