Published 05-25-21
Submitted by Economist Events
LONDON, May 25, 2021 /CSRwire/ - Join The Economist Events next month for Sustainability Week US 2021 on June 8th-11th 2021. The event will examine how climate-related policy and regulatory change will impact US business and society. 
Session highlights include:
How Colgate-Palmolive is eliminating plastic waste in consumer products
With: Ann Tracy, chief sustainability officer, Colgate-Palmolive
How Unilever has achieved gender balance across its global management team
With: Aline Santos, executive vice-president global marketing and chief equity, inclusion and diversity officer, Unilever
Designing an investment plan that addresses sustainability goals and economic inequality
With: Mohamed El-Erian, president, Queens' college, University of Cambridge and adviser to Allianz and Gramercy
Working in partnership to reduce scope 3 emissions from the value chain
With: Kathleen McLaughlin, chief sustainability officer, Walmart
How should we address racial, ethnic and income inequalities that have been exacerbated by the pandemic?
With: Rajiv Shah, President, Rockefeller Foundation
Find out more:
To visit the Sustainability Week US 2021 event website, please click here.
Press can register free to attend the event here.
Event sponsors:
Platinum sponsor: Bayer, Gold sponsors: Interos, Keurig Dr Pepper, Robeco, Silver sponsors: Ripple, S&P Global, Tech demo sponsors: Novisto, Workiva.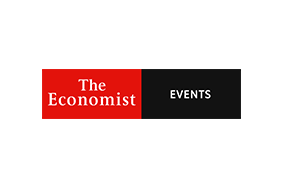 Economist Events
Economist Events
Economist Events brings the rigour of informed analysis and intelligent debate that The Economist is known for to life on stage in international forums. We host over 80 events annually in over 30 countries on topics that convene world-class thought leaders on a range of strategic business issues.
More from Economist Events