Published 05-21-21
Submitted by Yum! Brands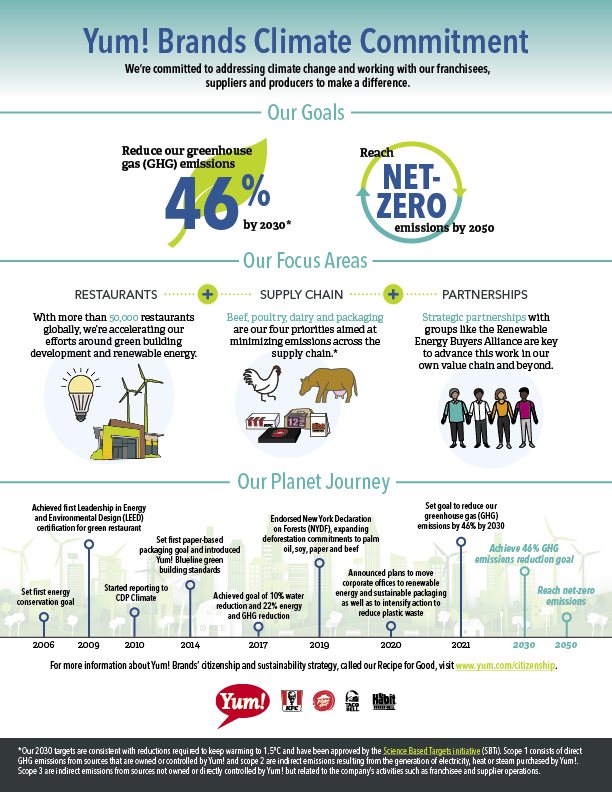 Positively Impacting Our Planet
I wanted to build on the message shared by Yum! Brands (our parent company) announcing our new global climate commitment that will reduce greenhouse gas emissions 46% by 2030 in our restaurants and supply chain. As a key brand contributor to the Yum! Brands Recipe for Good strategy and noting our own KFC focus on making our business more sustainable across all of our operations, I'm excited that we, in partnership with our incredible franchisees, suppliers and producers, can celebrate another bold commitment to our planet today.
While the journey to 2030 is a long one, one primary way to reduce KFC's climate impact is through energy reduction. I'm proud that the KFC brand has a great head start on this work with our legacy Building Green program. The Building Green program guides our franchise partners on implementing design features throughout our restaurants that are focused on reducing both energy and water use across our operations. You can learn more about our Green Building efforts from our recent sit down with Suparna Ukey, our Global Design & Construction Manager.
In addition to Green Buildings, KFC has also recently begun testing multiple energy optimization systems that have the potential to be scaled. These systems monitor our restaurant equipment to ensure that everything is operating properly resulting in minimal energy waste. The results from these tests are promising, including 18% overall energy savings in Malaysia, and projected savings of more than 5.4 million kWh over five years in the U.K.  Even better news for both efforts is that not only do they help our planet, they reduce costs for our franchise partners as well.
This latest commitment is just one more step on KFC's global sustainability journey and our planet priorities. We continue to make great progress across all markets on our packaging commitments. In 2020, more than 90% of KFC markets met our goal to source all of our fiber from responsible sources further improving our forest stewardship. We are seeing all markets make big steps toward our 2025 goal to make all consumer facing plastic packaging recoverable or reusable, and are well on our way to having Styrofoam removed from our restaurants by next year.
I am so proud of our teams around the world for working together to make these bold goals a reality for our business. With 2/3 of the world's KFCs yet to be built and a new restaurant opening somewhere every six hours, we have a responsibility to grow sustainably to ensure that KFC fans around our planet can enjoy the world's most famous fried chicken for many, many years to come.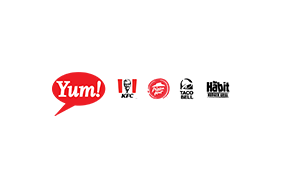 Yum! Brands
Yum! Brands
Yum! Brands, Inc., based in Louisville, Kentucky, has over 54,000 restaurants in more than 155 countries and territories, operating the Company's brands – KFC, Pizza Hut and Taco Bell – global leaders of the chicken, pizza and Mexican-style food categories. The Company's family of brands also includes The Habit Burger Grill, a fast-casual restaurant concept specializing in made-to-order chargrilled burgers, sandwiches and more. Yum! Brands was named to the 2021 Dow Jones Sustainability Index North America and was ranked on Newsweek's list of 2021 America's Most Responsible Companies. In 2022, Yum! Brands was named to 3BL Media's 100 Best Corporate Citizens.
More from Yum! Brands