Published 05-12-21
Submitted by Essity
Melting glaciers, more droughts and wilder weather have increased public awareness that we are all equally responsible for climate change. But are we running out of time? Fortunately, there are a lot of positive developments to point to, including innovation at Essity. By launching the world's first paper towel recycling service, Tork PaperCircle® (currently available in select EU countries but new markets opening up), the company is living up to its circularity commitment and continues to break barriers for societal well-being.
In Season 2 of its award-winning podcast series, Essential Talks, Essity explores how an environmental mindset is lurking behind every corner of the company. Whether the objective is smart and inclusive products, improving manufacturing techniques, or adopting alternative fibers, Essity is defining a new, more sustainable era when it comes to health and hygiene product circularity.
The podcast's Season 2 first episode, Circularity: Zero Waste of Time, takes listeners on a journey through "after-use" of hygiene and health products thanks to the Tork PaperCircle cycle – from factory to restroom, restroom to bin and back to factory again.
Along the way, listeners will hear from those who are looking to keep such innovation and sustainability coming:
Gerhard Heiberg - Winter Olympics Lillehammar 1994 where a first attempt of recycling paper towels started
Katharina Paoli, Nudged - behavioral mapping in bringing around awareness to the masses
Joe Murphy, Ellen MacArthur Foundation on the circular economy
Per Stoltz, IKEA customer to implement TPC and how IKEA will become 100% circular
Åsa Degerman – Essity Business Development Manager in-house sustainability expert
Martin Van Tuijl, Essity Procurement Director about the process behind the solution
Essential Talks is an award-winning podcast series, which attracted more than 10,000 unique listeners in Season 1, which focused on breaking stigmas in different areas related to health and hygiene.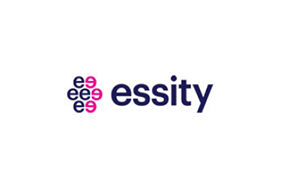 Essity
Essity
Essity is a leading global hygiene and health company that develops, produces and sells Personal Care (Baby Care, Feminine Care, Incontinence Products and Medical Solutions), Consumer Tissue and Professional Hygiene products and solutions. 
Our vision is; Dedicated to improving well-being through leading hygiene and health solutions. The name Essity stems from the words essentials and necessities. Sales are conducted in approximately 150 countries under many strong brands, including the leading global brands TENA and Tork, and other brands, such as Leukoplast, Libero, Libresse, Lotus, Nosotras, Saba, Tempo, Vinda and Zewa. Essity has about 48,000 employees and net sales in 2017 amounted to approximately 12.8 bn USD (SEK 109bn, EUR 11.3bn). The business operations are based on a sustainable business model with focus on value creation for people and nature.
The company has its headquarters in Stockholm, Sweden, and is listed on Nasdaq Stockholm. Essity used to be part of the SCA Group.
About Tork
Tork is a brand of Essity. Essity is a leading global hygiene and health company that develops personal care, professional hygiene and consumer tissue products and solutions. Essity offers Tork paper towels, toilet paper, skin care products, facial tissue,  wipers, wet wipes, napkins and other hygiene products for washrooms, wash stations, healthcare areas, food and beverage handling, food preparation, manufacturing and maintenance. For more information, visit http://www.torkusa.com/
More from Essity