Published 05-11-21
Submitted by Bloomberg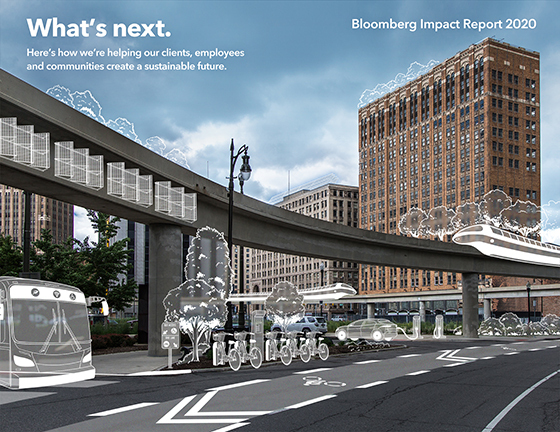 2020 Impact Report: Message from Mike Bloomberg
Originally posted on bloomberg.com/impact. 

Governments are eager to respond to the fallout from the pandemic in ways that make their economies stronger, more sustainable and more resilient. Business leaders recognize the risks they face and understand that the same steps that cut carbon emissions also help to spur growth and promote stability. The public wants power sources that won't poison the air they breathe. And markets increasingly favor clean energy over fossil fuels as the cost of renewable power continues to drop.

The year ahead can set the stage for a decade of transformational change — but only if we act boldly and urgently. Bloomberg is determined to help lead the way.

In 2020, our company continued to expand our climate work and set even more ambitious goals. We're committed to reaching net-zero carbon emissions by 2025, and we are making steady progress. Every step we take in that direction benefits our business: Energy efficiency saves money, and it's increasingly cheaper to power our company with clean energy than fossil fuels.

We're helping others take action as well. Since 2016, I have served as chair of the Task Force on Climate-related Financial Disclosures (TCFD), which aims to improve how businesses measure and report the risks they face from climate change. That data helps investors make smart decisions that drive more capital to the fight against climate change. More than 2,000 governments, companies and financial organizations have endorsed the group's recommendations, including financial firms responsible for more than $175 trillion in assets. In 2020, Hong Kong, New Zealand, Switzerland and the UK announced plans to require climate risk reporting in line with TCFD guidelines — a key step toward making the guidelines the global standard. Meanwhile, the private sector-led Climate Finance Leadership Initiative, which I chair, published a new report outlining ways to increase the capital available for green projects in emerging markets.

Our company has increased the environmental, social and governance (ESG) data and research we provide, and we have also introduced products to help clients better assess climate-related risks and opportunities, including new sustainability scores. In 2020, we launched Bloomberg Green, the world's definitive news source dedicated to the business, science and technology of climate change.

Virtually all of our company's profits go to fund the work of Bloomberg Philanthropies and, in 2020, our foundation expanded our efforts to drive action on climate change. We reached two important milestones in our longstanding work helping to fuel global progress towards clean energy and away from fossil fuels: We've now helped to close 60 percent of the United States' coal-fired power plants and 50 percent of the EU's. And we continued helping cities and mayors lead on climate, including supporting efforts to revive local economies in ways that also cut emissions.

At the same time, even as the pandemic upended how we live and work, a record number of Bloomberg employees participated in our corporate philanthropy programs in 2020, with nearly 12,000 employees volunteering or donating to address unmet needs in our communities and to protect the environment.

This is a critical year in the climate crisis. If we seize the opportunities in front of us, and find ways to work together, we can ensure that the United Nations' COP26 climate summit in November is a success — and continue to accelerate global progress towards a 100 percent clean energy economy.

Visit bloomberg.com/impact to view and download the Bloomberg Impact Report 2020.

Bloomberg
Bloomberg
Bloomberg delivers business and markets news, data, analysis, and video to the world, featuring stories from Businessweek and Bloomberg News.
More from Bloomberg