Published 05-05-21
Submitted by Spence-Chapin Services to Families and Children
May 5, 2021 /CSRwire/ - On Tuesday, May 4, 2021, Spence-Chapin Services to Families and Children (Spence-Chapin) hosted its virtual event, A Granny's Love: Supporting Children in Orphanages During COVID-19, which raised awareness around the challenges that children living in orphanages are currently facing, and how the Spence-Chapin Granny Program is helping children to overcome them. The event had more than 60 attendees and raised more than $60,000 to benefit children in institutionalized care.
Spence-Chapin Chief Executive Officer, Yekaterina (Kate) Trambitskaya, commented on the generosity shown during the event: "We are incredibly grateful to those who participated and donated during this special event. The support raised will change the lives of 40 more children living in orphanages, helping them in both the short and long term. The Granny Program is based on the simple but powerful truth that children thrive when they receive love. With support like what we saw tonight, we can continue to expand the program and bring the love of a Granny to children living in orphanages around the world."
The Granny Program addresses the great need that children living in orphanages have for consistent and individualized interaction from a caregiver, the lack of which can cause lifelong developmental delays and challenges with healthy attachment. The Granny Program trains "Grannies"—women from the local community—and pairs them with children living in orphanages to provide ongoing one-one-one attention to help them thrive. The program currently serves over 150 children throughout South Africa with plans to expand to other countries, including Colombia and Vietnam. During the COVID-19 pandemic, tens of thousands of children have become orphaned after losing their parents to the virus, adding to the 8 million children that are already residing in orphanages around the world. The Granny Program provides a proven and sustainable model to help children cope with the challenges they face, both during the pandemic and beyond. 
The May 4th event, sponsored in part by JP Morgan and Phillips Lytle, featured a conversation with health and social work professionals who discussed the impact the pandemic is having on children in institutionalized settings and the ways the Granny Program can help address those challenges The panel included Spence-Chapin's Associate Director of Pre and Post Adoption Services, Christine Tangel, LCSW; Dr. Diane Kunz, Esq., Executive Director of the Center for Adoption Policy; and Dr. Elaine Schulte, Medical Director of the Adoption Program at Montefiore Children's Hospital.
The evening also included the premiere of two short films featuring Dr. Janet Lumb, a South African pediatrician specializing in children living in institutions, and Carol Bews, Assistant Director for Jo'Burg Child Welfare, Spence-Chapin's partner in running the Granny Program at two orphanages in Johannesburg, along with adoptive families whose children benefited from the Granny Program, and testimonials from the Grannies themselves and the joy and fulfillment they receive from the program.
The campaign to support the Granny Program will continue running through the month of May. To learn more about the event and to support the Granny Program, go to https://agrannyslove.givesmart.com or email cpohl@spence-chapin.org.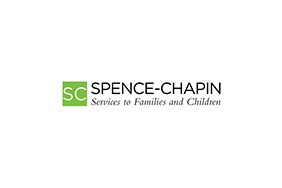 Spence-Chapin Services to Families and Children
Spence-Chapin Services to Families and Children
SPENCE-CHAPIN IS AN ACCREDITED NONPROFIT ORGANIZATION THAT HAS BEEN OFFERING QUALITY ADOPTION SERVICES FOR MORE THAN 100 YEARS. Our mission is to help find loving families for children whatever their needs or circumstances, and provide counseling and support for all children and the families to whom they have been born or entrusted. Our mission is driven by the simple belief that every child deserves a family.
Spence-Chapin focuses on finding adoptive homes for children who need families; promoting the understanding of adoption through counseling and public education; and improving adoption's image and practice. Through our Modern Family Center we are helping each family member navigate their individual adoption stories with clarity and confidence. Spence-Chapin's roots can be traced to the early 1900s and the pioneering work of Clara Spence, and Dr. and Mrs. Henry Chapin, who independently established nurseries out of concern for homeless infants abandoned in hospitals and shelters.
Today, Spence-Chapin is proud of our role as a prominent voice and leading advocate for adoption, and of our commitment to the wellbeing of all members of the adoption triad: birth parents, adoptive parents, and their children.