Published 05-04-21
Submitted by WSP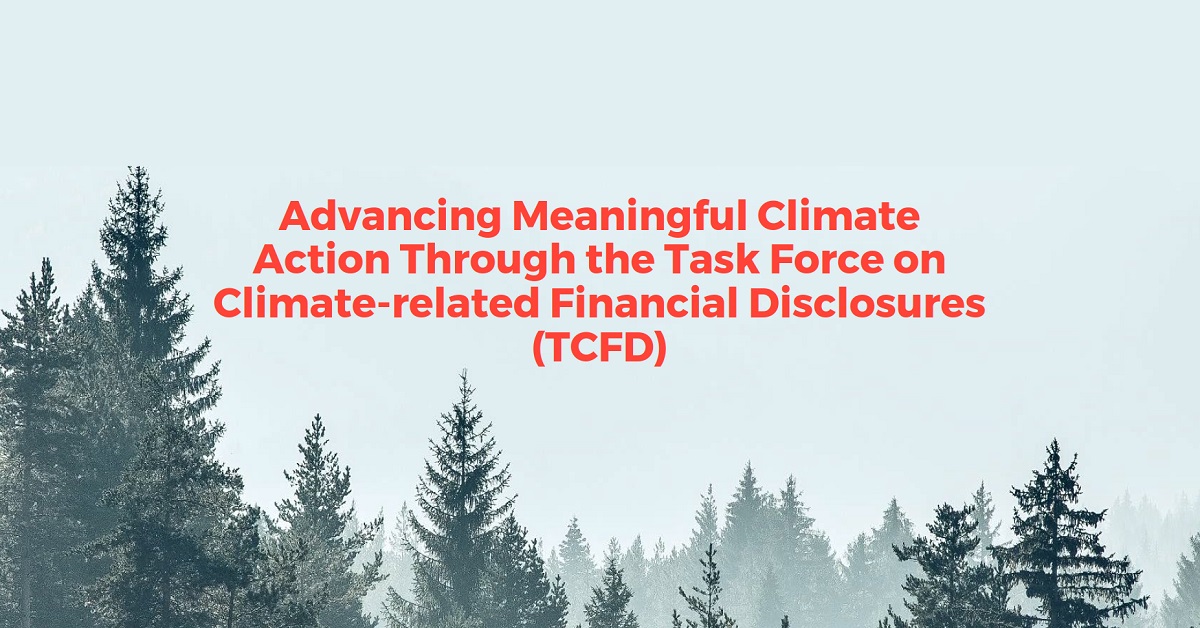 COVID-19 has dominated virtually every waking moment for much of the past year. But with vaccination programmes now accelerating across the world, attention is shifting back to other societal challenges facing us globally. And of these, there is arguably none bigger than climate change. In 2015, climate change spurred investors and the financial industry to form the Task Force on Climate-Related Financial Disclosures (TCFD), which developed and released their recommendations for climate-related financial disclosure in 2017. 
With increasing number of companies now disclosing their climate-related risks and opportunities in alignment with the TCFD recommendations, a team of WSP experts recently issued a study assessing how firms are approaching such disclosures and how they can be enhanced to bring added value. 
Many investors find that there is often a lack of consistency and sufficient detail between TCFD disclosures, making it hard to make climate-informed investment decisions. For the study, Advancing Meaningful Climate Action from TCFD Disclosures, the team, comprising colleagues from around the world, analyzed 50 TCFD disclosures from companies in multiple sectors and geographies. And, on the back of those findings, they then developed a method for assessing a company's climate maturity by leveraging patterns within the TCFD data, thereby making TCFD disclosures more decision-useful.
We spoke to two of the study's authors, US-based corporate climate risk, adaptation, and resilience practice leader, Emily Wasley, and Canada-based climate change and resilience advisor, Rick Alsop, to get some insight into the findings, current uptake amongst WSP clients, old and new, and what's ahead in terms of TCFD.
"In summary, we identified sectoral and regional variations in TCFD disclosures, that can be tied to a lack of a formal governance structure or strategic frameworks in certain regions. Geographically, North America and Europe are leading the globe, while Asia is showing the lowest uptake. Sectorally, it is not unexpected to see that the financial services and information technology (IT) and software sectors scored highest, but we were initially surprised to see the renewables sectors rank the lowest. It seems counterintuitive as they are a key part of the transition to a low- or zero-carbon economy. But historically they have not faced the same pressure to disclose on climate risk and yet their potential exposure to physical climate risks is no different to other sectors.
"We also found that TCFD disclosures can help identify the climate maturity of a company. That's important for aiding investors in assessing a company's understanding of climate change impact on business and their level of preparedness. So, to help companies understand how to advance to the next phase, we devised the maturity model, developed through our Gap Analysis and Benchmarking Tool, which provides a set of narratives to guide them."
Sense of urgency
The study comes at a crucial moment, given a surge in requests for support in this area, according to Emily and Rick, either as stand-alone projects or included within broader sustainability and resilience support services.
"We're seeing requests for TCFD services from both existing and new clients. Many of the companies we already provide support to, for example in strategy and reporting, resource optimization, value chain, and buildings and infrastructure, have asked us for assistance on aligning with and implementing the TCFD recommendations. Other clients ask us to focus on TCFD alignment for a 6-month period so they can begin integrating it into their enterprise risk management processes or describe the inherent, relative, or residual risks in their next CDP Climate Change response. We've also had a significant increase in brand new clients looking for support to help them understand and align with TCFD recommendations."
With the Task Force now in its fifth year, WSP's TCFD experts are finding that the levels of client awareness and maturity vary considerably. Some have been exploring climate-related risks and opportunities since its formation in 2015. Others have yet to start reporting through the CDP Climate Change or GRESB Resilience Module questionnaires where TCFD is now embedded and are only just now beginning to explore what the TCFD recommendations mean for them.
But what Emily and Rick are seeing is an increasing sense of urgency around TCFD-alignment. This they attribute to a variety of factors including financial impacts from physical and transition risks; investor pressure; regulatory changes post Paris; and market and technological advancement opportunities.
But, regardless the drivers, the process doesn't have to be highly complex, they stress.
"Aligning with the TCFD recommendations can seem daunting if you're not familiar with the framework or the steps necessary to align appropriately. However, we have found that a simple phased approach over time that starts with discovery, leading to assessment, then planning, and resulting in transformational change has been incredibly effective with our clients – regardless of their size, TCFD maturity, or resource availability."
WSP's phased approach to TCFD alignment
So, how might the market for TCFD evolve? Emily and Rick envisage several trends over the next year or two, including:
Greater investor demand for quantitative scenario analysis to determine physical and transition risks and opportunities
Mandatory TCFD disclosures from government regulators
Increased scrutiny on the unintended consequences of the TCFD and the need for equity and justice to be centralized within the recommendations
Credit price (interest rate) adjustments based on TCFD risk and opportunity
Increase demand for and experience as Chief Resilience Officers
Clearly, this is a fast-developing area!
Walking the talk
And finally, and most importantly, how is TCFD as an expert subject matter evolving within WSP itself?
"In a very short time, we have formed a global TCFD practice with experts who are leading TCFD projects across the world. As a global company we can learn from each other, sharing information, getting updates on projects and lessons learned, exploring new market trends, and relaying new tools, approaches, and case studies. It's an amazing collaborative, supportive, and advanced practice and we see incredible value for our clients with this type of successful, global practice.
And of course, we are also leveraging these experts across the world as we – WSP Global – advance our own TCFD alignment through qualitative scenario analysis and an assessment of our adaptive capacity and resilience!"

WSP
WSP
WSP is among the world's largest environmental, engineering, advisory and sustainability consulting firms, with more than 55,000 professionals worldwide. We design lasting solutions in the buildings, transportation, energy, water and environment markets, and develop equitable, ESG-centered strategies that help organizations and communities adapt to changing conditions and become more resilient. Reckon with the past. Innovate for the future. Learn more at wsp.com.
More from WSP