Published 04-21-21
Submitted by Action for Healthy Kids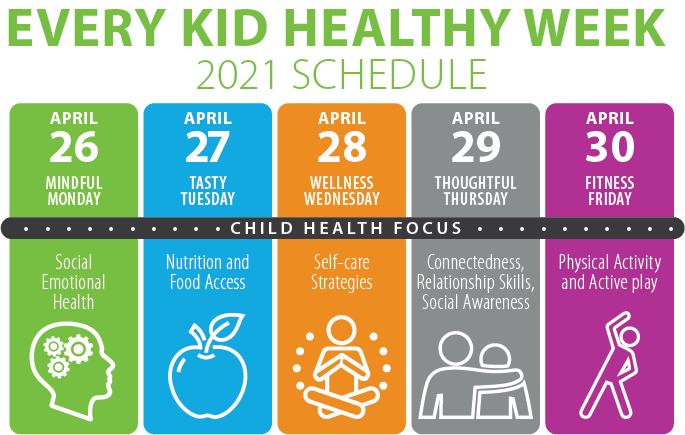 CHICAGO, April 21, 2021/CSRwire/ — Action for Healthy Kids (AFHK), the nationwide nonprofit mobilizing schools, families, and communities to take action to support the health of the whole child, announces the dates for this year's Every Kid Healthy Week. The celebration will take place Monday, April 26 through Friday, April 30.
Every Kid Healthy Week is an opportunity to recognize the steps school communities around the United States are taking to improve the health and wellness of the kids in their care. Since its launch in 2013, Every Kid Healthy Week has been celebrated by more than 2.1 million students, school staff, families, and community volunteers, and is recognized on the calendar of National Health Observances. 
Every Kid Healthy Week consists of five themed days, giving students the opportunity to learn about the link between nutrition, physical activity, mental health, and learning. Similar to last year's Every Kid Healthy Week, this year's event is 100% virtual, offering a chance for students, teachers, and parents to participate by planning their own celebration, joining events through their school, or by doing activities at home. To make participation accessible and inclusive, Action for Healthy Kids has created a number of free resources that are budget-friendly for schools and families. A selection of the resources are also available in Spanish. 
The themes for Every Kid Healthy Week include:
Mindful Monday, a day focused on social-emotional health and mindfulness
Tasty Tuesday, a day devoted to building healthy eating habits
Wellness Wednesday, where kids can explore what wellness means to them and develop their own self-care strategies
Thoughtful Thursday, a day to nurture kids' social health and positive relationships
Fitness Friday, a chance for kids to get outside — and get moving
"Supporting health and wellness programs in schools continues to be a critical issue," says Rob Bisceglie, CEO of Action for Healthy Kids. "We also know COVID-19 has led to changes in schooling, which has impacted the delivery of health services and education as well as the disruption of the routines that are important to a child's health and well-being. This year's celebration will help put kids — and their families — on a healthy path not only as they head into the summer months, but as they start to develop habits that will keep them healthy for a lifetime." 
Families and schools interested in participating in Every Kid Healthy Week are encouraged to register their celebration by visiting https://www.actionforhealthykids.org/get-involved/every-kid-healthy-week/. Those who register a celebration on the Action for Healthy Kids website will be automatically registered to win a gift card from ALDI or Target. Additionally, everyone is encouraged to join the fun online by tagging Action for Healthy Kids on Facebook, Instagram, and Twitter as well as sharing photos of their events on social media using the #EveryKidHealthyWeek and #TakeAction4HealthyKids hashtags. 
###
About Action for Healthy Kids
Action for Healthy Kids is a national nonprofit organization committed to the belief that healthy kids create a better world. As kids today face more challenges than ever to their physical and emotional health and well-being, we mobilize family-school partnerships that prepare them to be healthy in body and mind. Through a holistic approach that offers funding opportunities, technical assistance, content, training, and a network of parent leaders, we collaborate with families, schools, and school districts in underserved communities to support three key areas of child health: food access and nutrition education; physical activity and active play; and social-emotional learning and risk behavior prevention. To learn more, donate, and get involved, visit us at actionforhealthykids.org.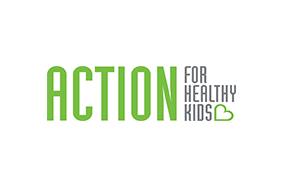 Action for Healthy Kids
Action for Healthy Kids
Action for Healthy Kids is dedicated to improving children's health and well-being by bringing together educators, families and other key stakeholders to help children lead healthy lives. Through our flagship programs, Game On and Parents for Healthy Kids, programmatic support, and funding opportunities, we impact more than 20 million children in 55,000 schools nationwide and in underserved communities where we can have the greatest impact. Action for Healthy Kids is the organizational home of Active Schools, formerly known as Let's Move! Active Schools, a collective impact movement of public and private sector partner organizations working to prioritize physical education and physical activity in schools. To learn more about the ways our growing network of 140,000+ volunteers and champions is helping to make sure every kid is healthy, active and ready to learn and thrive, visit us at actionforhealthykids.org.
More from Action for Healthy Kids