Published 04-20-21
Submitted by WSP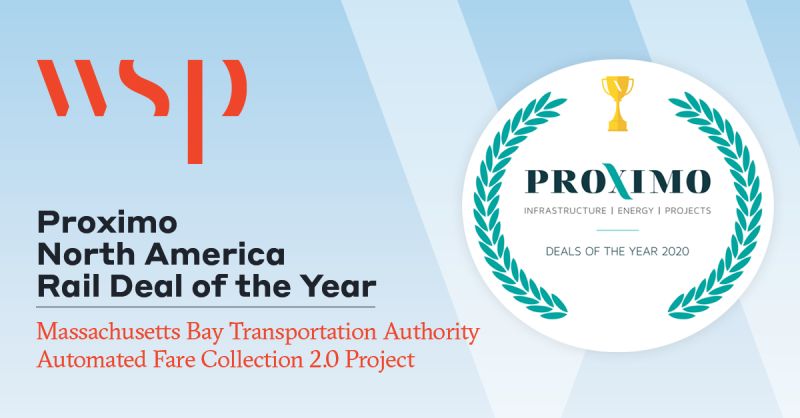 Proximo Infra's Deals of the Year Americas Awards has honored the Massachusetts Bay Transportation Authority (MBTA) Automated Fare Collection System Reset and Refinancing project with the North American Rail Deal of the Year 2020. Congratulations project team!
WSP is providing technical advisory services to partners Cubic Transportation Systems and John Laing in support of MBTA's new automated fare collection system (AFC 2.0). WSP is responsible for reviewing and monitoring key technical risks, in addition to tracking the baseline schedule to confirm progress toward key project milestones.

WSP
WSP
WSP is a global business providing management and consultancy services to the built and natural environments. The firm's expertise includes environmental remediation and urban planning, engineering of iconic buildings, design of sustainable transportation networks, development of the energy sources of the future, and implementation of new ways of extracting essential resources. It is one of the world's leading professional service firms, with 15,000 employees based in more than 300 offices in 35 countries. From offices across the USA, our environmental professionals are part of an international team of specialists that draws on best practices and brings solutions to our clients' most difficult business and technical challenges.
More from WSP