Published 04-19-21
Submitted by America's Charities
Along with the case studies and examples presented in this presentation, you can also access a PDF copy of the presentation here.
Presentation Synopsis
How do you successfully host volunteer events despite the pandemic? Now and in the future, volunteer events will need to transform to include individuals who work remotely, in hybrid situations, in person, and at various levels of the company.
In this presentation, America's Charities President and CEO Jim Starr is joined by Give To Get's Account Director Amber Greviskes and Sr. Manager, Social Impact Programs Tory Woods in a discussion about:
How the pandemic has affected employee volunteer campaigns from planning to implementation
How to create an employee volunteer program that includes all types of employees from full-time corporate employees to hourly workers - and how to get all of your markets involved
How to actually get people to act on their desire to volunteer through your comany's volunteer program
How to determine the best type of virtual project for your group based on number of volunteers, interests, location, and availability
The benefits and drawbacks of various virtual programs such as fundraisers, skills-based / project-based volunteering, skills-based / one-on-one interactions, and hands-on / group volunteering
Tips to create an engaging environment for your volunteers regardless of the project such as driving and tracking program participation, seamless event flow and pacing, creating connection between volunteers and nonprofit partners, and channeling post-event energy into more action
How companies can shift from measuring outputs and focus on actual outcomes and true impact
More Resources We Think You'll Like:
Whether you are planning your next volunteer event or just starting your program, below are some helpful guides and resources to help you:
Cause Months and Dates to Celebrate:
Plan your employee giving and volunteer events calendar around these commonly celebrated cause months and click here for America's Charities-vetted 501c3 nonprofits to support.

Need help planning your event? Our friends at Give To Get are experts at this! Whether you want to plan a volunteer event around one of the cause months on this calendar or would like help with other events like leadership development programs, programs to welcome your employees back to office, or sales conferences, let Give To Get's team assist you. Learn how and get started.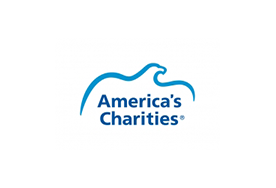 America's Charities
America's Charities
Every year, millions of people across America are invited to participate in an activity that has become a Fall tradition for generations of employees working at many of the nation's largest employers: the Employee Charitable Giving Campaign. The impact of employee giving campaigns on charitable organizations and the people and communities they serve is immense. These campaigns funnel $3 billion annually much of which is unrestricted, sustainable funds that enable nonprofit groups to deliver vital services throughout the nation.
America's Charities is a mission-driven organization that connects public and private sector employers with charities to engage employees in greater giving.
Who We Serve
Charities looking to expand their participation and reach in workplace giving and employee engagement programs through membership in one of America's Charities' four federations: America's Charities, Children First – America's Charities, Health First – America's Charities, or Community First – America's Charities of Greater Washington, D.C.
Employers seeking efficient and effective ways to manage and engage employees.
Individual donors seeking ways to make a significant impact on the causes they care about.
Our Core Services
Generating unrestricted, sustainable financial support for charities through employee engagement programs.
Distributing funds to charities in an efficient, effective and transparent manner.
Consulting with employers on strategies to achieve their philanthropic goals while strengthening employee engagement programs.
Providing solutions to support employers with their employee engagement programs that catalyze greater involvement and giving.
More from America's Charities