Published 04-14-21
Submitted by Biogen
Rita Lau Gomes's work routine looks different than it did three years ago. Before she had an electric vehicle (EV), she could plan last-minute trips to visit customers, conferences or medical sites around Portugal. These days she takes extra considerations when planning work trips or even going between home and the office.
"It was a big change when I started driving an EV," says Rita, who is Associate Medical Director at Biogen in Portugal." I had to become aware of charge points along my routes and make time to recharge. But it's great to take part in an effort to reduce air pollution, given its negative impact on the planet." Long journeys through the country now involve a stop to charge for 30 to 40 minutes – time Rita uses to catch up on emails in a café. In the winter months, she takes into account that the car's battery drains quicker in the cold and makes sure to charge it overnight.
Feedback from Rita and her colleagues on the practical aspects of driving EVs is helping inform Biogen's larger initiative to convert new leases of more than 1,500 fleet vehicles, used by field employees, to all-electric models by 2025. The full conversion, which is expected to be completed by 2027, is only one part of Healthy Climate, Healthy Lives™, Biogen's commitment to go fossil fuel free across its operations.
"Biogen is turning its commitment to electromobility into concrete action, demonstrating the crucial role business can play in driving the shift to clean transport and clean energy as well as improving public health," says Sandra Roling, the head of EV100, The Climate Group. "We encourage more companies to follow Biogen's example."
This year, more Biogen sites will be launching EV pilot programs or beginning the conversion to an all-EV fleet.
The United States, home to Biogen's largest fleet with 1,200 vehicles, will start this summer with 40 cars.
Biogen aims to secure an EV manufacturer that can handle the needs of a fleet. The company is also pursuing a partner that can install home EV chargers for fleet drivers, which will provide additional convenience and uninterrupted mobility.
Over time, Biogen will work through additional hurdles. Among them: how employees will charge their vehicles if they are renters and can't install home charging stations, or if their territory covers large regions without many charging facilities.
Such challenges are to be expected when a company is ahead of the curve in transforming a fleet to EV, says Sean Murphy, senior director of commercial effectiveness and operations at Biogen:
"Beyond our life-changing medicines, Healthy Climate, Healthy Lives™ shows our commitment to the planet, to the people who work here and to the communities we serve."
Learn more about the fleet conversion and other fossil fuel free initiatives in Healthy Climate, Healthy Lives™.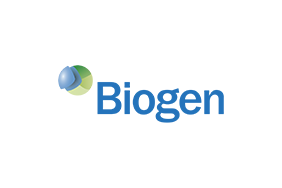 Biogen
Biogen
Founded in 1978, Biogen is a leading global biotechnology company that has pioneered multiple breakthrough innovations including a broad portfolio of medicines to treat multiple sclerosis, the first approved treatment for spinal muscular atrophy, and two co-developed treatments to address a defining pathology of Alzheimer's disease. Biogen is advancing a pipeline of potential novel therapies across neurology, neuropsychiatry, specialized immunology and rare diseases and remains acutely focused on its purpose of serving humanity through science while advancing a healthier, more sustainable and equitable world.
More from Biogen