Published 04-12-21
Submitted by America's Charities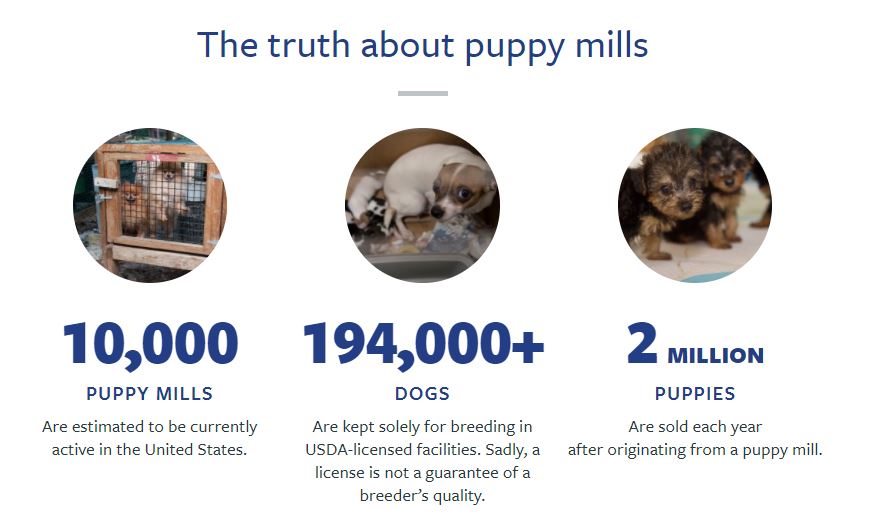 Not all pet stores are bad. More than 3,000 pet stores have partnered through The Humane Society of the United States' Puppy Friendly Pet Stores program. The vast majority of these 3,000 stores signed a pledge to never sell "commercially raised puppies", and focus on pet products and services instead. Only a few dozen stores account for all these adoptions. This helps the HSUS crack-down on endless suffering for the dogs involved and leading to adoptions of more than 35,000 local shelter pets instead.
Unfortunately some pet stores still choose to source their puppies from commercial dog breeding operations known as "puppy mills." Behind the cute, fluffy puppies you see in those store windows is a very shady, cruel industry where dogs are treated horrifically.
Corporate America can be a good and an important ally to animal welfare leaders like the Humane Society of the United States (HSUS) in the fight against all forms of animal cruelty – like puppy mills. In this article, we share some background and facts about puppy mills; highlight the positive results that have come from the HSUS' work, and outline ways that businesses and their employees can join together to help the HSUS end the cruel treatment of dogs in mass breeding operations.
What Makes Puppy Mills and the Associated Pet Stores Bad
Every year, some 1 million adoptable dogs are euthanized in shelters in the US while puppy mills churn out an estimated 2 million puppies – and there are thousands of puppy mills currently operating across the United States. Life inside these intense breeding operations—which can see dogs crowded into someone's basement, barn or shed, stacked in outdoor cages exposed to the elements, or hidden in a windowless concrete building. Mother and father dogs often spend their entire lives in the dark and in misery, deprived of basic needs like adequate food and water, medical care, fresh air or room to move freely. Mill owners treat them as breeding machines and the litters of puppies they produce as units of production. They hide the noise, smell and squalor by operating in rural areas. And they use deceptive advertising to hide the grim reality of where pet store puppies come from.
Although all 50 states have anti-cruelty laws, they are seldom applied to puppy mills if the dogs in question have the rudimentary basics of shelter, food and water. Mill dogs are often treated as agricultural "crops" and not as pets, with little concern for their health and well-being.
Puppy mill dogs are often sold to unsuspecting families despite having serious and even fatal health and hereditary conditions such as seizures, neurological conditions, liver disease, parvovirus, distemper, parasites, pneumonia, or skin and ear infections.
The Humane Society of the United States receives complaints from buyers of sick puppies on a daily basis—more than 5,300 in the last 10 years via our online complaint form, email and our puppy mill tip line. We have published the results of 10 years of complaints and stories from consumers who purchased puppy mill dogs. The accounts are heartbreaking and hard to read. And they are far too common.
It's not unusual for puppies to seem healthy at the time of purchase— deadly diseases and conditions can have weeks-long incubation periods— only to become sick or even die within a few days of arriving in their new home. Some buyers report spending thousands of dollars trying to save the life of a sick puppy, with a few spending more than $10,000 on veterinary care to save the life or ease the suffering of a beloved pet.
What the HSUS is doing to Stop Puppy Mills:
The Humane Society of the United States is leading the fight to end retail sales of puppies, drive inhumane puppy mills out of business, strengthen care standards and oversight of mass breeding operations, and move consumers away from purchasing a pet and toward adoption. More than 35,000 homeless pets have been saved as a result of our Puppy Friendly Pet Stores conversion program, which encourages pet stores to help with homeless pet adoptions rather than selling commercially-raised puppies.
Our Animal Rescue Team has rescued more than 10,000 dogs;
The Animal Rescue Team deploys to scenes of suspected cruelty and neglect at puppy mills and launches a rescue as soon as law enforcement gives the green light.
Use the courts to hold retailers and mill operators accountable: Our findings and investigations have triggered multiple consumer lawsuits against retailers and mill owners and shut down dozens of mills and pet stores.
Change bad federal policy: We got the US Department of Agriculture to crack down on the import of puppies from foreign mills, saving thousands of dogs from transport before they were fully weaned and vaccinated.
Move customers toward adoption instead of purchases: Our Puppy Friendly Pet Stores program has helped more than 3,000 pet stores pledge not to sell puppies, and led to adoptions of more than 35,000 local shelter pets instead.
Our work on puppy mills has changed the landscape for dogs used in the breeding industry. We have helped pass 380 local ordinances and three state laws that end sales of commercially raised puppies (and other animals) in retail pet stores, carried out multiple undercover investigations that led to the closure of stores and mills, publicized violations and abuses by mill owners from inspection records and data, and run national campaigns that educate consumers about how and why to adopt their next family member from their local shelter or rescue group. In May 2020, the USDA finalized a new rule requiring commercial dog breeders to obtain regular veterinary care and vaccinations for dogs, provide continual fresh water, and to demonstrate compliance with the Animal Welfare Act before obtaining a new license. The rule encompasses several standards that HSUS requested in a 2015 legal petition to the agency and had been pressing the agency to adopt ever since.
How Businesses and Employees Can Help:
Our Stop Puppy Mills campaign exposes inhumane breeding operations and sales in states with high numbers of mills. We investigate suspected cruelty and neglect at pet stores that sell puppies from mills. We collaborate with and assist law enforcement authorities to enforce laws and prosecute offenders, and provide ongoing law enforcement training, tip lines, rewards, and investigations.
We've made great progress but much more needs to be done. And a large percentage of your employees and consumers care about what we are doing.
With your support, we will continue to:
Expose cruel conditions at mills and animal neglect at pet stores
Reduce the market for puppy mill dogs by restricting or banning retail sales, creating partnerships between pet stores and shelters and moving consumers toward adoption and responsible breeders.
Enact strong standards of care and higher penalties for violations in the biggest puppy-producing states, reform US Department of Agriculture regulations for commercial dog breeding and ensure vigorous enforcement of oversight laws.
Save dogs trapped in puppy mills through direct rescues and assistance to law enforcement and other rescue groups
As an employer, you can help us do this through multiple methods: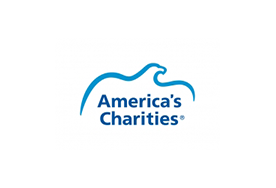 America's Charities
America's Charities
America's Charities inspires employees and organizations to support the causes they care about. We help nonprofits fundraise unrestricted, sustainable dollars through the workplace, and we help employers achieve their giving, engagement, and social impact goals. We do this to bring more resources to the nonprofits that are changing our world.
Who we serve:
Charities ­– We help charities fundraise recurring, unrestricted, sustainable dollars through the workplace. Click here for a printable list of our members.
Employers – We help employers achieve their giving, engagement, and social impact goals. Employers seeking to build or boost a strong culture; engage their employees and help them find purpose and meaning; attract, recruit, and retain talent; and ultimately achieve better corporate profitability and social impact, partner with America's Charities to launch or revitalize their workplace giving programs. We offer employers a suite of employee giving software packages, tools, and resources.
Employee Donors – Through our work with charities and employers, we inspire individual donors to connect with great causes, support nonprofits in a recurring, sustainable manner, and make a personal, social impact.
Core Services:
We offer a full suite of employee giving and engagement tools, including easy-to-use workplace giving technology platforms ranging from a straightforward, out-of-the-box option, to a comprehensive platform that integrates matching gifts, employee volunteering, cause campaigns, and more. Each of our solutions is tailored to fit an employer's specific needs and social impact goals, and deliver personalized, highly social online giving experiences.
We generate sustainable unrestricted financial support for member charities through the Combined Federal Campaign (CFC), state and local giving campaigns and private sector workplace giving campaigns.
We provide charitable funds management services to nonprofits and private and public sector employers while maintaining a resolute commitment to transparency and accountability.
We provide comprehensive consulting services with expertise in employee engagement, corporate social responsibility (CSR), workplace giving program and strategy development, benchmarking, analysis, and more.
We help companies support their employees in times of distress and hardship through Employee Assistance Funds (EAFs), also known as Employee Relief Funds or Employee Crisis Funds. By working with us, a company increases its flexibility around the types of hardships the fund can cover and lowers its administrative burdens.
Since 1980, our collective experience and ability to provide the highest level of personal service and expert consulting to our member charities and employer clients has resulted in more than $750 million for more than 25,000 nonprofits through federal, state and local government, and corporate workplace giving programs.
More from America's Charities