Published 04-14-21
Submitted by Enbridge Inc.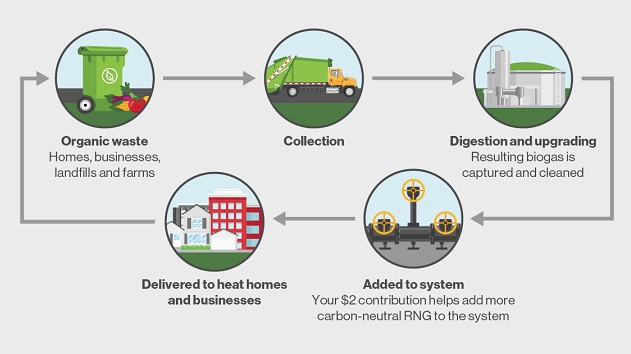 Enbridge Gas customers can help support Ontario's transition to clean energy through OptUp, a new voluntary Renewable Natural Gas (RNG) program.
The program, which launches today, supports the Ontario provincial government's Made-in-Ontario Environment Plan to reduce greenhouse gas emissions and help Canada meet its 2030 emissions reduction target.
For two dollars a month, residential customers who sign up will contribute to reducing Ontario's carbon footprint with the purchase and addition of RNG to the natural gas supply.
RNG is a carbon-neutral fuel generated by methane emissions from landfills and other waste sources, which would otherwise be released into the air. When captured, cleaned and blended into the natural gas supply, RNG helps lower emissions and makes productive and economic use of landfill and other organic waste, creating local jobs and new revenue opportunities for municipal governments.
Today, 75% of Ontario households heat their homes with affordable natural gas. During the first five years of the OptUp program, Enbridge Gas anticipates that up to 28,000 of its customers will participate, reducing CO2 emissions by 8,000 tonnes—or the equivalent to taking 1,600 cars off the road for one year.
"Our new voluntary RNG OptUp program gives Enbridge Gas customers an easy and affordable way to help green the natural gas supply," says Cynthia Hansen, Enbridge's Executive Vice President and President of Gas Distribution and Storage. "This program is just one way Enbridge Gas is investing in innovative energy solutions across multiple markets that improve energy efficiency and lower emissions as we transition to a low-carbon energy future."
With regulatory support, some utilities across Canada have set ambitious RNG goals, targeting a 5% blend of RNG in all natural gas streams by 2025 and 10% by 2030—or the equivalent of taking 3.1 million cars off the road.
OptUp supports the development of RNG sources to supply carbon-neutral fuel into Enbridge Gas' current pipelines and infrastructure. In addition to this program, Enbridge Gas is investing in clean energy solutions across multiple markets to improve energy efficiency and lower emissions.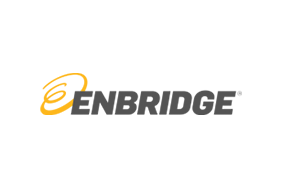 Enbridge Inc.
Enbridge Inc.
About Enbridge
At Enbridge, our name spells out our mission: a bridge to a sustainable energy future. That bridge safely connects millions of people around the world to the energy they rely on every day, fueling quality of life. Whether it's natural gas, oil or renewable power, the energy we deliver through networks spanning North America and our growing European offshore wind portfolio helps to heat homes, feed families, fuel vehicles and power industry. We're investing in modern energy infrastructure to sustain access to secure, affordable energy. We're also building on two decades of experience in renewable energy to advance new low-carbon energy technologies including hydrogen, renewable natural gas and carbon capture and storage. We're committed to reducing the carbon footprint of the energy we deliver, and to achieving net zero greenhouse gas emissions by 2050.
Headquartered in Calgary, Alberta, Enbridge's common shares trade under the symbol ENB on the Toronto (TSX) and New York (NYSE) stock exchanges. To learn more, visit us at Enbridge.com
More from Enbridge Inc.