Published 04-14-21
Submitted by Enbridge Inc.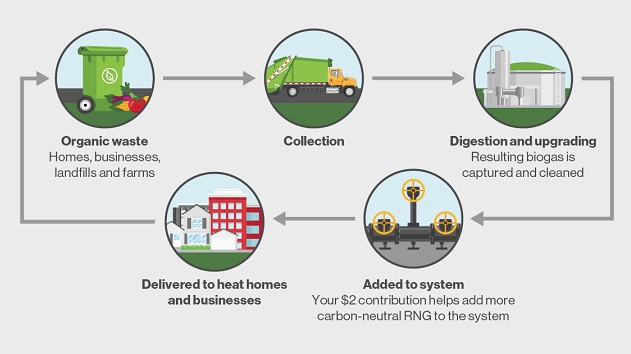 Enbridge Gas customers can help support Ontario's transition to clean energy through OptUp, a new voluntary Renewable Natural Gas (RNG) program.
The program, which launches today, supports the Ontario provincial government's Made-in-Ontario Environment Plan to reduce greenhouse gas emissions and help Canada meet its 2030 emissions reduction target.
For two dollars a month, residential customers who sign up will contribute to reducing Ontario's carbon footprint with the purchase and addition of RNG to the natural gas supply.
RNG is a carbon-neutral fuel generated by methane emissions from landfills and other waste sources, which would otherwise be released into the air. When captured, cleaned and blended into the natural gas supply, RNG helps lower emissions and makes productive and economic use of landfill and other organic waste, creating local jobs and new revenue opportunities for municipal governments.
Today, 75% of Ontario households heat their homes with affordable natural gas. During the first five years of the OptUp program, Enbridge Gas anticipates that up to 28,000 of its customers will participate, reducing CO2 emissions by 8,000 tonnes—or the equivalent to taking 1,600 cars off the road for one year.
"Our new voluntary RNG OptUp program gives Enbridge Gas customers an easy and affordable way to help green the natural gas supply," says Cynthia Hansen, Enbridge's Executive Vice President and President of Gas Distribution and Storage. "This program is just one way Enbridge Gas is investing in innovative energy solutions across multiple markets that improve energy efficiency and lower emissions as we transition to a low-carbon energy future."
With regulatory support, some utilities across Canada have set ambitious RNG goals, targeting a 5% blend of RNG in all natural gas streams by 2025 and 10% by 2030—or the equivalent of taking 3.1 million cars off the road.
OptUp supports the development of RNG sources to supply carbon-neutral fuel into Enbridge Gas' current pipelines and infrastructure. In addition to this program, Enbridge Gas is investing in clean energy solutions across multiple markets to improve energy efficiency and lower emissions.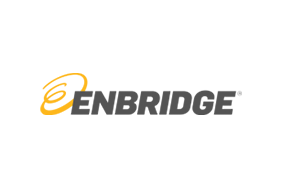 Enbridge Inc.
Enbridge Inc.
Enbridge's vision is to be the leading energy delivery company in North America. We deliver the energy people need and want—to heat their homes, to keep their lights on, to keep them mobile and connected.
We operate across North America, fueling the economy and people's quality of life. We move about 25% of the crude oil produced in North America, we transport nearly 20% of the natural gas consumed in the U.S., and we operate North America's third-largest natural gas utility by consumer count. Enbridge was an early investor in renewable energy, and we have a growing offshore wind portfolio.
We work collaboratively every day to provide safe, reliable energy. Enbridge connects energy supply with growing markets in North America through our three core businesses:
Enbridge was named to the Thomson Reuters Top 100 Global Energy Leaders in 2018; we were selected to Bloomberg's 2019 and 2020 Gender Equality Index; and we have been ranked among the Best 50 Corporate Citizens in Canada for 18 years running, through 2020.
Enbridge Inc. is headquartered in Calgary, Canada. We have a workforce of about 13,000 people, primarily in Canada and the United States. Enbridge (ENB) is traded on the New York and Toronto stock exchanges.
More from Enbridge Inc.