Published 04-08-21
Submitted by Bread Financial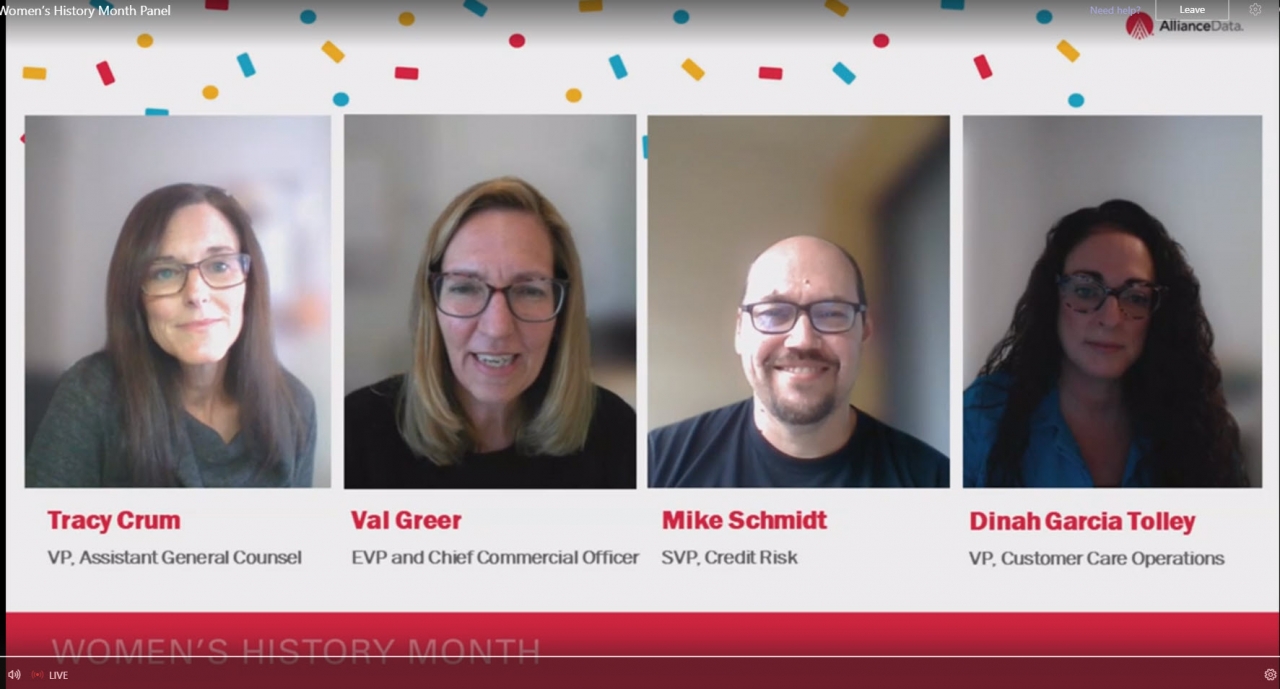 Women's History Month is a time to celebrate the accomplishments of women and to recognize the importance of elevating female voices in today's workplace and society as a whole.
As part of its continued commitment to gender equity and supporting its female workforce, throughout the month of March, Alliance Data cast the spotlight on four influential leaders who are enabling the company's success in this arena: Val Greer, EVP, Chief Commercial Officer; Tracy Crum, VP, Assistant General Counsel; Dinah Garcia Tolley, VP, Customer Care Operations, and Mike Schmidt, SVP, Credit Risk, who represents the important and influential role male colleagues play in the pursuit of gender equity.
To close Women's History Month, Alliance Data brought together these leaders for an internal webcast—moderated by Shelley Whiddon, SVP, Corporate Affairs—to offer their perspectives and discuss the importance of gender equality, how to advocate for females in the workplace and the important need for strong male allies.
Below are some notable highlights from inside the panel discussion:
Shelley: Have there been any moments in your career when you felt gender inequality? Did you notice at the time, and how did you deal with that situation?
Dinah Garcia Tolley, VP, Customer Care Operations: I think historically the achievers in us as women have been viewed—even just talking about some of the women of our life—in the context of being at home. It wasn't just viewed in the workplace. And I think now that women and men are teaming up more at home, that is helping. I think there is a shift. My personal experiences have been more on the peer front. It's really just tackling it head on. You have to confront it, because it won't go away. If you need help with that, there are a lot of resources in terms of leaning on your leader or HR or ethics, whatever you need to do. It does exist. Men have experienced this from women, as well, so it goes both ways. That's my best advice: don't let it sit.
Val: I have predominately in my career been in male-dominated industries and in male-dominated segments of those industries. I certainly feel like it has gotten better over the years. But I'll tell you an area I feel like it hasn't, which is really around pregnancy. When I was pregnant with my two boys both times, you think about your career pathing, you get the, "She's pregnant, is she going to come back, should we consider her for the next step in her career, we don't know if she's really dedicated, is she going to want to take more time for her family?" I certainly felt it back when I had my two boys. I still feel it today. That, in my mind, should never be a consideration for whether someone is in line to get that next promotion.
Shelley: Mike, how do you strive to create equal opportunities for female associates in treating them fairly and equitably? How do you advocate personally for your female coworkers?
Mike Schmidt, SVP, Credit Risk: There's always the mentorship concept or to look for a strong female leader to be your mentor to help understand a different gender perspective. I also think everyone can be an ally. To me, what an ally means is, if you're sitting in a meeting and we're talking about a project and thinking about who could help drive to that solution, think about your female colleagues you know and respect that are strong, that are capable. Throw their name out. You can be that ally. If you're in a position of leadership, look to be a sponsor. Look at the strong female talent that you see in your organization and help them find their voice, help them find their path. You're not creating a journey for someone, but you're helping them find that way.
Shelley Whiddon, SVP, Corporate Affairs: We know that strong, professional women are often stereotyped as being bossy or difficult or harsh. But on the flipside, there are many very highly successful, influential women whose personalities or leadership traits might be a little more reserved. Tracy, could share some of your thoughts about that?
Tracy Crum, VP, Assistant General Counsel: You can be effective wherever you are in your career. Being an effective leader isn't necessarily just based on your personality or your leadership style. With respect to the negative stereotype, there are certain traits that I think are more expected or common in men, and when women have those traits, if they're more assertive, it can be viewed negatively. I would like to think that we're outgrowing some of that. There's an increasing number of female leaders. There's just so much more awareness on gender bias and gender issues, so I am hopeful that we are moving away from that double standard.
Val Greer, EVP, Chief Commercial Officer: "We," I say "we" because it's men and women, if we think of all of the women who are in management and you think back to conversations that you've had around talent, we will say about a man, "He's confident, he knows what he's talking about, he's decisive." At the same time, we say, "She's got sharp elbows, she needs to soften." Those are the same traits exhibited by a man and woman, but we react to them differently. We have opportunity here. I think it's one of those unconscious biases.
Shelley: What does success in gender equality look like to you?
Dinah: When we don't have to talk about gender equality is when we have ultimate success. That's when we'll know we're there.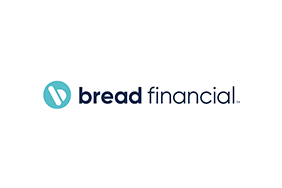 Bread Financial
Bread Financial
Bread FinancialTM(NYSE: ADS) is a tech-forward financial services company providing simple, personalized payment, lending and saving solutions. The company creates opportunities for its customers and partners through digitally enabled choices that offer ease, empowerment, financial flexibility and exceptional customer experiences. Driven by a digital-first approach, data insights and white-label technology, Bread Financial delivers growth for its partners through a comprehensive product suite, including private label and co-brand credit cards, installment lending and buy now, pay later (BNPL). Bread Financial also offers direct-to-consumer solutions that give customers more access, choice and freedom through its branded payment, lending and saving products.
Formerly Alliance Data, Bread Financial is an S&P MidCap 400 company headquartered in Columbus, Ohio, and committed to sustainable business practices powered by its 6,000+ global associates. To learn more about Bread Financial, visit BreadFinancial.com or follow us on Facebook, LinkedIn, Twitter and Instagram.
More from Bread Financial