Published 03-22-21
Submitted by Tetra Tech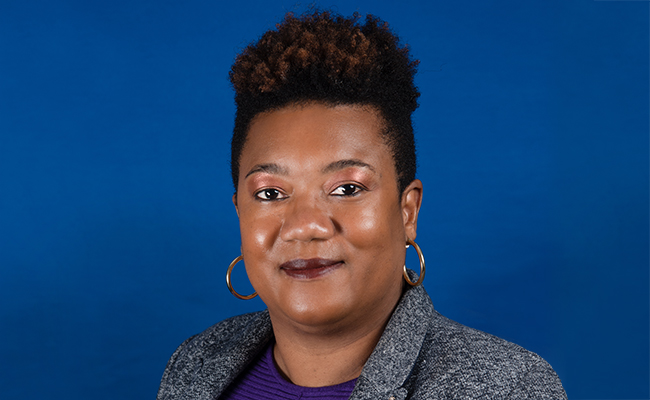 Jeannelle Blanchard, vice president in Tetra Tech's International Development Services group, has more than 25 years of progressive project management experience on donor-funded projects. During her first 10 years, she worked on energy efficiency and energy conservation issues in the tourism sector. Since 2009 she has worked on power sector reform, utility improvement, and clean energy projects. Jeannelle has played a management role on more than 20 U.S. Agency for International Development (USAID) contracts and has extensive experience in the full life cycle of project management. She has served as a resident advisor on multimillion-dollar USAID-funded projects and has undertaken short-term assignments in multiple developing countries. As a Chief of Party, Jeannelle led a team to support the Powering Agriculture: An Energy Grand Challenge for Development that funded 24 organizations deploying clean energy solutions for the agriculture sector in developing countries, which include cold storage, solar powered irrigation systems, hybrid powered processors, and mini-grids for decentralized power.
Jeannelle holds a master's degree in international studies from the University of Miami and a bachelor's degree in communications and Spanish from George Mason University.
What is the energy-water-agriculture (ag) nexus, and why is it important to consider in the context of empowering rural and vulnerable populations in developing countries?
The energy-water-ag nexus describes the linkages between water scarcity, energy security, and food security, which are all pivotal to sustainable development for rural and vulnerable communities. Increased agricultural productivity and climate resiliency is a key driver of food security, income generation, and improved quality of life in rural and vulnerable populations in developing countries. As the wealth and population of the world grow, so does the need to feed it. This need arises against a backdrop of water scarcity exacerbated by unsustainable agricultural practices and an increase in extreme weather events. Nearly 30 percent of total global energy consumption goes towards meeting food demand, particularly in emerging countries. The agriculture sector is reliant on ways to improve energy and water efficiency while increasing productivity. This sector is both the source of sustenance and the source of employment for 2.5 billion people globally, primarily in emerging economies in Asia and Africa.
Why are we seeing a coordinated effort to develop the agricultural sectors of developing countries?
The magnitude, complexity, and global nature of the energy-water-ag nexus challenge requires a concerted effort, including varying perspectives and resources. Recently, there has been a major focus on supporting private sector-led solutions due to the creativity, flexibility, and potential for positive impact on local communities that these enterprises can provide. Governments, donors, and civil society can help provide funding to de-risk market entry, technical assistance, policy and regulatory advice, and other expertise. As a result, we are seeing a coordinated effort by governments, donors, civil society organizations, and private companies to mobilize resources and combine expertise toward the single goal of increasing food production through sustainable and efficient water and energy usage.
How can energy-water-ag technologies specifically benefit women in developing countries?
Women make up a significant portion of the agricultural labor force in developing countries but are generally less able to participate in economic opportunities. They face a work burden that men do not, such as child rearing, household tasks, lack of access to finance, and small livestock management. In South and Southeast Asia, about 47 percent of agricultural workers are women and in certain countries the figure is more than 70 percent. In rural areas, agro-processing tasks like milling, grating, and hulling are commonly done through manual labor. This highlights the importance of a woman's availability in determining how much time can be allocated to collecting water and firewood and preparing food. Deployment of energy-water-ag technologies presents the opportunity to not only render economic benefits such as adding value to crops, providing time savings for households, and increasing the shelf life of certain agricultural products, but also can be a source of social benefits and empowerment. Women can use freed up time for new income generation activities and household responsibilities and can experience alleviation of gender-based violence because of greater food security.
What are current technology trends in the energy-water-ag sector that Tetra Tech observes and supports through its work?
In Sub-Saharan Africa and South Asia, we are supporting various innovative solutions that address the energy-water-ag nexus. These include solar-powered hydroponics and irrigation (drip and pumping); hydro-powered irrigation; advanced water use and seed monitoring services; solar- or biogas-powered cold storage and dryers; micro-grids for fish hatcheries; passive aeration systems for aquaculture; and various hybrid systems, including hybrid-powered tractors. These solutions also integrate services such as remote monitoring, Uber-like scheduling of services through mobile applications, mobile money, and various pay-as-you-go models (e.g., rent-to-own, leasing, service for fee, and agricultural extension support). They make energy and water more accessible for agricultural purposes, and often with increased efficiency.
End users of these energy-water-ag solutions, to date, have reported increased income, production, and sales; valuable time savings; extension of the shelf life of agricultural products; reduced agricultural losses; and additional economic activities due to the generated power. For example, we have observed that smallholder farmers in South and Southeast Asia that use solar photovoltaic powered agricultural processing equipment can benefit from significant increases in income relative to using traditional diesel-powered equipment.
What has Tetra Tech's experience been in this space?
With more than 40 years of proven expertise in this space, Tetra Tech has the combination of deep technical knowledge of the energy-water-ag nexus, extensive experience implementing activities in the nexus in various regions in the world, and the knowledge of our regionally based practitioners. Recently, Tetra Tech supported the global Powering Agriculture Energy Grand Challenge (PAEGC) to help source, deploy, and scale clean energy-water-ag nexus technologies. After 6 years, PAEGC helped develop 59 clean energy technologies and business models, impacted 65,116 beneficiaries, helped mobilize $68.8 million, and reduced more than 18,000 tons of carbon dioxide equivalent. We also have been supporting nexus companies through our work with Power Africa for the last 6 years, resulting in technical assistance for 122 companies, more than 1.14 million new off-grid electricity connections, and more than $60 million mobilized.
We are excited to continue our work in the water-energy-ag nexus with the Water and Energy for Food (WE4F): A Grand Challenge For Development, which is a joint international initiative of the German Federal Ministry for Economic Cooperation and Development, the Foreign Ministry of the Netherlands, Sweden, through the Swedish International Development Cooperation Agency, and USAID. WE4F aims to accelerate innovations operating in the water-energy-ag nexus globally in order to increase food production along the value chain, increase income for poor women and men, and promote climate and environmental resilience and biodiversity.
How does your work in the energy-water-ag sector differentiate Tetra Tech as an international development partner?
Work in the nexus requires our team to have global and local experts with cross-sectoral experience in energy that intersects with technology development, access to finance, gender integration, and policy expertise relevant to the nexus. Many of our experts have firsthand in-country practical experience piloting these technologies and grappling with these challenges in developing countries. Last year, we consolidated innovator learnings in technology and business model case studies on micro-grids and productive agricultural uses, clean energy cold storage, clean energy agro-processing, and guides on access to financing for innovators and navigating policy and regulation. With WE4F, we are excited to continue this work with an even greater emphasis on gender equality, environmental sustainability, and base of pyramid customers.
How will COVID-19 impact the water-energy-ag nexus?
Looking back at the 2008 financial crisis in the United States, market contractions in both credit (lending) and equity (investment) dried up for businesses globally. A paper produced by our team under Powering Agriculture, "Access to Finance for Early Stage Innovators in the Clean Energy Agriculture Nexus," identifies these market contractions as having a disproportionate impact on small and emerging companies.
COVID-19 presents a global market disruption that exposes startups—particularly venture-based enterprises—to an overall drop in demand and investment. Some portfolio companies may need different forms of capital from what they expected a short time ago. Existing nexus companies may not be able to endure a slowdown or halt in operations due to a loss of customers, and investors may be more risk-averse than before as current investees and future pipeline may have lost value and government officials may become less focused on nexus priorities. Through our work on WE4F and other projects, we will aim to keep the nexus front and center of technology, investment, and policy conversations.

Tetra Tech
Tetra Tech
Tetra Tech is a leading provider of high-end consulting and engineering services for projects worldwide. With 27,000 associates working together, Tetra Tech provides clear solutions to complex problems in water, environment, sustainable infrastructure, renewable energy, and international development. We are Leading with Science® to provide sustainable and resilient solutions for our clients. For more information about Tetra Tech, please visit tetratech.com or follow us on LinkedIn and Facebook.
More from Tetra Tech